"Glass Bonbons?" Wait, please don't scream at me! This is not a DIY craft post. 🙂 If you have never heard of Glass Bonbons, known in Portuguese as Bala de Vidro, Bala Baiana or Bala de Ovo, now is your chance. But if you have, I am sure that you already know how darn delicious they are.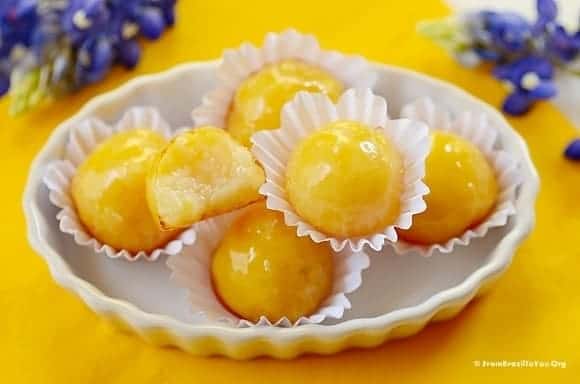 Glass bonbons consist of coconut brigadeiros/Brazilian coconut kisses (beijinhos) covered in a hardened caramel shell. This results in a soft, fudgy interior and the thin, crunchy glass-like exterior that gives rise to its name.
In certain areas of Brazil, these sweets are known by two other names: bala de ovo (or egg bonbons because of their sunny egg-yolk appearance) and bala baiana (I imagine this is because they are somehow related to the state of Bahia). However, their exact origin is unknown.
No matter which name these bonbons are called, the simple fact is, they are popular all over my home country at weddings, birthday parties, baby showers, etc — and are even sold on the streets as candies wrapped in cellophane.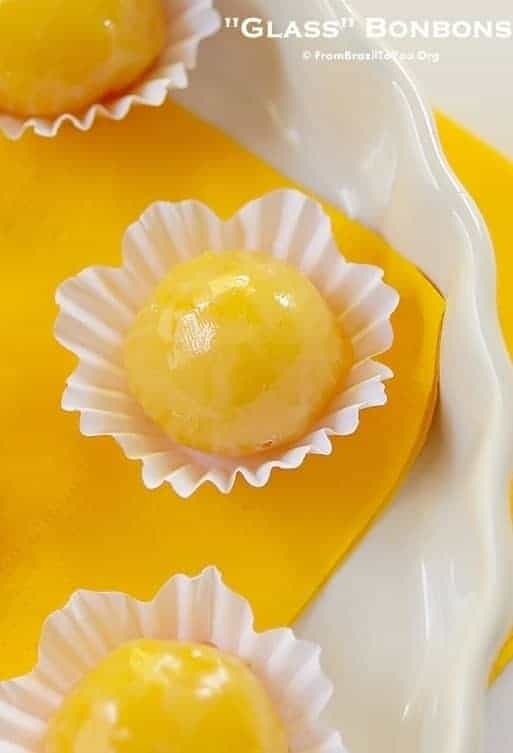 But you know what? The most important thing here is to follow my advice: make our glass bonbons when the rest of the family isn't around (especially the kids) and then hide some to eat for yourself! If you don't, just like me, you will deeply regret it! 🙂
xx
To learn more about brigadeiro-based treats, see here.
Glass Bonbons (Bala de Vidro)
Glass bonbons are coconut fudge balls covered in hardened caramel. They have a soft, fudgy interior and a crunchy exterior, and are great for weddings, birthday parties, baby showers, and many other occasions -- or to give away as presents or favors.
Ingredients
1

sweetened condensed milk

14 oz

1

tablespoon

unsalted butter

at room temperature

1

teaspoon

pure vanilla extract

2

cups

fullsweetened coconut flakes

3

cups

granulated sugar

570 g

1¼

cups

water

300 ml

1

tablespoons

white vinegar or apple cider vinegar

15 ml
Instructions
In a medium non-stick saucepan, mix the condensed milk and butter together, and cook over medium-low heat (large burner) or medium heat (small burner), stirring constantly, until the mixture has reduced, thickened, and begins to show the bottom of the pan when scraped with a wood spoon (about 5 minutes). The mixture should be thick enough to reveal the bottom of the pan for a couple of seconds before the mixture levels out again.

Remove pan from heat and stir in both the vanilla and the coconut flakes until obtaining an homogeneous mixture. Place mixture onto a greased plate and let cool to room temperature before starting to roll them into balls with either ungreased or only very lightly greased hands (mixture is so thick that it barely stick to hands). Use a 1/2 Tablespoon as measurement.

Meanwhile, in a separate medium nonstick pan, stir in the sugar, water, and vinegar together until combined. Bring to a boil over

medium heat

,

without stirring at all

(this is to prevent caramel from forming crystals), until sugar has dissolved completely and takes on a light caramel/golden honey color (It is important not to let the caramel become dark, or else the glass bonbons can turn out bitter). Beginning 5-7 minutes from when mixture first starts to boil, watch pan constantly in order to avoid caramel quickly turning dark or even burning.

Reduce heat to low, tilt pan with one hand and then coat each of the coconut balls in caramel. You can either stick a long wood skewer or toothpick into each ball, rotating in order to drip off excess caramel, or you can use a fork to help you coat the balls. Please, be careful to not burn yourself with the hot caramel.

Place caramelized balls on a baking sheet lined with parchment paper, remove stick or slide ball over parchment paper, and let caramel set completely. Using a sharp knife, trim excess caramel from the bottom. Note: be sure not to press on the hard top of the bonbons while trimming off excess caramel from the bottom, otherwise caramel will crack apart. Instead, secure the bonbon from the side, careful not to apply much finger pressure.

Place glass bonbons into bonbon cups or wrap in cellophane paper, twisting the ends if you prefer to serve them as wrapped candies.
Recipe Notes
Store in an airtight container at room temperature for up to 3-5 days
DID YOU MAKE THIS RECIPE?
Comment and rate the recipe. Also follow us on Pinterest at @easyanddelish for more delish recipes.