A Creamy Chicken Bacon Pasta Bake is what's on the table… and we can't get enough of it!  It is comforting, cheesy, yummy, and prepares within 30 minutes. It is one of those all-in-one dishes that can please a crowd while making life easy for the cook. Basically just our kind of a weeknight meal, right?! 😉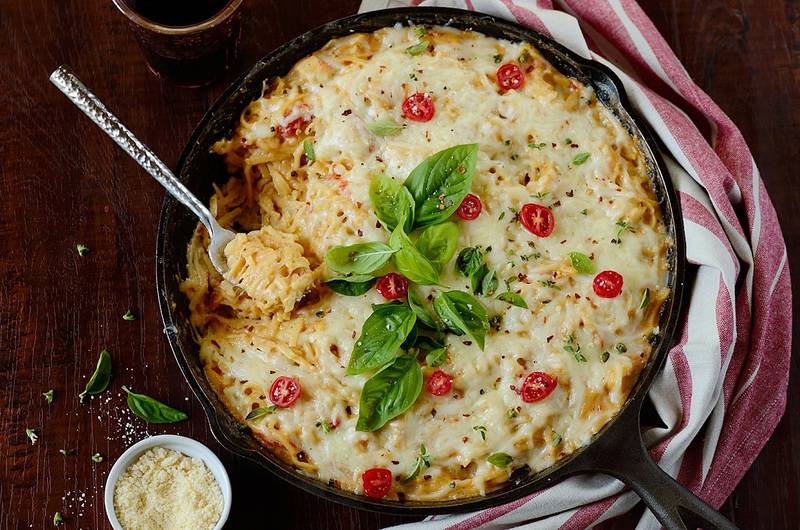 Our Chicken Bacon Pasta Bake is made with simple ingredients such as store-bought linguine pasta mixed with a creamy cheese sauce, shredded chicken, chopped bacon, and canned diced tomatoes…
…and of course, extra cheese was sprinkled on top right before putting the pasta in the oven to bake for about 10 minutes (just until the cheese melted). Fresh basil, oregano, and grape tomatoes garnished the dish beautifully… while smiles floated all around the table.  It was a vision!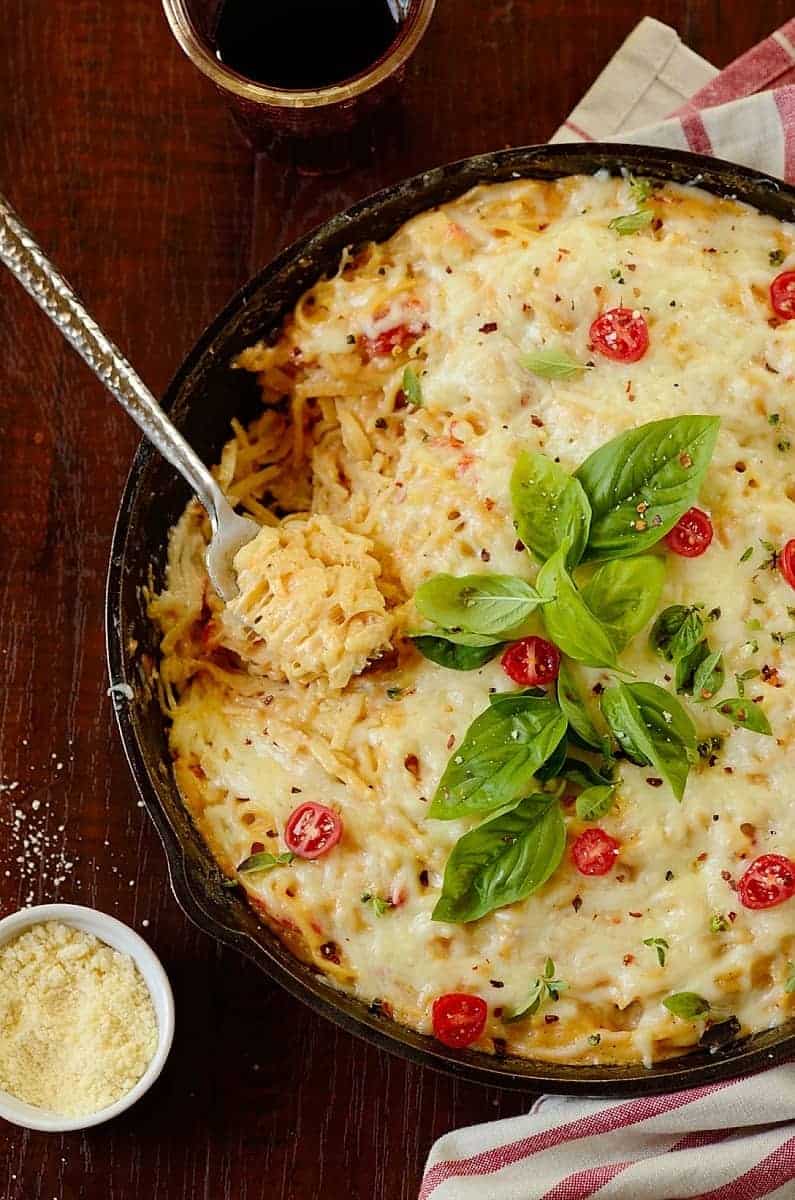 Yes, my family and I ate… and ate it.  This thing is already on our must-repeat list!
It is exactly what I needed after a full day of work… but with dinner still yet to prepare for all those hungry bellies.  A girl's gotta do what she gotta do — pull a dish like this from up her sleeve and make everyone happy. 🙂 But don't just take my word — make this Creamy Chicken Bacon Pasta Bake… and then you will fully understand why we are so in love with it. An extra something will make it even more special: pair it with a glass of red wine! 😉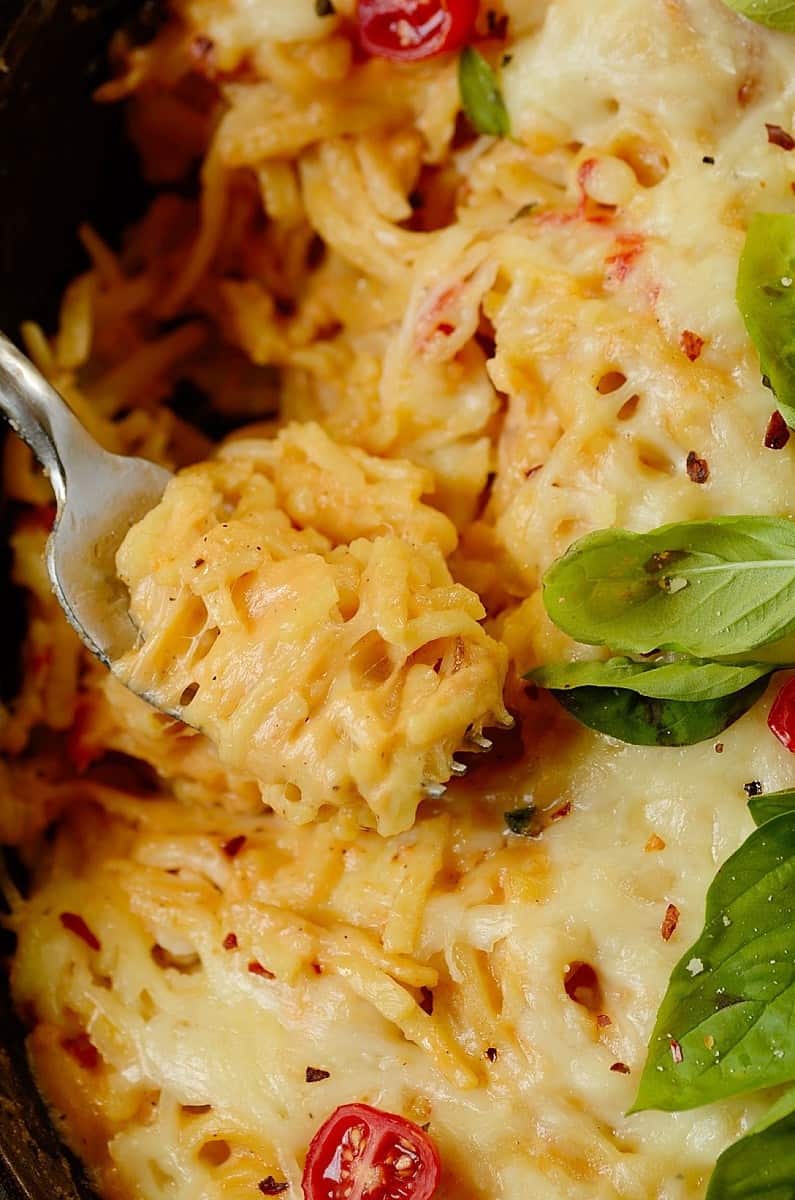 Yes, my friend, happiness is called Chicken Bacon Pasta Bake! Who needs an special occasion to feast like a king, right?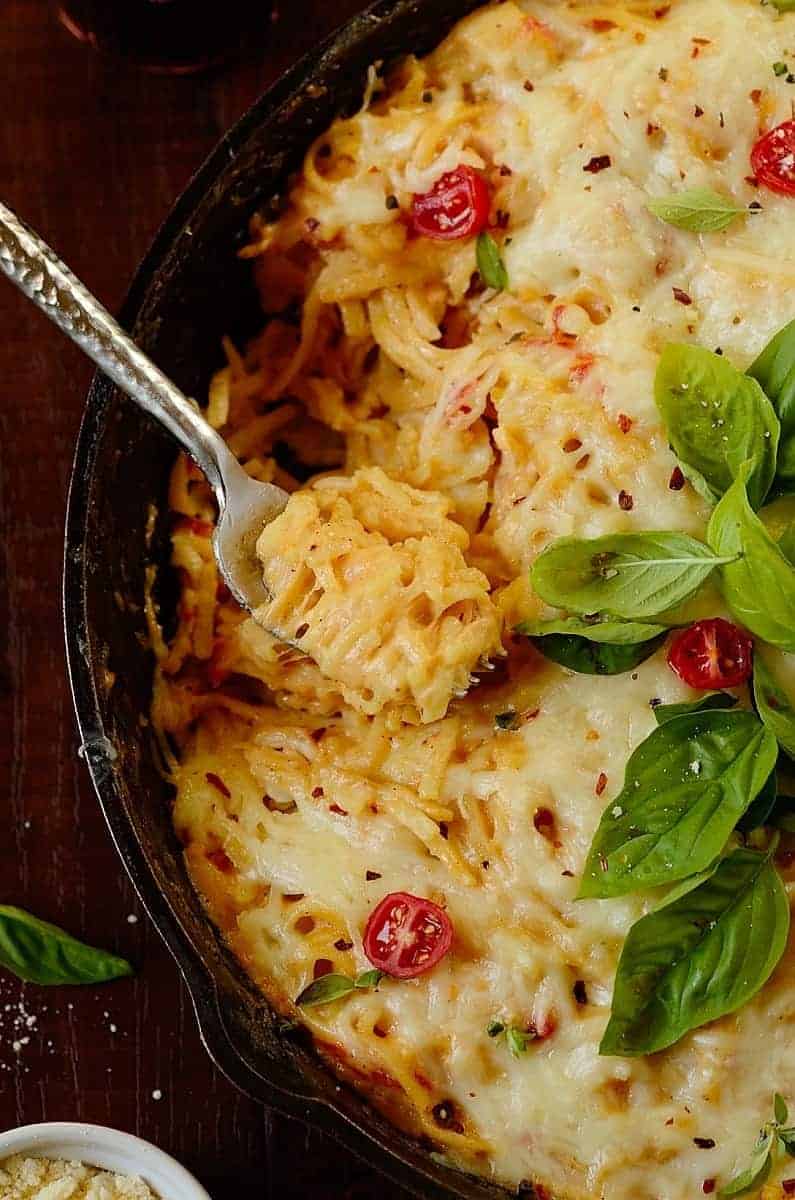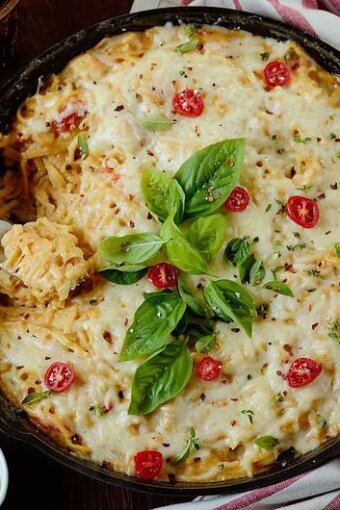 Creamy Chicken Bacon Pasta Bake
An easy, fuss-free creamy chicken and bacon pasta bake that can be prepared within 30 minutes. It makes a hearty weeknight meal!
Ingredients
16

oz

linguine pasta

or other pasta of your choice

6

tablespoons

unsalted butter

divided

1/2

white or yellow onion

diced

1

teaspoon

garlic powder

4

strips

cooked bacon

chopped

6

tablespoons

all-purpose flour

2

cups

of half and half

1

cup

chicken broth or stock

1 to 2

teaspoons

salt

1/2

teaspoon

ground black pepper

1

cup

canned diced tomatoes

1 1/2

cups

cooked

shredded chicken

1

cup

shredded mild cheddar cheese

1

cup

shredded mozzarella cheese

leaves

Fresh basil

optional

leaves

Fresh oregano

optional
Instructions
Preheat oven to 350F/180C.

Cook and drain the pasta according to the directions in the package and set aside.

While pasta is cooking, melt butter in a large and heavy skillet over medium heat. Add the onion and sauté for 4-5 minutes until translucent. Do not let brown! Add the garlic powder, chopped bacon, and let cook, stirring constantly, for about 1 minute. Add the flour and stir to combine, then cook for 2 minutes, stirring constantly.

Add the half and half, broth/stock, salt, and pepper. Whisk for 1 minute, in small circles around the frying pan, until it starts to thicken. Then add the diced tomatoes. Increase the heat to medium high and cook, stirring constantly, for around 5 minutes or until thick enough to coat the back of a metal spoon. Taste and adjust the seasonings if necessary.

Add the chicken, cooked pasta, and cheddar cheese and mix through. Let it cook for around 1 minute on the stove, then remove from heat.

Sprinkle with mozzarella cheese. Cover with foil and bake for 8 minutes or until cheese is melted. Remove the foil and bake for an additional 2 minutes. Serve while it is still hot, garnished with fresh basil leaves and oregano, if desired. This chicken bacon pasta bake can also be served with a sprinkling of grated Parmesan cheese and fresh grape tomatoes on top if desired. If you would like to, sprinkle on a bit of red pepper flakes, too.