I feel honored to be guest posting today for one of my favorite food blogs, Manu's Menu! And for this happy occasion, I had to choose something special and close to my heart– something that tastes like childhood: Portuguese custard tarts! Known as Pastel de Nata or Pastel de Belém in Portuguese, these are small tarts made from puff pastry and a rich pastry cream. I hope that this in itself is enough to make you smile!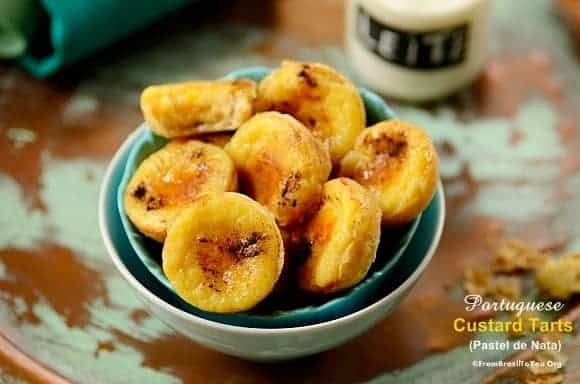 Although created before the 18th century by Catholic monks in Lisbon, Portugal, these little pieces of heaven quickly became quite popular in several Portuguese-speaking countries such as Brazil, Goa, and Macau, under the name of Portuguese Egg Tarts or Pastel de Ovo… as well as in mainland China and countries with significant Portuguese immigration such as Canada, Australia, Luxembourg, the United States, and France, among others. But if you go to Azores, please call them by their proper name there: Queijadas de nata! 🙂
In my home country of Brazil, these Portuguese custard tarts have been a hit for a long, long time… and I grew up enjoying them all year round, sometimes by themselves and sometimes accompanied by a cup of café au lait. As a descendant of Portuguese ancestors, I imagine that it couldn't have been any other way! But you know what? No matter where you go in Brazil, you will find these tarts in almost every café or bakery – thank goodness! 🙂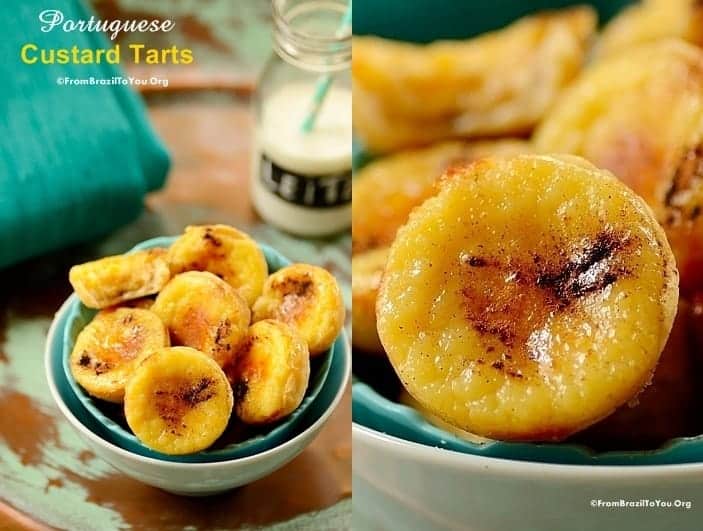 Folks, Portuguese custard tarts are so good that they have been designated as one of the 7 wonders of Portuguese cuisine. And The Guardian, the well-known British national newspaper, pronounced them as the 15th tastiest delicacy in the world. Need I say more?
I have a simpler approach… to me, they look like little rays of sunshine, and taste like heaven! I hope that they will for you as well…
Thank you, Manu, for having me here! Despite my crazy schedule, I have the biggest smile on my face since the day that you kindly invited me to guest post for you. Enjoy your trip, and then let us feast our eyes on your gorgeous travel pictures.
xx
For the Portuguese Custard Tarts RECIPE, click

HERE.