Yes, I can hear you laughing!  I have to admit…Horseback-Riding Steak or Bife à Cavalo (in Portuguese) is a hilarious name for a steak.  But perhaps instead of having a smile on your face you have a big question mark over your head… Well no, it is not what you might  be thinking– this is NOT horse steak!!! Wheeeewwww… I hope you are feeling relieved now. 🙂 
Let me explain. Bife à cavalo is a traditional dish both in Brazil and in Portugal, consisting of a grilled (or sometimes deep-fried) beef steak, with fried eggs on top.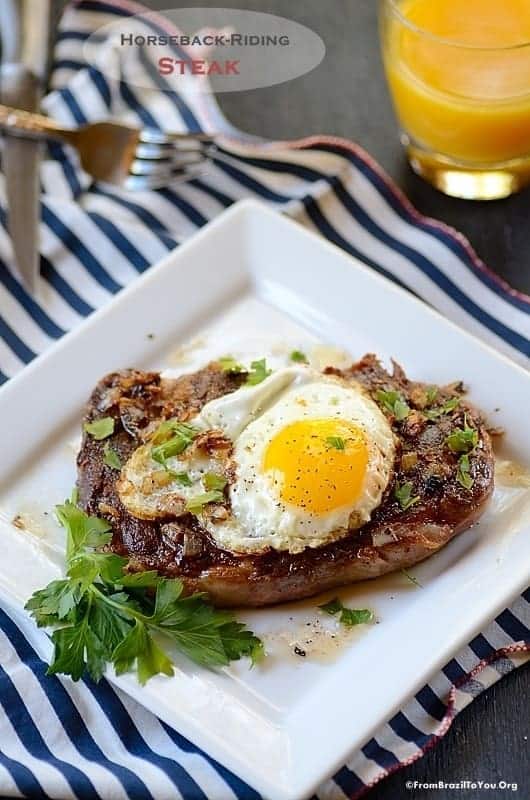 In Brazil bife à cavalo is usually served with rice and beans and a salad, or just fries.  Its name is an allusion to the appearance that the fried eggs are "riding" the steak as on horseback. 
Although bife à cavalo is a dish originally from France (Bifteck à Cheval or Steak à Cheval), it became popular in Brazil and Portugal.  It is also well-known and appreciated in Argentina (Bife a Caballo), Colombia (Bistec a Caballo), Peru and Chile (known in these countries as "A lo Pobre"), and other South American countries where accompaniments vary from region to region.
Only cuts that can be grilled or deep fried — such as flank steak and rib eye, are used to prepare bife à cavalo.  I usually use rib eye steak to prepare mine because it is available everywhere.  Personally, I also like to eat my bife à cavalo sandwiched between 2 slices of bread.  Well, one thing is for sure: No matter what accompaniments one chooses, bife à cavalo is one of the best dishes that one can cook and eat.  Why?  First, because bife à cavalo is simple and super-quick to prepare.  Second, it is tender and beyond-delicious, providing double sources of protein (steak and eggs).
This was the first time that my 7 year-old and 6 year-old were introduced to bife à cavalo, and they were hooked at first bite.  And what's more,  they didn't even need a side serving of fries.  I can still remember the expression of enjoyment on their little faces…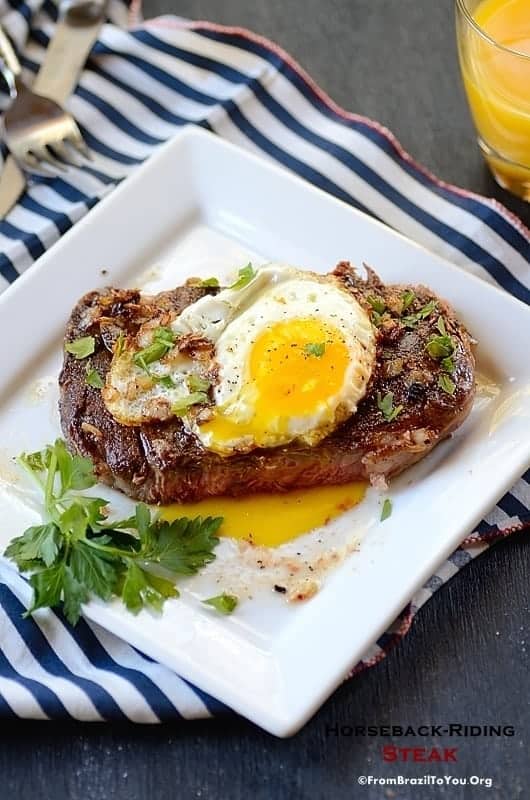 Enjoy as much as we did… or as we say in Brazil, "Bom Apetite!"
xx
Bife à Cavalo (Horseback-Riding Steak)
A traditional dish in both Brazil and Portugal, consisting of a grilled or sometimes deep-fried steak, with fried eggs on top.
Ingredients
2

rib eye steaks

3/4-inch thick, 15-ounce

1

teaspoon

salt

divided

1/2

teaspoon

freshly ground black pepper

divided

1

tablespoon

Tablespoon unsalted butter

1

tablespoon

olive oil

2

fried eggs

also known as sunny-side up eggs

1/4

cup

small diced yellow onion

2

tablespoons

chopped parsley or cilantro
Instructions
Remove steaks from the refrigerator and let sit at room temperature for 30 minutes minutes prior to cooking. Season each steak on both sides with a mixture of 1/2 teaspoon salt and 1/4 teaspoon pepper.

Heat a large, non-stick frying pan over high heat, melt the butter and stir in the oil. Cook the steaks for about 3-4 minutes per side (medium-rare to medium) or 5-6 minutes per side (medium-well to well done) and transfer to a plate. Meanwhile, cook the

fried eggs

in another frying pan.

Once steaks have been transferred to a plate, cook onions over medium heat for about 1-2 minutes in the same frying pan that the steaks were cooked in, utilizing the pan drippings, and stirring occasionally. Remove onions from the pan and place on top of the steaks. Top each steak with one fried egg and sprinkle 1 tablespoon of chopped parsley or cilantro on top. Serve immediately accompanied by fries or rice, beans, and a fresh salad. Enjoy!
DID YOU MAKE THIS RECIPE?
Comment and rate the recipe. Also follow us on Pinterest at @easyanddelish for more delish recipes.