Brazilian corn chowder is a quick, easy, and hearty chunky soup made with corn, potatoes, yogurt, and other simple gluten-free ingredients, which can be served with hot Italian sausage if desired.
Disclosure: I have NOT received any monetary compensation for this post. However, a Brazilian soapstone pot was given as a present to me… a pot that I am absolutely in love with on account of its beauty and great heat-retaining qualities.
Along with the cool fall weather comes the need for some warm, comforting dishes, including this quick and hearty Brazilian Corn Chowder— Sopa de Milho Verde in Portuguese. If you have ever tasted an American Corn Chowder, I know you will become a fan of our soup.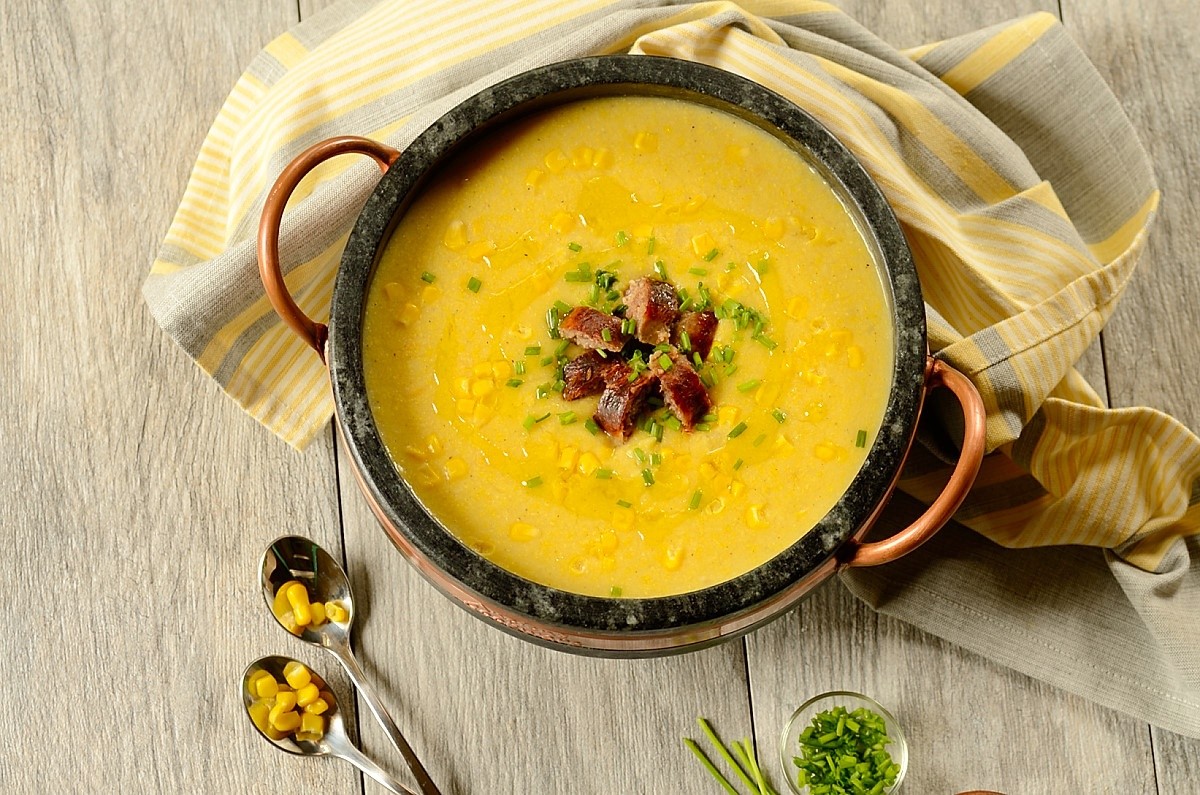 It is quite simple to prepare, requiring no special skills. All one has to do is to cook diced onions and minced garlic in vegetable oil, add chicken or vegetable broth, chunks of potatoes and corn kernels, stir in salt and pepper, and let the soup cook for about 12 minutes or until potatoes are tender.
Milk, cream or yogurt is blended with the cooked soup in a blender until creamy. Reserved corn kernels are added to the blended soup, and the corn chowder is served warm with a sprinkle of chopped fresh chives and chunks of cooked Italian hot sausage (if desired).
Unlike typical American corn chowders, our soup is gluten-free.  Potatoes are used as the thickening agent instead of  a roux (i.e. a mixture of flour and butter cooked together). Our Brazilian corn chowder doesn't call for bacon like its American cousin. It is vegetarian — although spicy Italian sausage (linguiça calabresa) can be used to  garnish the top of the soup, if desired.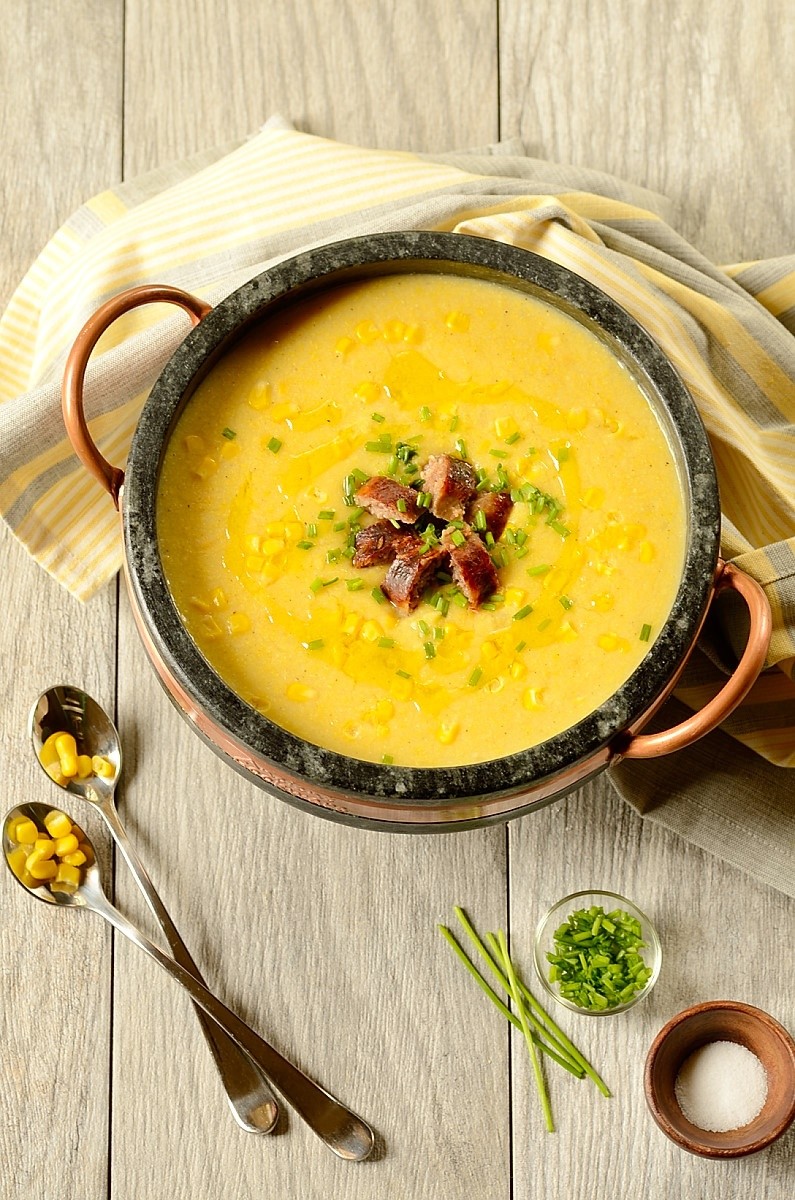 The extra advantage is, Brazilian corn chowder is easier to prepare and lighter than its American counterpart — yet very flavorful.
As a side note, there is more than one version of this soup — with variations in ingredients and textures. Some versions are creamy like a bisque while others, such as ours, are chunky like a chowder.
ABOUT THE POT:
This time our Brazilian corn chowder was prepared in the exquisite soapstone pot that you see in the photos — which, by the way, I am madly in love with…
… and not just on account of the pot's beauty (which makes it possible to serve your dish at the table straight from the pot).
This pot is also high-quality, folks! It was handcrafted from a single block of natural, non-toxic soapstone, allowing it to withstand temperatures up to 1000°C (1832 degrees F). That's right!  Its thick and dense walls retain heat twice as long as conventional metal cookware.  That makes it ideal for frying!!!
But that's not all!  It can be also used in the oven, on the stovetop, or on the grill. It is just not suitable for microwave use due to the copper handles.
This works so well as a serving utensil because it is beautiful and retains heat for a long period of time, making life easier and less messy.
Soapstone pots are sold in more than one size and are proudly handcrafted in my home country, Brazil. They are "one of the oldest culinary traditions in Brazil, where they are known as Panelas de Pedra Sabão.  They are widely used in homes, and have been for centuries– ever since they first started crafting them in the Ouro Preto region of Minas Gerais. In fact, many restaurants in Brazil, especially in the State of Minas Gerais, use them for their buffets."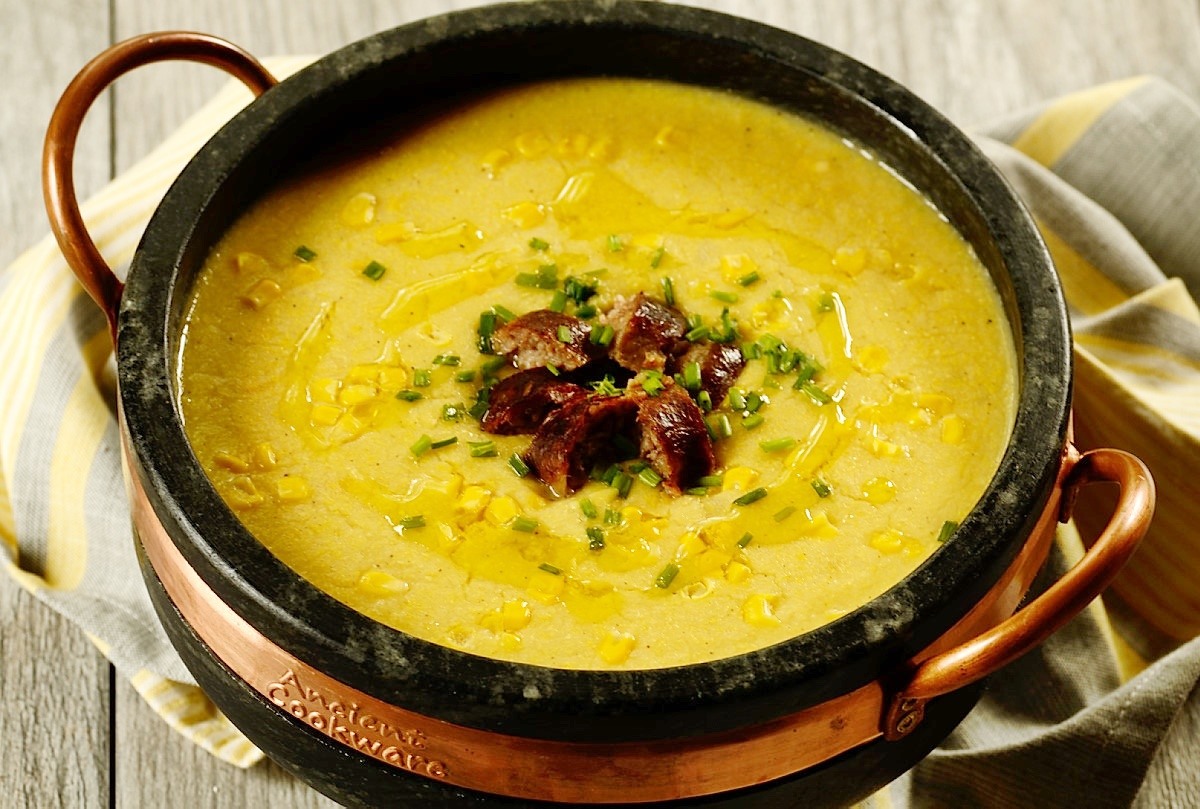 To find out more information about how to cure, care for, and use this type of pot, as well as to feast your eyes on other gorgeous cookware from Brazil and other countries from around the world, please visit the site of Ancient Cookware — a family-owned company based in Miami.
You can also follow them on Facebook, Instagram, YouTube and Twitter.
Our Brazilian corn chowder was a hit — as well as the phenomenal pot in which was both cooked and served.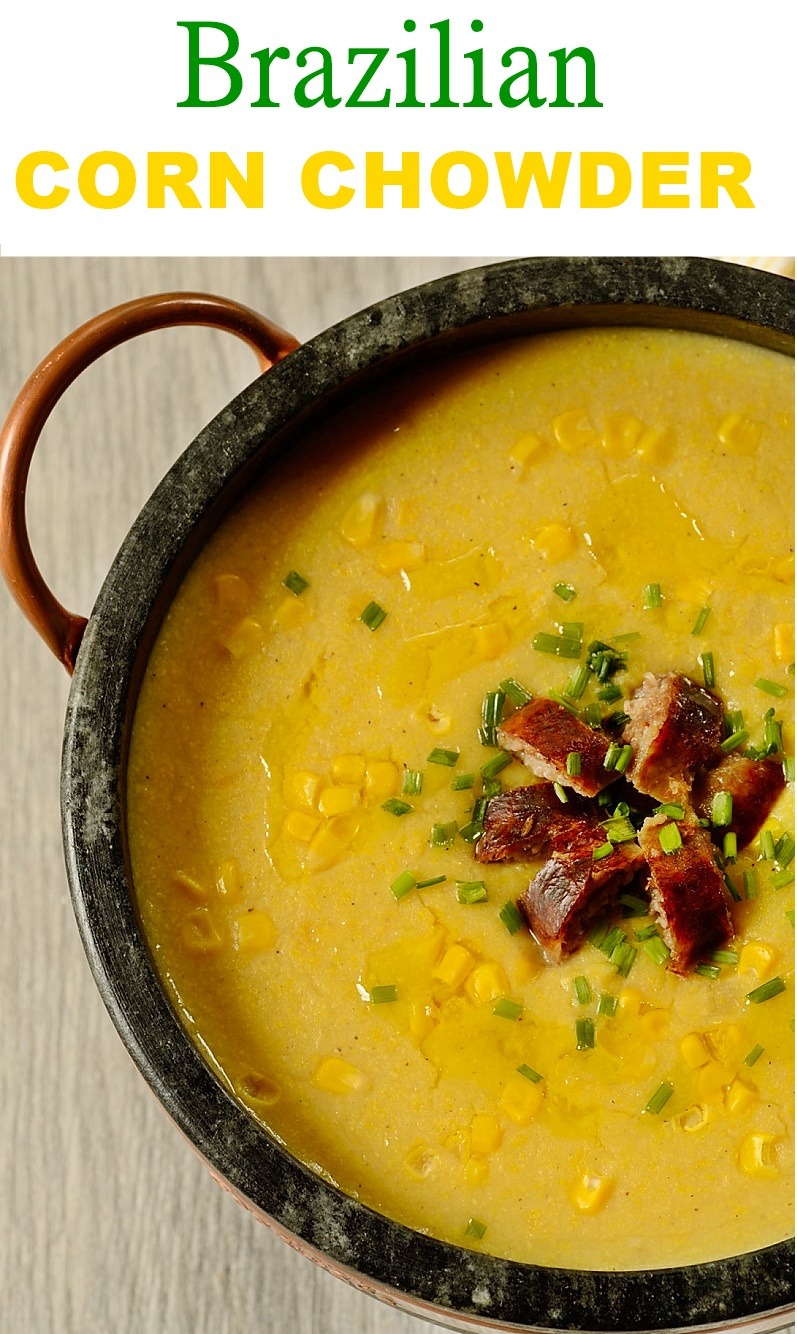 I hope that you enjoy both — the soup and the pot!!!
Stay warm!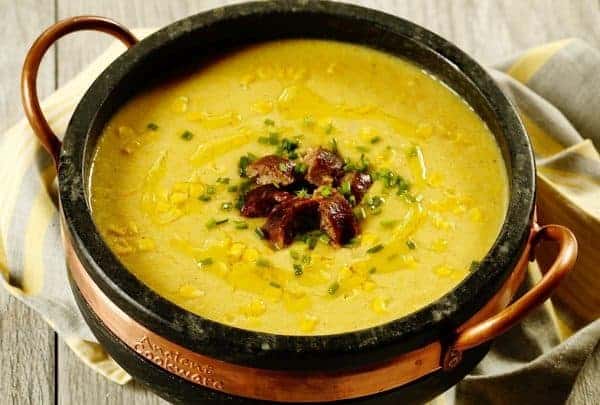 | | |
| --- | --- |
| | |
In a medium pot, heat the oil over medium heat and sweat the onion for about 4 minutes, stirring occasionally. Add the garlic and cook for about 1 minute, stirring occasionally.

Stir in the broth and increase the heat to medium-high. Add the potato chunks, 2 1/4 cups of the corn kernels, salt and pepper; stir.

Let cook for about 12 minutes or until potato is fork tender. Blend soup with the yogurt or heavy cream in a blender until creamy. Adjust the seasonings if necessary.

Add the remaining 1 cup of corn kernels and serve while soup is warm. It can be garnished on top with chunks of cooked sausage and chopped fresh chives.