Learn all about cassava, its importance to the world, derivatives, and dishes made from it.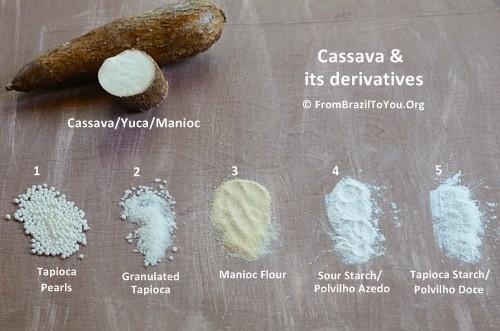 Cassava? Yuca? What is that?
It's the third-largest source of carbohydrates in the tropics.
About half a billion people all around the globe consumes this vegetable root which grows in marginal soils.
Most importantly, yuca or cassava is one of the pillars of Brazilian cuisine, and is important in many other cultures as well, including Central and South American, African, and Asian.
What about in American culture?
Actually, it has likely been more of a presence at your table than you may imagine, and with globalization, it will become even more so.
Huh???
What do you think your beloved tapioca pudding is made from?
When you visit the beverage kiosk at the mall and order a bubble tea, what do you think that you're consuming?
Not so far from the potato shelf at the Walmart supermarket (among other chains), what do you think that long, thick, brown-skinned vegetable root is?
So, did you know what the main ingredient of those famous Brazilian cheese rolls (pão de queijo) served at your favorite churrascaria is?
Similarly, it is present in many other Cuban, Puerto Rican, Filipino, or Indonesian dishes that you may dearly love.
As I mentioned, you have likely been eating cassava or dishes made with its derivatives without even realizing it.
If not yet, due to the influx of immigrants to this country and the influence of their cuisines, you probably will, sooner or later. Believe me!
Moreover, with the increasing number of people in the US with celiac disease, the consumption of cassava is ideal because they are naturally gluten-free foods.
OK!!!
But, what is cassava?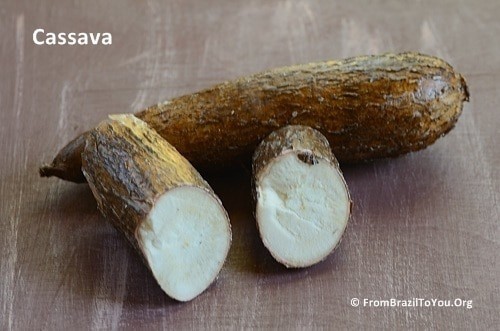 Cassava or yuca (not yucca), mandioca, aipim, macaxeira, or manioc root, is a starchy, tuberous root native to South America.
It's rich in carbohydrates, calcium, and vitamin C, but deficient in protein and other nutrients.
The vegetable root is long and thick, and has an outer shiny brown skin with a white, firm interior.
Its center has a woody fiber (see pic below) that has to be removed after boiling or before frying the cassava.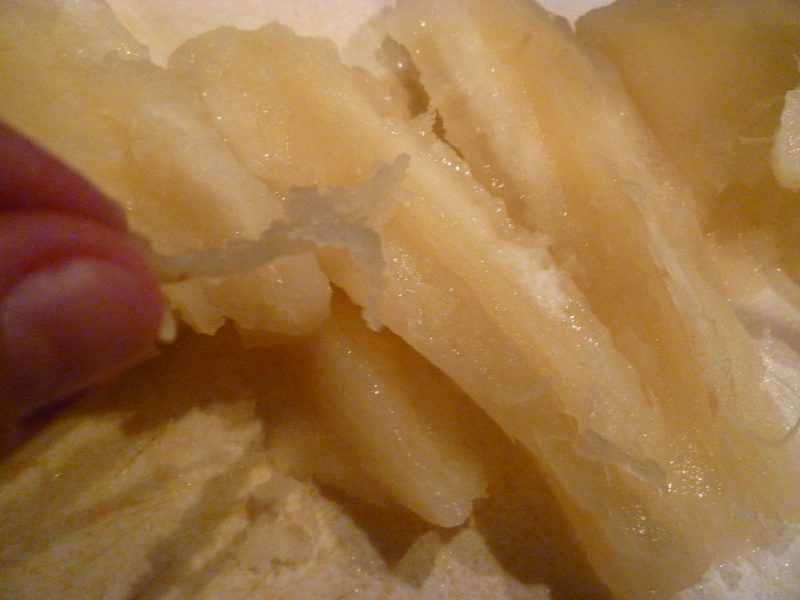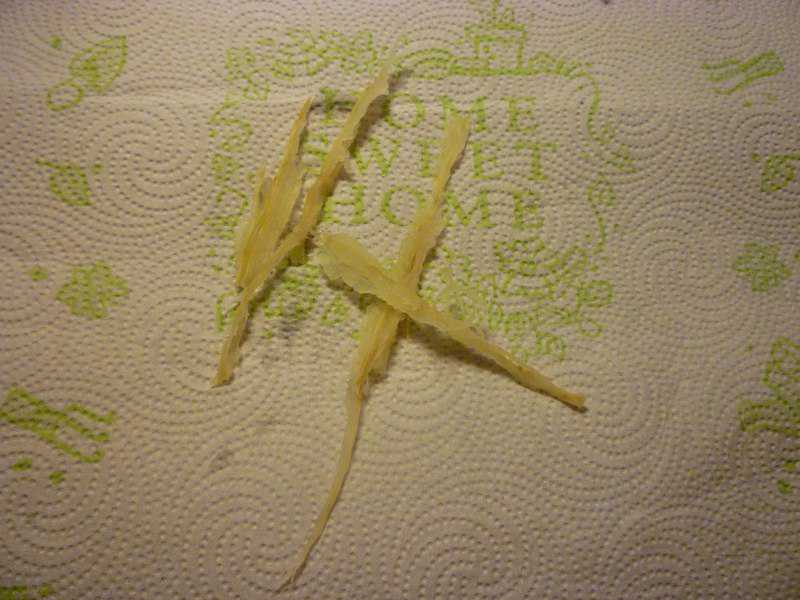 In addition, its roots (and leaves) are not meant to be consumed raw.
In fact, they must be properly processed before consumption since they contain cyanide...
...which is poisonous and has been linked both to ataxia (a neurological disorder affecting the ability to walk), and chronic pancreatitis.
Cassava is available fresh, frozen, or grated.
To cook it, peel the the root first (soaking briefly in water makes the peeling process much easier).
So once peeled, either boil or fry it for direct consumption.
Dishes Made out of Cassava
Cassava is important in many cultures, including Brazilian culture.
In fact, it is one of the very foundations of Brazilian cuisine, and is present in many traditional dishes such as:
bobó,
mashed cassava,
fried yuca (or cassava fries),
yuca chips,
cassava cake,
yuca flan,
yuca soup, etc.
After processing in several ways, it also contributes ingredients used in making the following:
tapioca couscous,
vatapá,
farofa, among other dishes.
Cassava Derivatives
In Brazilian cuisine, its main derivatives are tapioca pearls, tapioca, manioc flour, sour starch, and tapioca starch.
These products are available online (Amazon.com), in Latin supermarkets, and some types are also available at American and Asian supermarkets.
Further, here are a few facts about cassava derivatives:
1)
Tapioca Pearls

:

These are produced by passing the moist tapioca starch through a sieve under pressure, producing a spherical shape.

The resulting pearls range in size from about 1 mm to 8 mm in diameter, with 2–3 mm being the most common.

Tapioca pearls makes sagú or tapioca pudding in Brazil and other countries, and also sweet drinks such as bubble tea in Asia.

It is available at American supermarkets.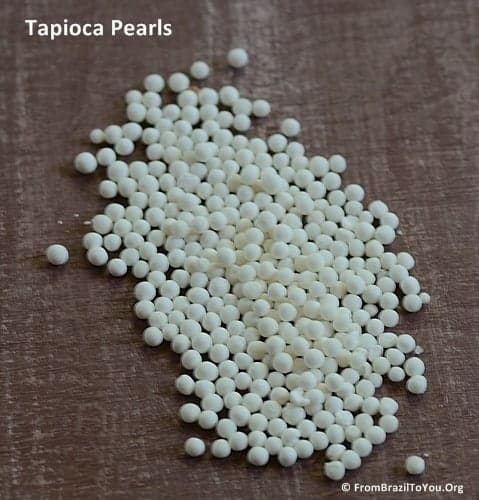 2)
Granulated Tapioca (or simply Tapioca)

:

This comes from the starch extracted from cassava but, in contrast to the tapioca pearls, is irregular, and its mixed "grains" vary in size.

It makes tapioca couscous, which is basically prepared by soaking in hot milk and/or coconut milk, and then allowed to rest until soft and pliable.

And, it is available at Amazon.com.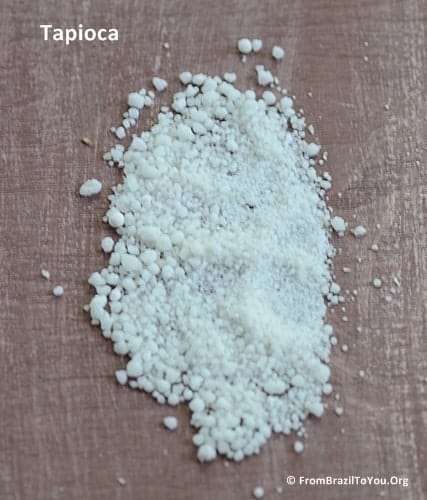 3)
Manioc Flour

:

Manioc flour or farinha de mandioca makes farofa, pirão, and vatapá.

The detoxified cassava is ground to a pulp called massa and then squeezed with a device (tipiti) to extract the moisture.

The liquid produced by this may be collected and dried to produce tapioca, locally known as polvilho.

Lastly, the dried massa is then toasted over a large copper stove to produce the manioc flour.

This process varies regionally and by manioc species, and may include additional steps of re-soaking, drying and re-toasting the flour.

Manioc flour is available at Brazilian Shop.com.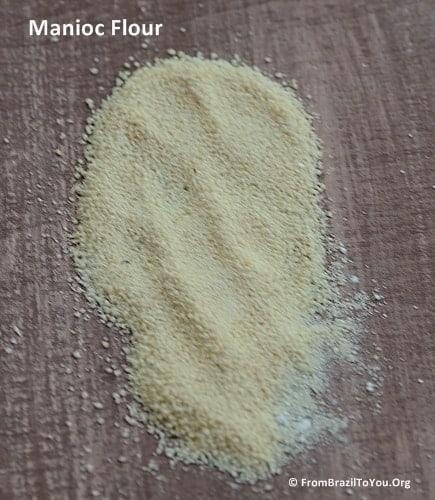 4)
Sour Starch/Polvilho Azedo

:

This is a fermented starch extracted from cassava that is coarser than tapioca starch, as you can see from the photo below.

It makes pão de queijo and also tapioca crepes.

Polviho azedo is available at Amazon.com.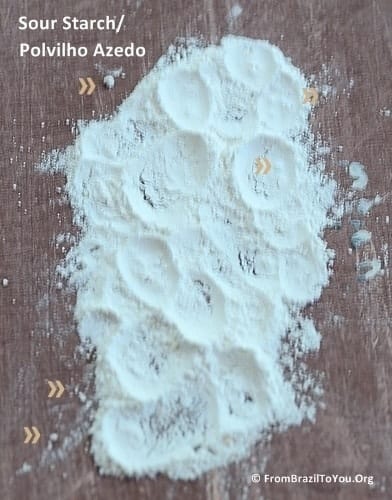 5)
Tapioca Starch/Polvilho Doce

:

This is extracted from cassava, which is grated and washed, and then has the juice from its pulp squeezed out into a bucket.

The starch is then extracted from the liquid that accumulates in the bucket, and subsequently dried and sifted.

Unlike the sour starch, it is not fermented and has a fine texture similar to cornstarch.

Polviho doce makes pão de queijo, crackers, and desserts.

It is available at Amazon.com.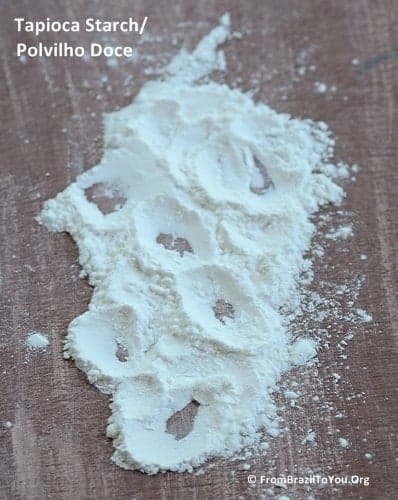 For instance, this list of cassava derivatives is just an illustration.
Although these are the major products commercialized in Brazil, there are others in other countries (e.g. soluble tapioca starch powder, flakes and sticks, etc. in Asia).
I hope that you enjoyed our article about cassava, and that it helped you to become more familiar with it, and its importance throughout the world.
More Dishes Made from Cassava and its byproducts:
Mashed Cassava (Purê de Macaxeira)
Cassava "Lasagna" (Lasagna de Macaxeira)