These 30+ No-Cook Meals for breakfast, lunch, snack, and dinner are perfect for summer, college students, seniors, food shortages, war, and especially power outages. They are cheap, healthy, and easy to prepare without electricity. Plus, get the grocery list of no-cook food items!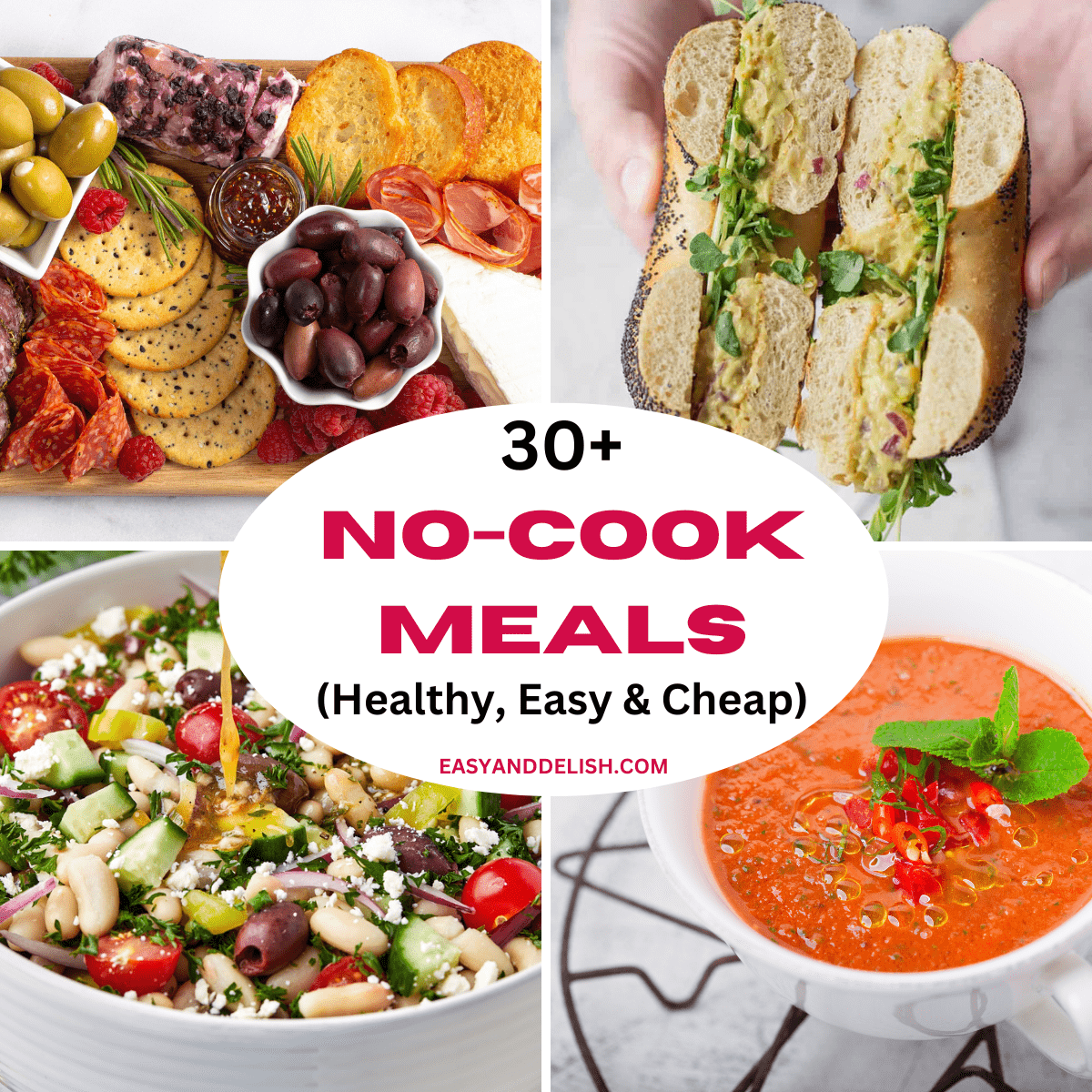 When to prepare no-cook meals
Here you will find several no-cook recipes that you can put together in a flash. They make life easier in several circumstances:
First and foremost, when you experience a power outage! Only in Texas, we had one that lasted more than 3 days in 2021 due to an extreme winter storm, and also another 82 blackouts in 2022.
In the case of a war or major lockdown when our routine forcibly changes.
When you experience gas, electricity, and food shortages due to a supply crisis.
In the summertime when it is hot and you don't want to turn on the oven, stove, or any heating power source.
College students in a tiny dorm without the kitchen appliances you have at home.
Seniors with some physical limitations or you are retired and tired to cook.
Or simply, when you are traveling, on vacation, or don't feel like cooking.
All those no-cook meals will help you feed yourself and your family nutritiously and on a budget.
In addition, we also put together a grocery list with suggestions on what to buy to stock your pantry with no-cook food items.
No-Cook Foods Grocery List for PREPARING NO-COOK MEALS
Here are some of the food options to buy and stock that require no cooking: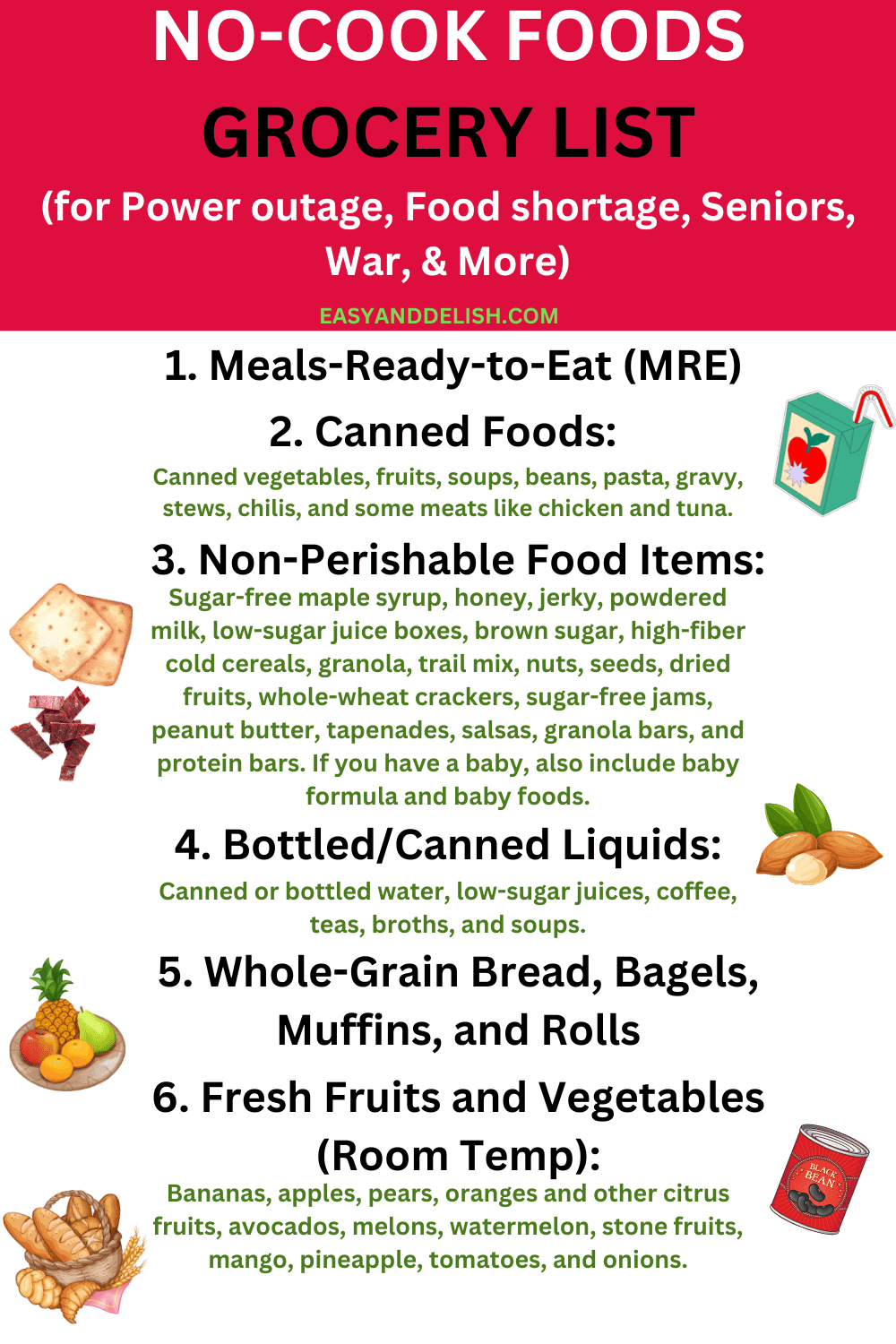 Meals-Ready-to-Eat (MRE)
These are self-contained meals usually used by the U.S. Armed Forces in combat when other types of foods are not available. They are packed to last around 5-7 years, providing the necessary nutrients. You can add them to your emergency food supply.
Canned Foods
Canned vegetables, fruits, soups, beans, pasta, gravy, stews, chilis, and some meats like chicken and tuna have a long shelf-life. Buy a variety of them in case you have to make use of them for a long period of time.
Be aware without electricity or gas, you'd have to eat them at room temperature. So if you don't enjoy eating beans or canned lentil soup cold, for example, stock a substitute you enjoy eating cold.
Non-Perishable Food Items for no-cook meals
As canned foods, they have a longer shelf-life. Although the list of non-perishable food items is much longer because it includes dry foods in bags such as rice and other grains, these food items don't require cooking: Sugar-free maple syrup, honey, jerky, powdered milk, low-sugar juice boxes, brown sugar, high-fiber cold cereals, granola, trail mix, nuts, seeds, dried fruits, whole-wheat crackers, sugar-free jams, peanut butter, tapenades, salsas, granola bars, and protein bars. If you have a baby, also include baby formula and baby foods.
Bottled/Canned Liquids
Make sure to also have a supply of canned or bottled water, low-sugar juices, coffee, teas, broths, and soups in case water restrictions or someone catch a stomach bug and need to drink more liquids.
Whole-Grain Bread, Bagels, Muffins, and Rolls
Whether you had kept them in the freezer or in your pantry, they make a good source of carbohydrates and energy for your body.
Fresh Fruit and Vegetables
Although fresh fruits and vegetables are perishable, they can last up to one week on the counter. Some are bananas, apples, pears, oranges and other citrus fruits, avocados, melons, watermelon, stone fruits, mango, pineapple, tomatoes, and onions. They can be eaten raw and will provide vitamins and other nutrients.
How Long Can Refrigerated or Frozen Food Last without Electricity?
If you keep the door of your fridge closed, the food will be kept at a safe temperature (below 40° F) for 4 hours. However, there are some refrigerated items you can still consume if the power outage lasts longer than 4 hours such as bread, jelly, and hard cheeses. Use a food thermometer if needed to check their temperature and eat them safely!
As for frozen foods, they will stay cold for about 24-48 hours.
Moreover, always make sure to use refrigerated or frozen leftovers first -- before they spoil!
No-Cook Recipes
Although most of us cook most foods, there are people who eat a raw diet. If you have no gas or electricity due to any of the circumstances listed at the beginning of this post such as a blackout, you won't be able to use your blender, food processor, microwave, oven, stovetop, or toaster to make your meals.
This is when these no-cook meals will be quite useful -- or necessary to survive. They are healthy and budget-friendly. You will be able to put them together easily and quickly -- and eat way more than avocado toast or chicken salad.
We will list them according to the main meals of the day: breakfast, brunch/lunch, snack, and dinner.
Some are dairy-free, gluten-free, vegan, vegetarian, Mediterranean, keto, or low-carb. There is a meal for everyone though!
No-Cook Breakfasts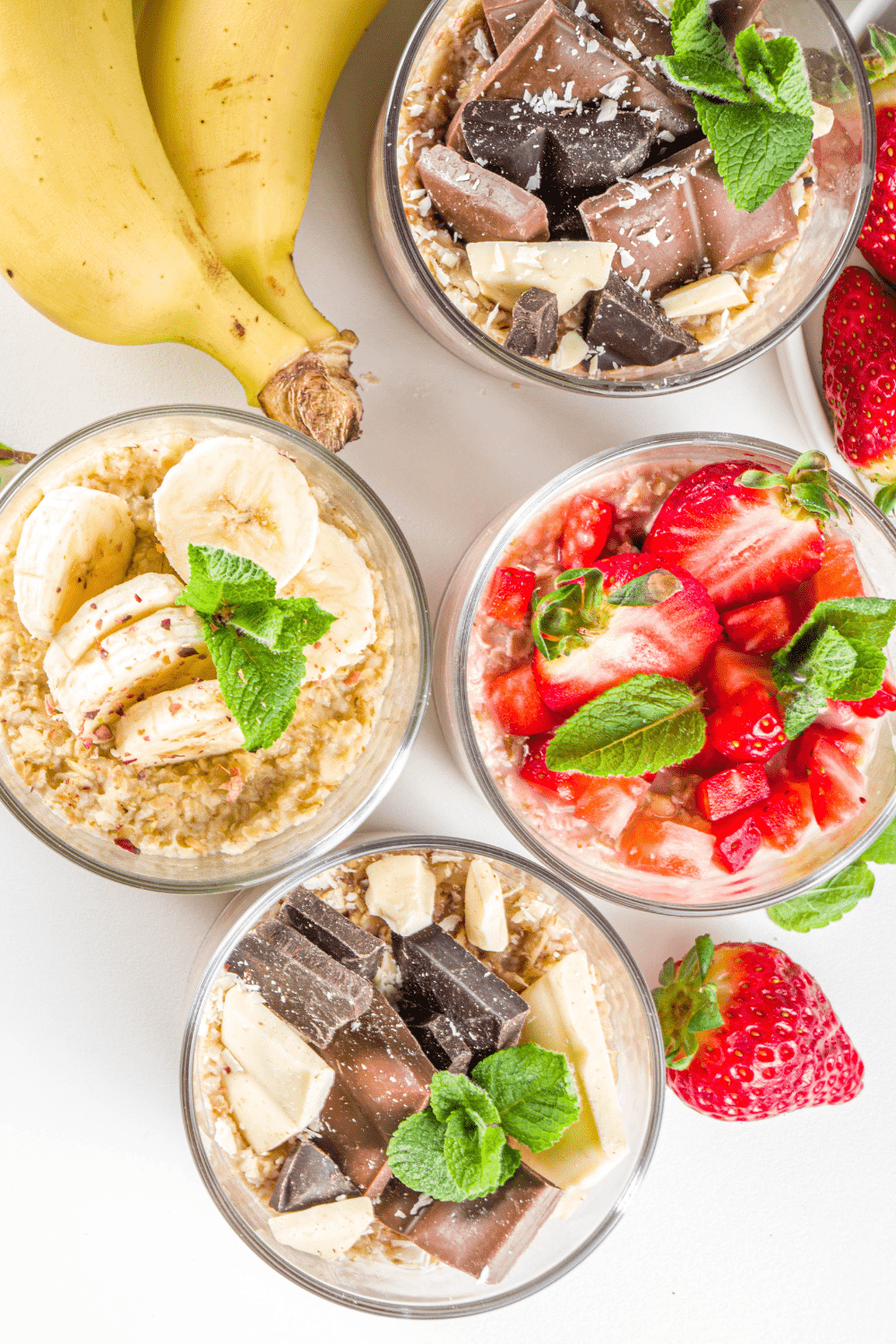 Protein overnight oats prepared with simple ingredients in just 5 minutes without cooking. You can choose any toppings (fruits, nuts, seeds, and coconut flakes), making a healthy wholesome breakfast on the go. It is also gluten-free and comes packed with 20 grams of protein per serving. However, you can use water instead of milk and peanut butter to replace yogurt, and then leave your overnight oats on the counter overnight to soften.
Make this healthy no-cook breakfast in a jar with fruits, cashew nuts, yogurts, chia, and more for a 3-layer parfait that you can put together in just 10 minutes and easily carry anywhere you go.
Breakfast Pinwheel Wraps are made with cream cheese, sliced banana, honey, and walnuts for a nutritious and delicious start to your day! But make sure to replace refrigerated cream cheese with peanut butter or any other nut butter if the power outage has lasted for 4+ hours.
A papaya mango yogurt parfait makes a healthy and tasty breakfast that is easy to prepare and enjoy at home or on the go. It is made with Greek yogurt, crunchy granola, honey, and chunks of fresh papaya and mango! However, you can use any fruit you have handy and of course, make use of your yogurt right away!
This homemade muesli mix recipe is very easy to make. Perfect for a healthy breakfast served with fresh fruit and (plant-based) milk.
6. Greek and Granola Banana Split
These yogurt and granola banana splits are the perfect no-cook breakfast option! Made with a base of yogurt, granola, and fresh fruit everyone will love customizing their own toppings to create the perfect breakfast banana split!
No-Cook Lunch Ideas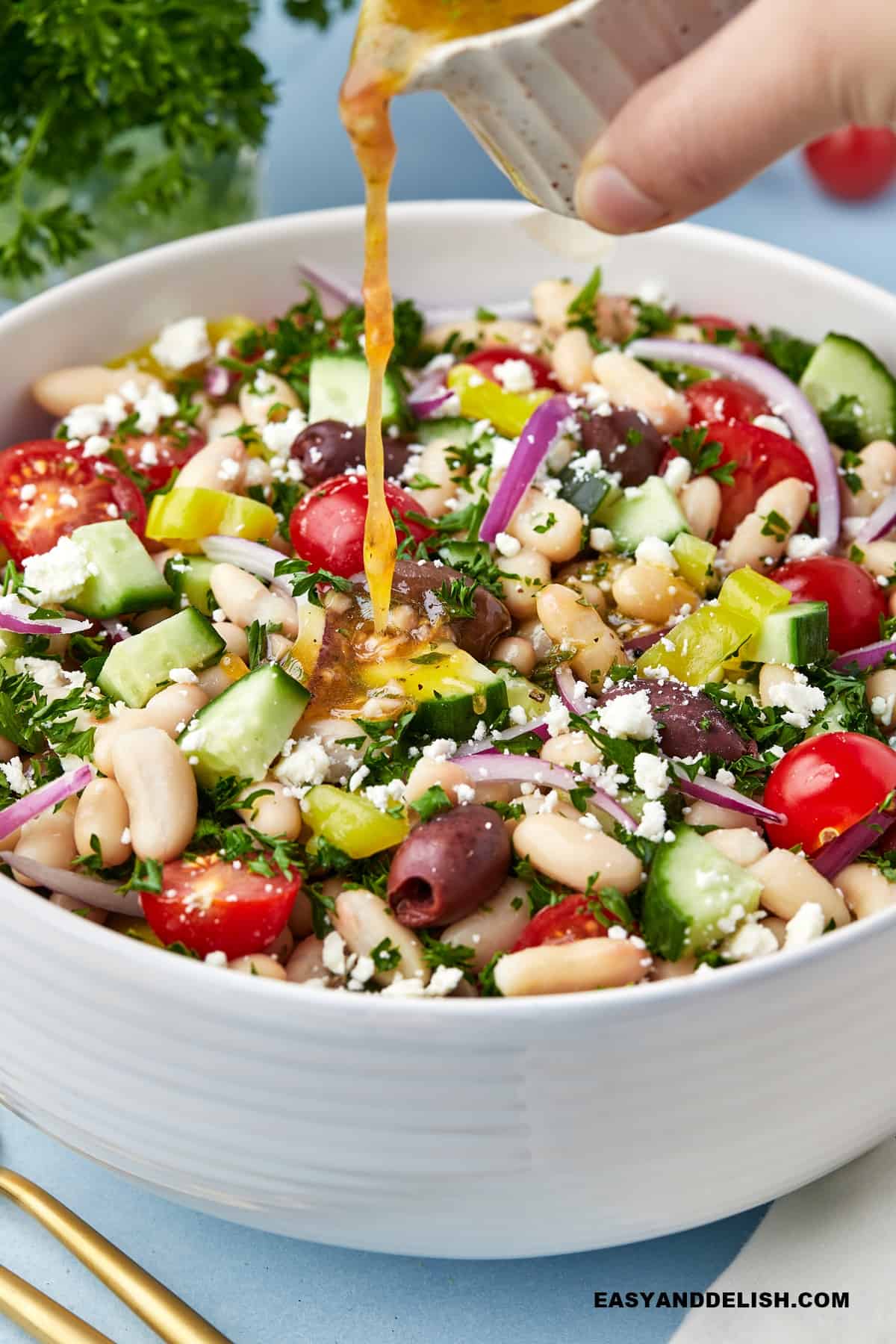 Make this quick and easy crispy Burrata Toast in 10 minutes for a healthy lunch. It calls for toast topped with chimichurri sauce, tomato, fresh herbs, and EVOO, making a low-cost, delicious Italian meal. But use store-bought toast slices for a no-cook meal or bread for a sandwich.
8. White Bean Salad with Mediterranean Dressing
This easy and healthy Mediterranean-inspired white bean salad is made with creamy Cannellini beans, fresh herbs, veggies, and a zesty Mediterranean salad dressing in 15 minutes. It's fresh and makes a quick lunch though.
This tuna salad sandwich is healthy, delicious, and can be prepared in only 10 minutes, involving no cooking. It has a great combination of flavors: salty, sweet, tangy, and spicy.
10. Vegan Raw Salad
Make this 10-minute vegan raw salad with fresh greens, cucumber, radishes, tomato, and vegan feta cheese, dressed with a citrus vinaigrette for a healthy lunch that involves no cooking.
This pear fennel salad combines fresh fruit, veggies, and nuts, and has a flavorful mint dressing. Easy to make, it's a no-cook lunch that takes just 10 minutes to come together.
12. Chunky Gazpacho
This gazpacho will change your life. No cooking is involved, and the chunky version requires one less step and no kitchen appliance/tool! This Spanish tomato soup is traditionally served chilled but you can still make it to consume right away.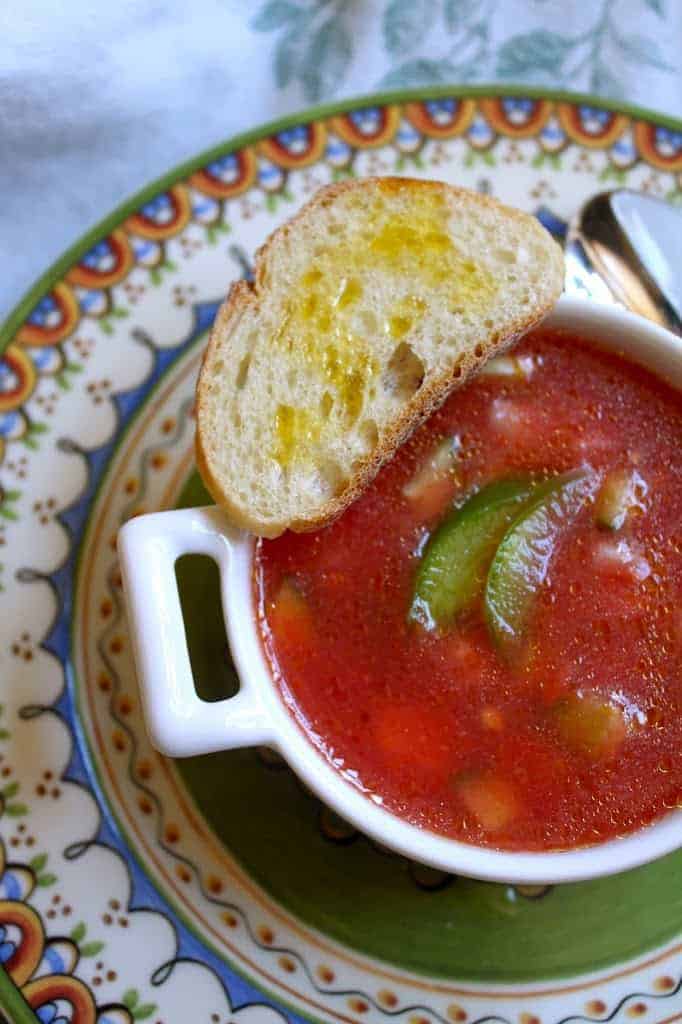 This easy canned green bean salad is a quick and light lunch that requires zero cooking and is perfect for road trips, camping, and power outages. But you can add canned tuna or chicken to it if you want!
Make this vegan salad with watermelon and a few veggies in less than 15 minutes. It makes a refreshing no-cook summer lunch that is healthy and budget-friendly!
15. Berry Salad
A healthy, nutritious, and refreshing summer salad that you can make with fresh fruits, goat cheese, and a lemon poppy seed vinaigrette in just 15 minutes. It makes a quick and delicious lunch!
No-Cook Snacks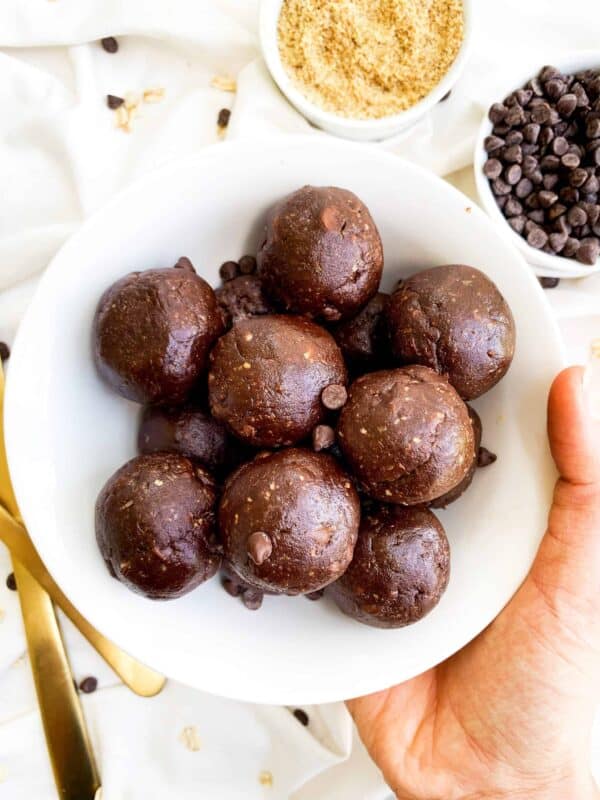 This cottage cheese tzatziki is a fun snack that combines fresh cheese and herbs. It's full of flavor and can be served with crudites or crackers for a cheap no-cook meal. This recipe is perfect for when you experience a power outage you've to use your refrigerated food items first before they go bad though!
17. No Bake Brownie Bites with Peanut Butter
Peanut Butter No-Bake Brownie Bites are vegan, dairy-free, gluten-free, and ready in under 30 minutes! Made using oat flour, ground flaxseed, and other clean ingredients so you can enjoy these healthy bites for dessert or an afternoon snack! But you may replace the melted coconut oil with vegetable oil!
A fun snack or side dish to brighten up your meal, these rainbow fruit kabobs are easy to make with fresh fruit and marshmallows.
19. Matcha Yogurt
Matcha yogurt is a simple, quick, and easy no-cook recipe made in just 2 minutes. It calls for 3 ingredients and you can enjoy it as a healthy snack.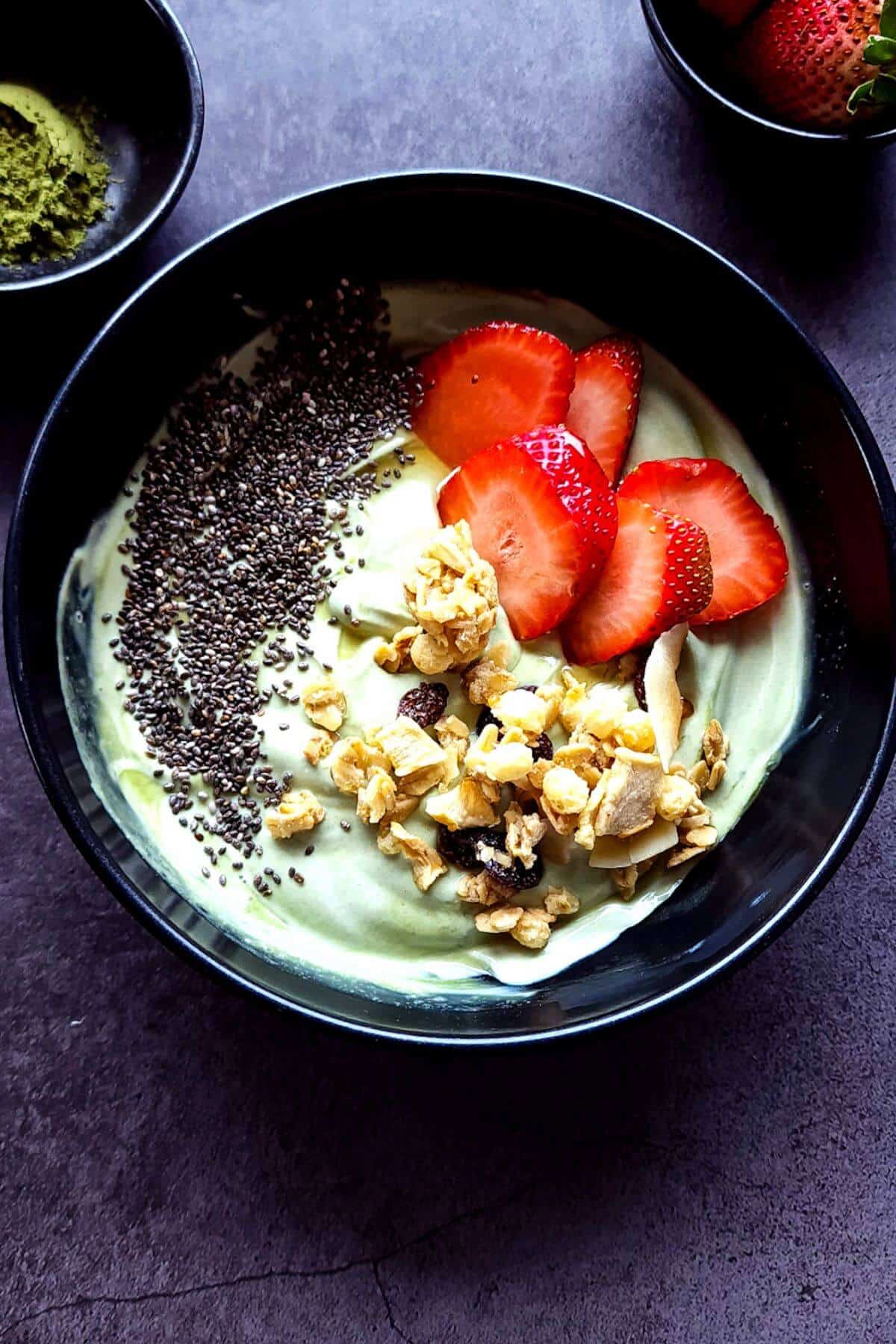 Make this healthy mackerel pate with canned mackerel in just 5 minutes. Serve it with crackers as a quick snack though.
Make these No Bake Pecan Pie Cookie Balls in 25 minutes with5 ingredients for a healthy-ish treat for a snack. You may enjoy it right away at room temp instead of chilled.
No-Cook Dinners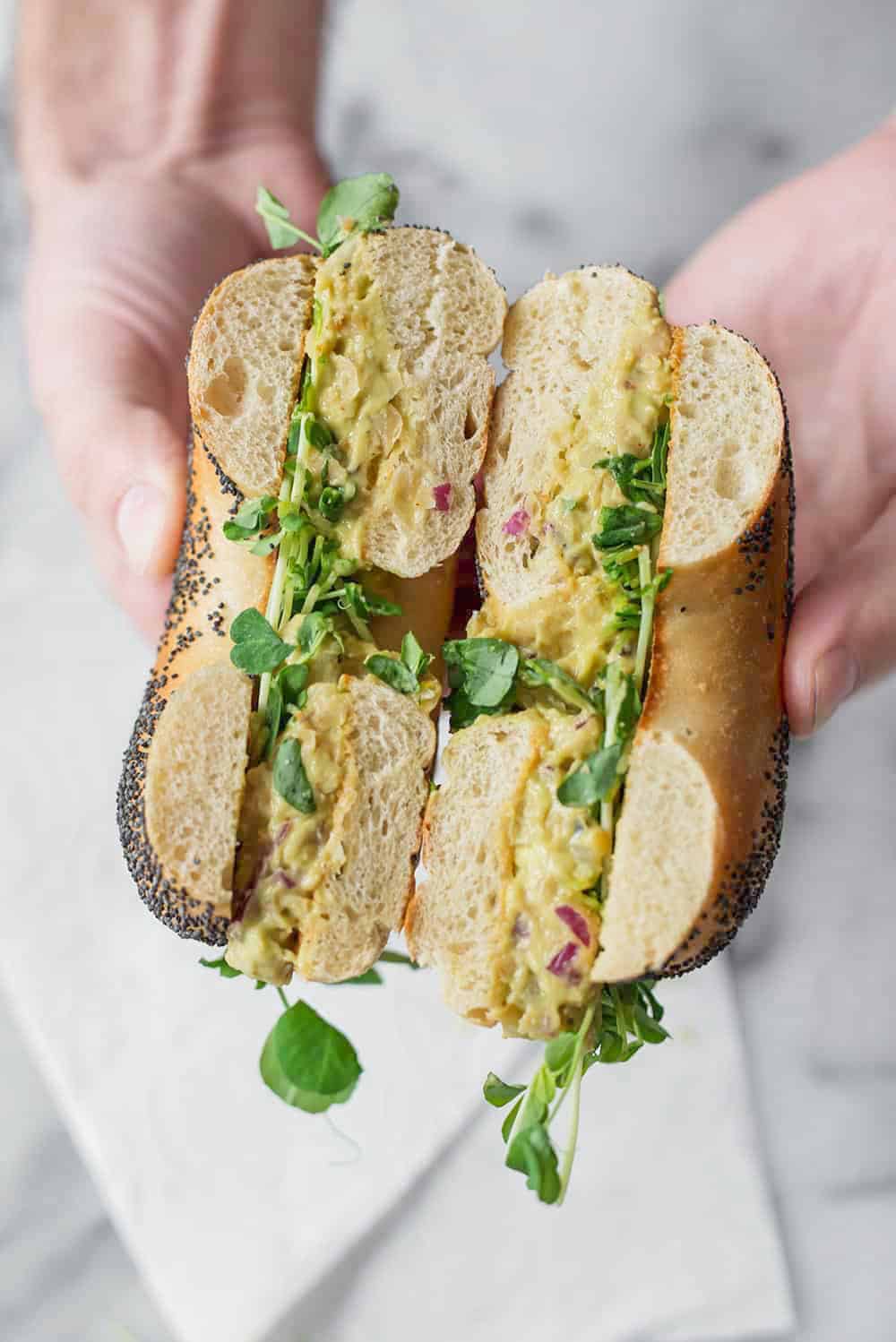 22. Shaved Brussels Sprout Salad
Make this Shaved Brussels Sprout Salad in just 25 minutes using seasonal ingredients such as shaved Brussels sprouts, apple, pomegranate seeds, pecans, pepitas, cranberries, and feta cheese, tossed with a tangy citrus salad dressing. Thus, it makes a healthy and satisfying no-cook dinner!
You can easily prep and assemble all the ingredients (cheeses, spreads, cured meats, crackers, bread, and more) in 30 minutes. You can serve it as a no-cook dinner any time of the year though!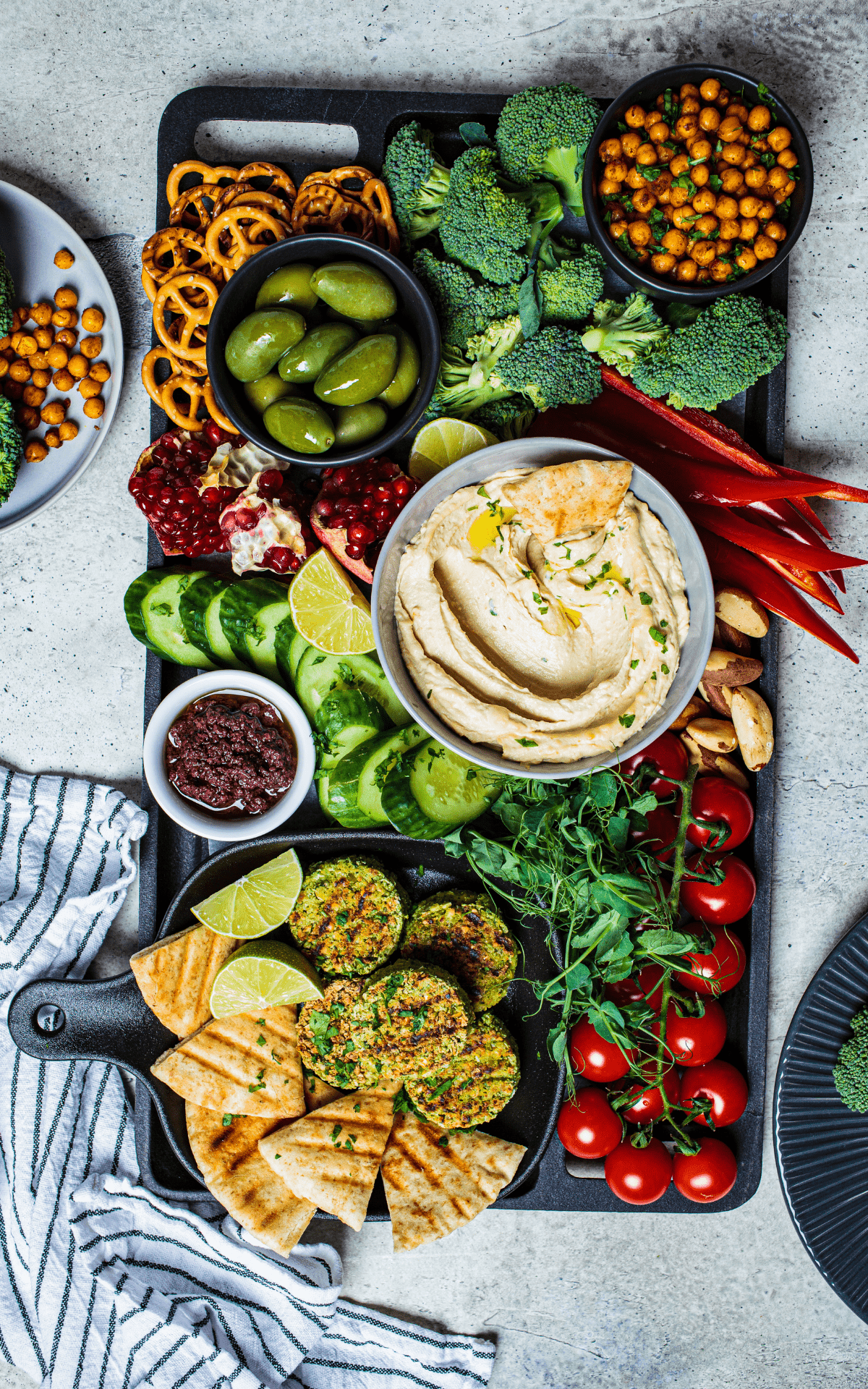 24. Heirloom Chopped Caprese Salad
This chopped Caprese salad is the best way to use seasonal heirloom tomatoes. Stirring in a bit of pesto makes a unique no-cook dinner in up to 15 minutes though.
An Italian Sub Sandwich consists of a long roll filled with a variety of Italian cold cuts, provolone cheese, lettuce, tomato, and onion, topped with Italian dressing for a satisfying no-cook lunch that is packed with flavor. Thus, this is a great way to make immediate use of your chilled food items without cooking.
26. Middle Eastern Mixed Bean Salad
This mixed bean salad is a very popular Middle Eastern-style salad known as Balela. It's a delicious vegan and gluten-free salad that's loaded with veggies, fresh herbs, and other Arabic flavors. Enjoy this hearty salad as one of those healthy no-cook meals though.
Make this Mediterranean tuna salad in just 20 minutes with canned tuna, canned chickpeas, and fresh veggies tossed with a flavorful vinaigrette. Thus, it is rich in fiber and healthy protein!
28. Antipasto Salad
It takes only 15 minutes to put together this antipasto salad. It has Mediterranean veggies, cured meats, greens, herbs, and fresh mozzarella cheese balls, making it the ideal low-carb, high-protein Italian salad platter for dinner. But you can toss all the ingredients together in a bowl or arrange whatever way you want!
29. Texas Caviar
Texas Caviar (a.k.a. Cowboy Caviar) is a versatile no-cook dish that calls for canned black-eyed peas, black beans, and corn, tossed with tomatoes, jalapeno, avocado, and more. But we put a twist on it by adding cooked shrimp but is optional! Make this in just 30 minutes and enjoy a satisfying and easy no-cook meal!
Make this Brazilian-style chicken salad sandwich in just 15 minutes. You can replace rotisserie chicken with canned chicken and enjoy this sandwich right after making it without chilling it first.
31. Vegan Avocado Chickpea Salad Sandwich
This no-cook dinner is a smashed chickpea and avocado salad on poppyseed bagels that is ready in 10 minutes, making one of those delicious no-cook meals without electricity though.
Make this hearty salad in just 20 minutes by mixing fresh veggies and canned chickpeas. It is delicious and quite satisfying, making a great no-cook meal!
This is a fresh and colorful chopped salad that you can make in just 15 minutes with raw vegetables. It's so versatile that you can serve it by itself, as a topping for toast, or as a dip with pita chips though.
Other Meals to enjoy:
PIN & ENJOY!