Get these 50+ Easy Healthy Crockpot Meals for Dinner that will make your life a breeze in the kitchen. From poultry, beef, lamb, and pork to vegetarian recipes, there is a delish meal for all! Just press a button and let your slow cooker do the job for you!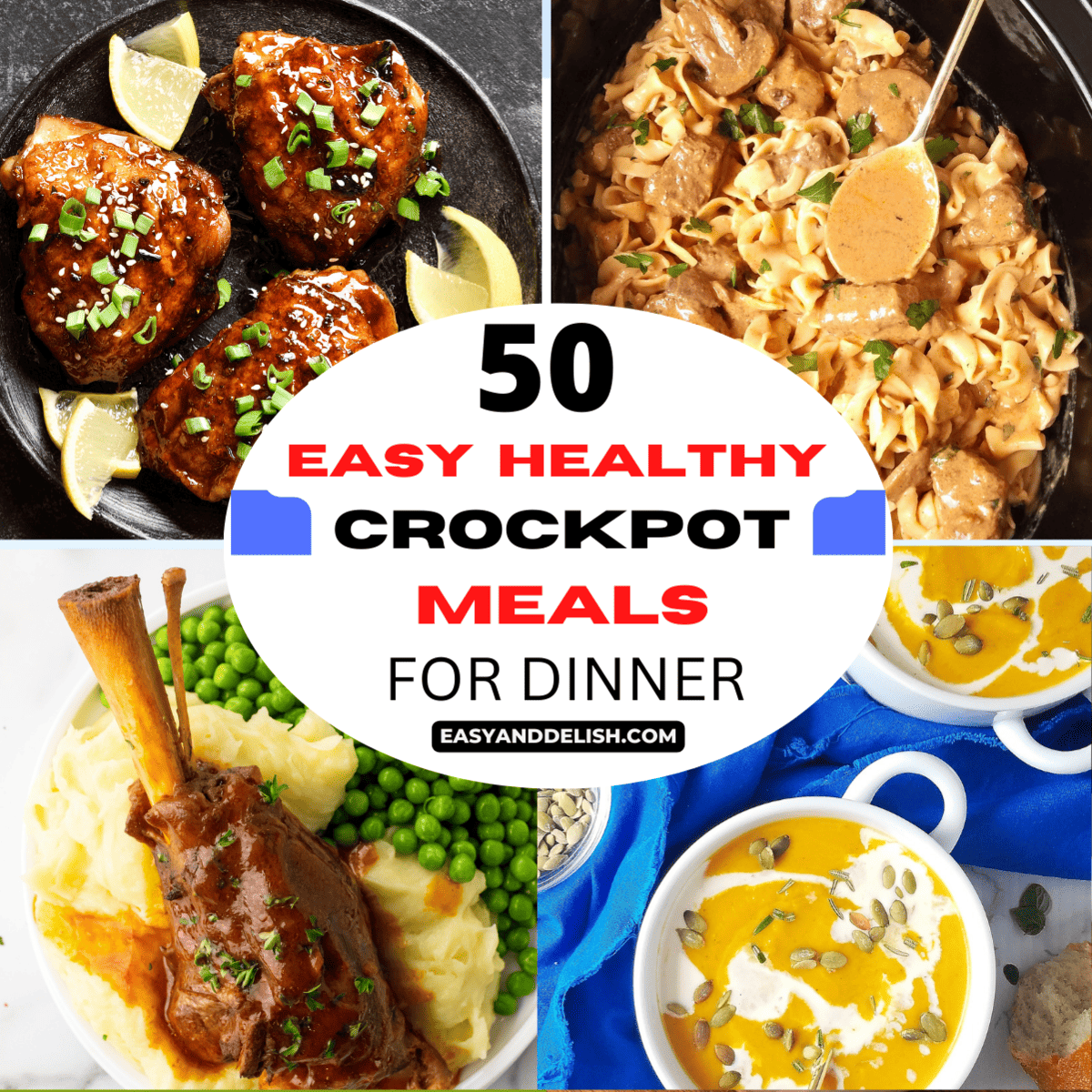 If you love your slow cooker, you're not alone! I am a big fan of it due to its great convenience.
It's especially useful if you work outside the home!
You can place a dinner meal to cook in the morning and have it ready when you get back without any assistance during the day.
The beauty of these healthy crockpot dinners is they will turn raw meats and vegetables into a tender and flavorful meal you can enjoy without stretching your waistline.
Plus, some of them are dump-and-go crockpot meals!
This means they don't require any sauteeing, browning, or other cooking methods previous to cooking in the slow cooker.
Ready to cook these and some more easy slow cooker recipes?
Why You'll Love These Easy Healthy Crockpot Recipes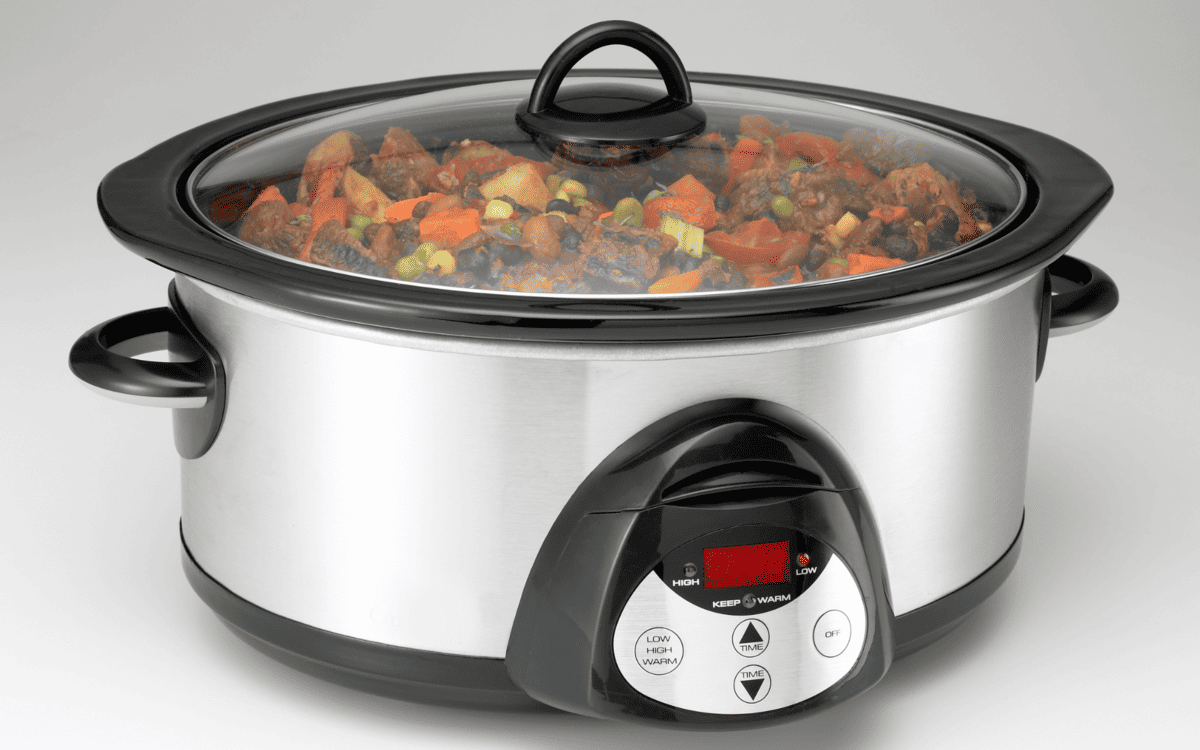 Here are a few reasons we love to cook meals in the crockpot:
Minimal prep time:

Preparing a crockpot meal often requires little time. What takes longer is to cook the meal, but the slow cooker does it for you -- most of the time without calling for any stirring or standing by the stove.

Simple:

While some cooking methods require browning before cooking the meal, the slow cooker doesn't. Of course, browning the meat before cooking it in the crockpot will optimize its flavor, yet it is not n

ecessary

. After placing the ingredients into the crockpot, you will have to pretty much press a button and allow the meal to cook until cooked through. This means y

ou don't need to have any

special cooking skills

to make them

!

Make ahead:

You can place the ingredients to cook in the morning and have a

ny of

these healthy crockpot meals ready in the evening when you get back from work. You can also meal prep it on the weekends and have ready for the week or freeze it for later.

It does the job for you:

I can't emphasize enough how great it is not to have to stand by the stove for hours while cooking a meal. You can go to work or do errands outside the home and have it a meal ready when you get back.

No special cooking skills required:

The slow cooker can't be any simpler. Just dump the ingredients into the pot, press a button, and let the meal cook by itself for hours. Something that anyone can do it!
This said I've prepared for you a list of healthy crockpot recipes for dinner that are easy to make!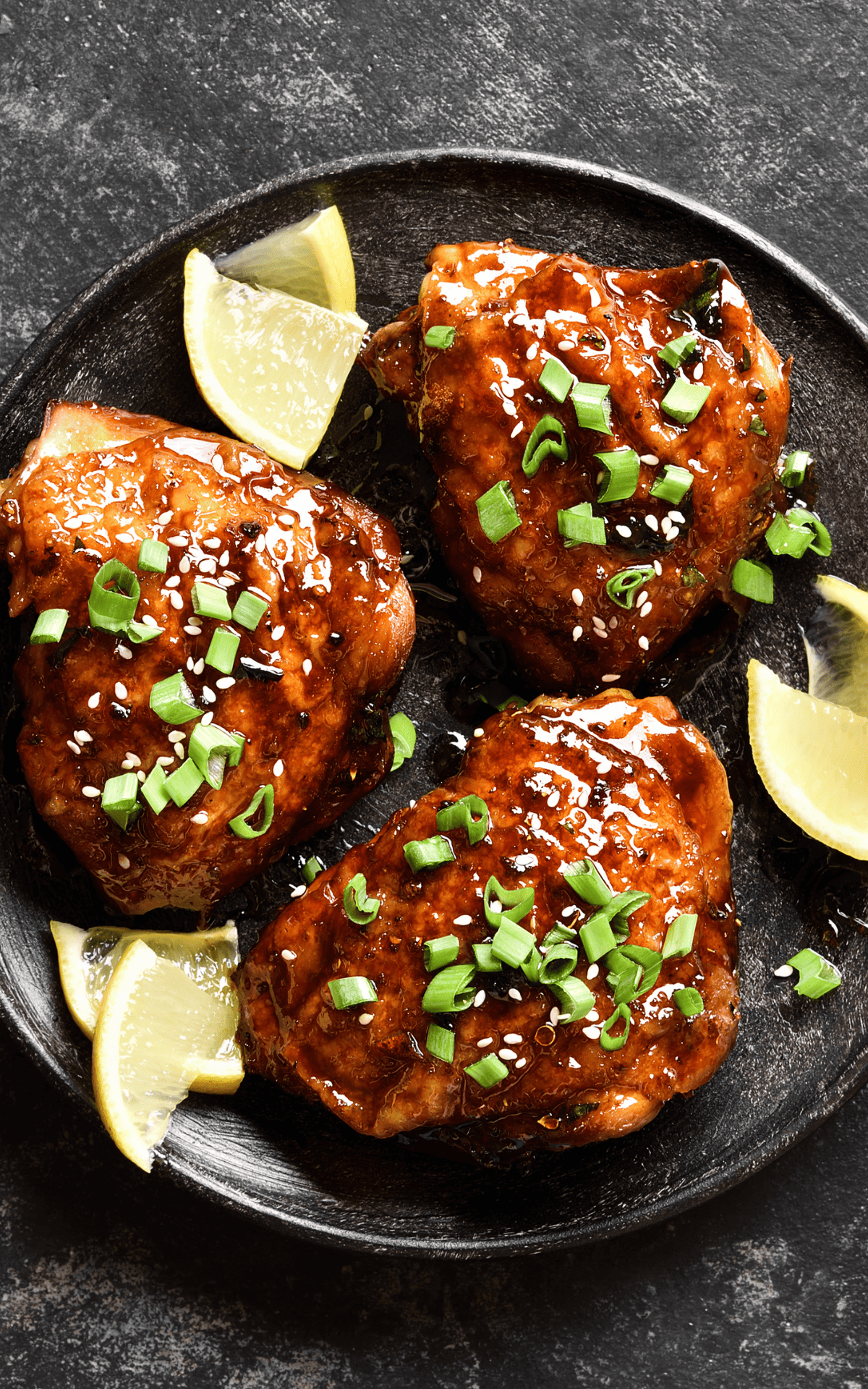 You'll find chicken, beef, pork, turkey, lamb, and vegetarian crockpot meals that are healthy -- some are also vegan, low-carb or keto, high-protein, Whole 30, Paleo, Mediterranean, and so on.
All are perfect for families like yours!
Healthy Crockpot Chicken Recipes
Chicken is a great source of protein and one of the most budget-friendly in the United States. Plan to make several of these easy healthy crockpot chicken recipes for dinner and save both time and money.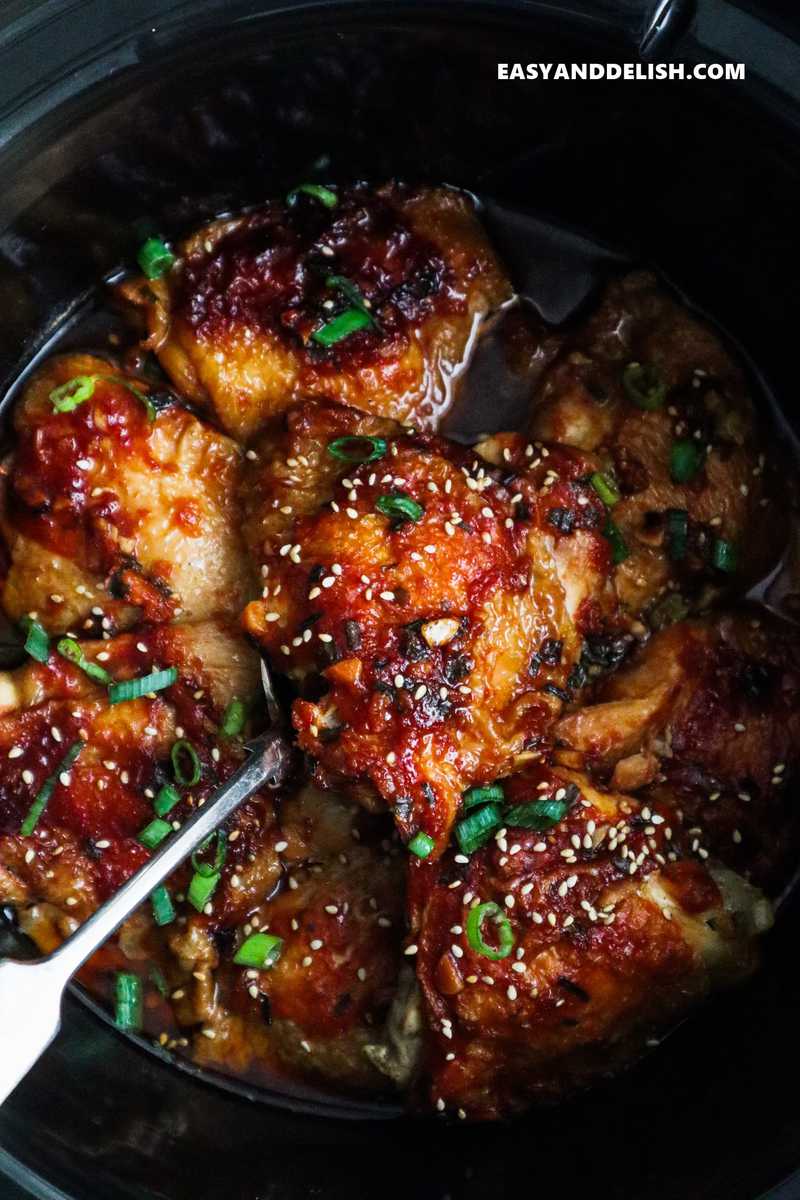 Healthy Crockpot Beef Recipes
Another popular source of protein, beef makes a great alternative to poultry and fish. Cooked in the crockpot, tough cuts of beef can become fork-tender and quite flavorful saving you big bucks.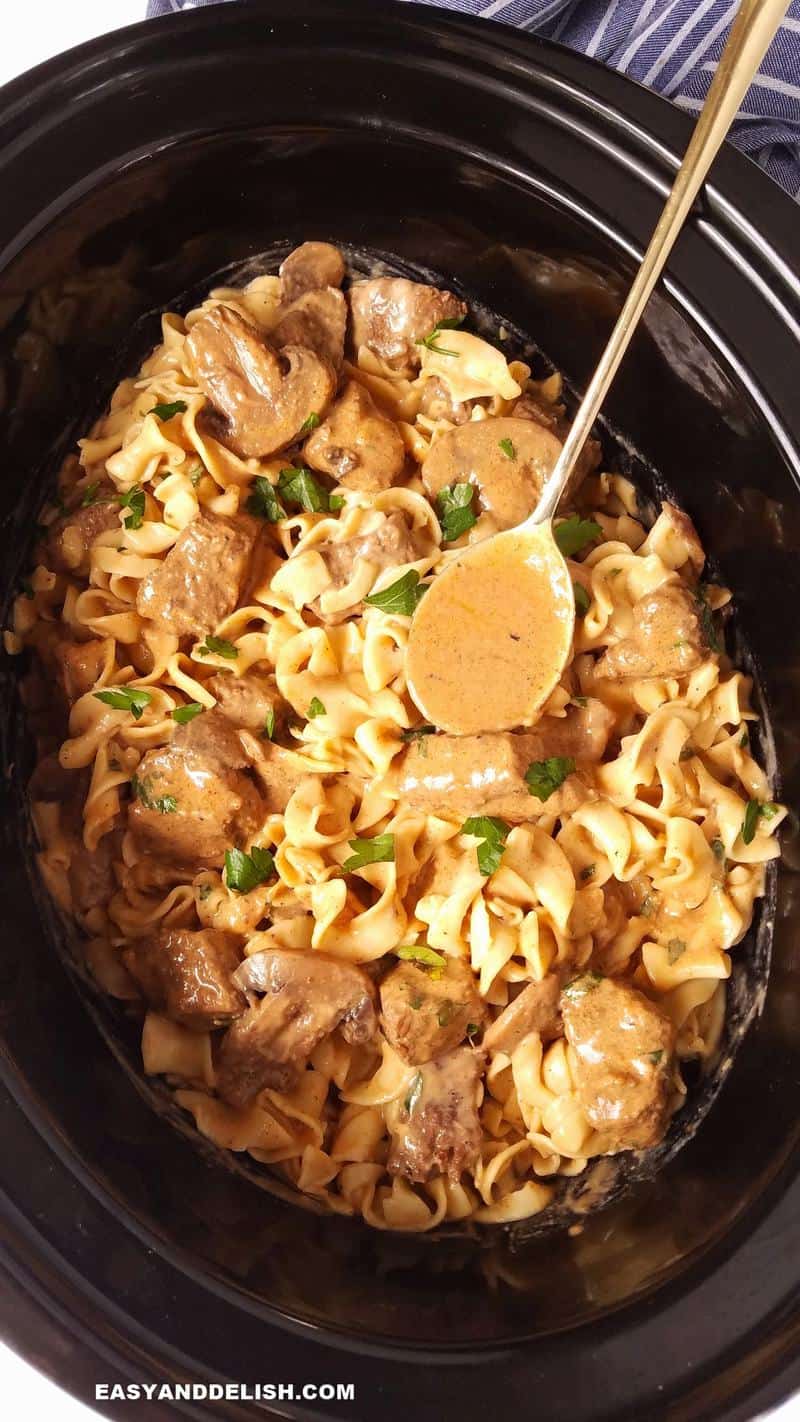 Easy Healthy Crockpot Lamb Recipes
As turkey, lamb shouldn't be a choice only for holidays and special occasions. It can really upgrade any meal without costing an arm and a leg.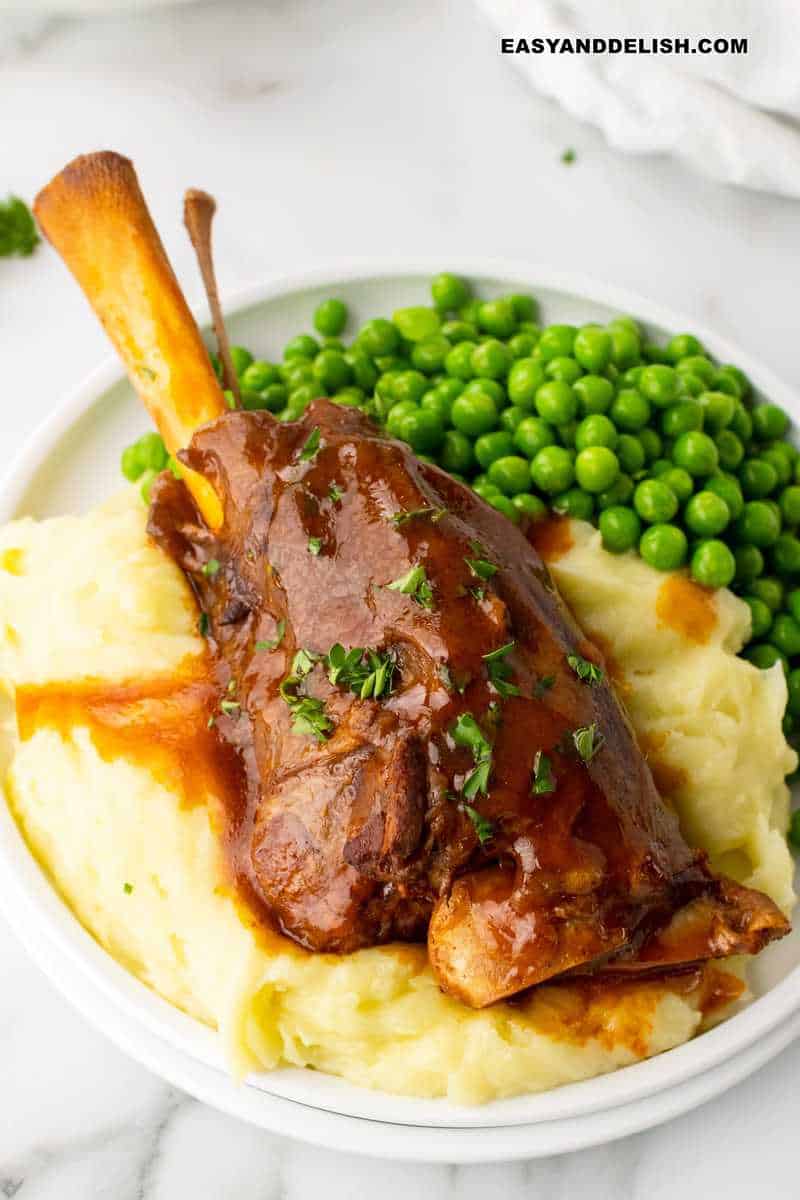 Healthy Crockpot Pork Recipes
Tired of chicken and beef? Grab some different cuts of pork and cook some of the best meals in the crockpot!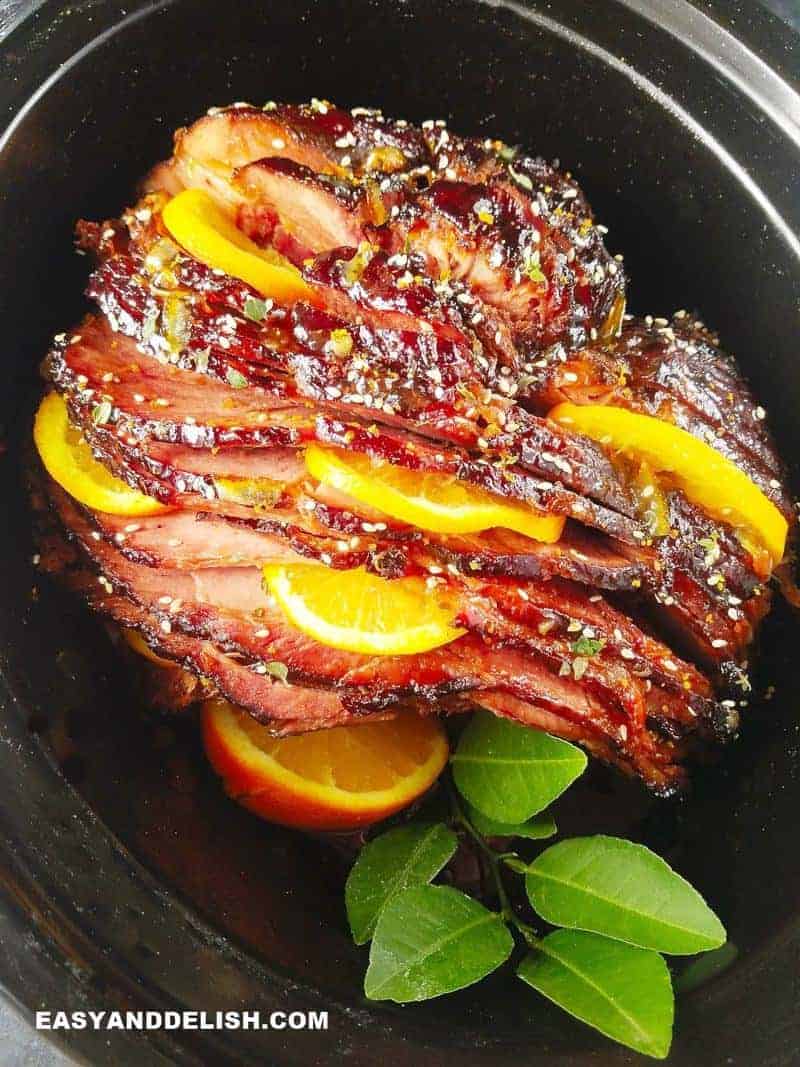 Healthy Crockpot Turkey Recipes
This animal protein shouldn't be popular only during the holidays or to take care of leftovers. In fact, you can easily add it to your everyday healthy meals to replace chicken.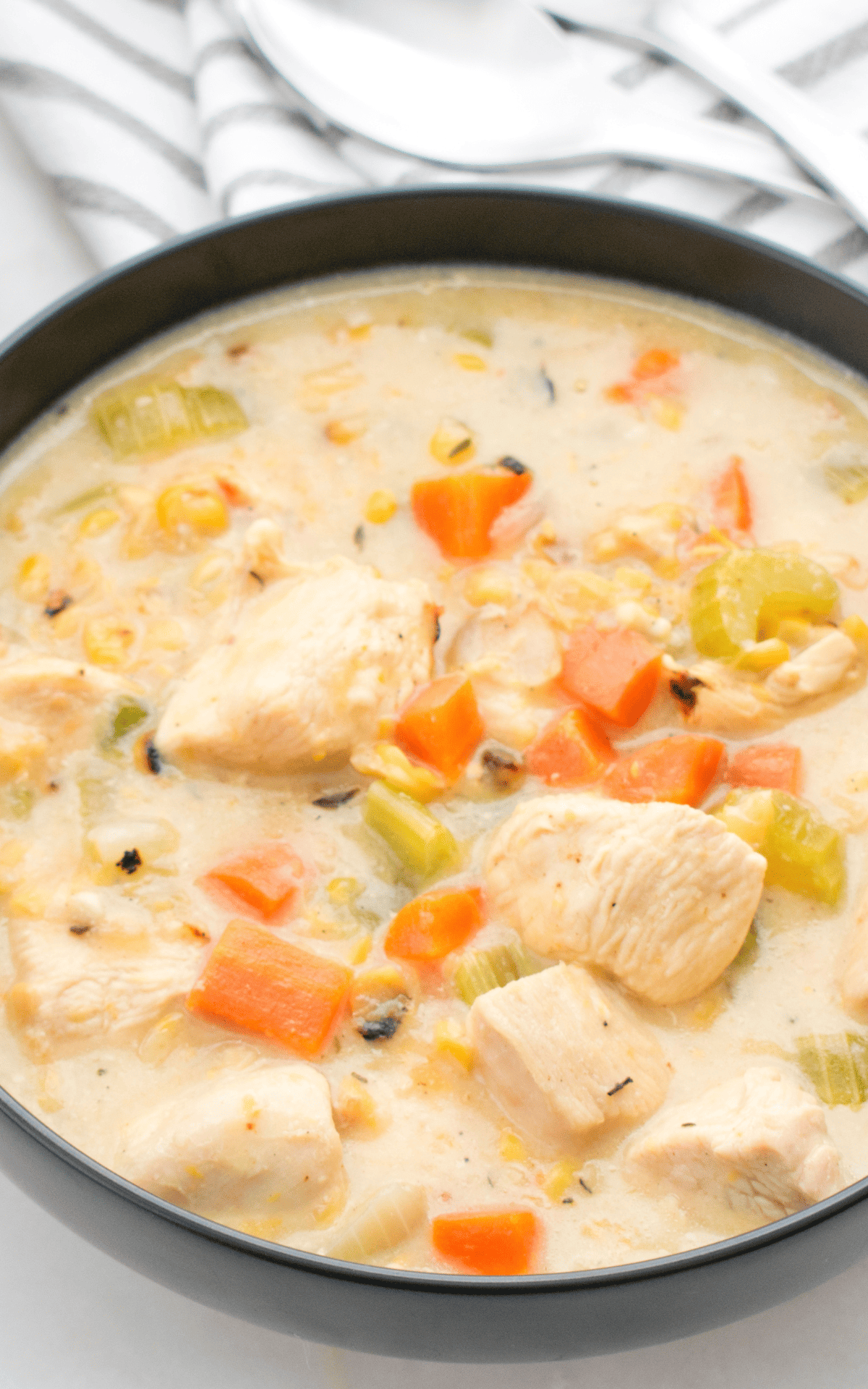 Healthy Crockpot Vegetarian Recipes
Are you on a plant-based diet? You will love these slow-cooker vegetarian meals. But if you aren't, add them to your list of meatless Mondays.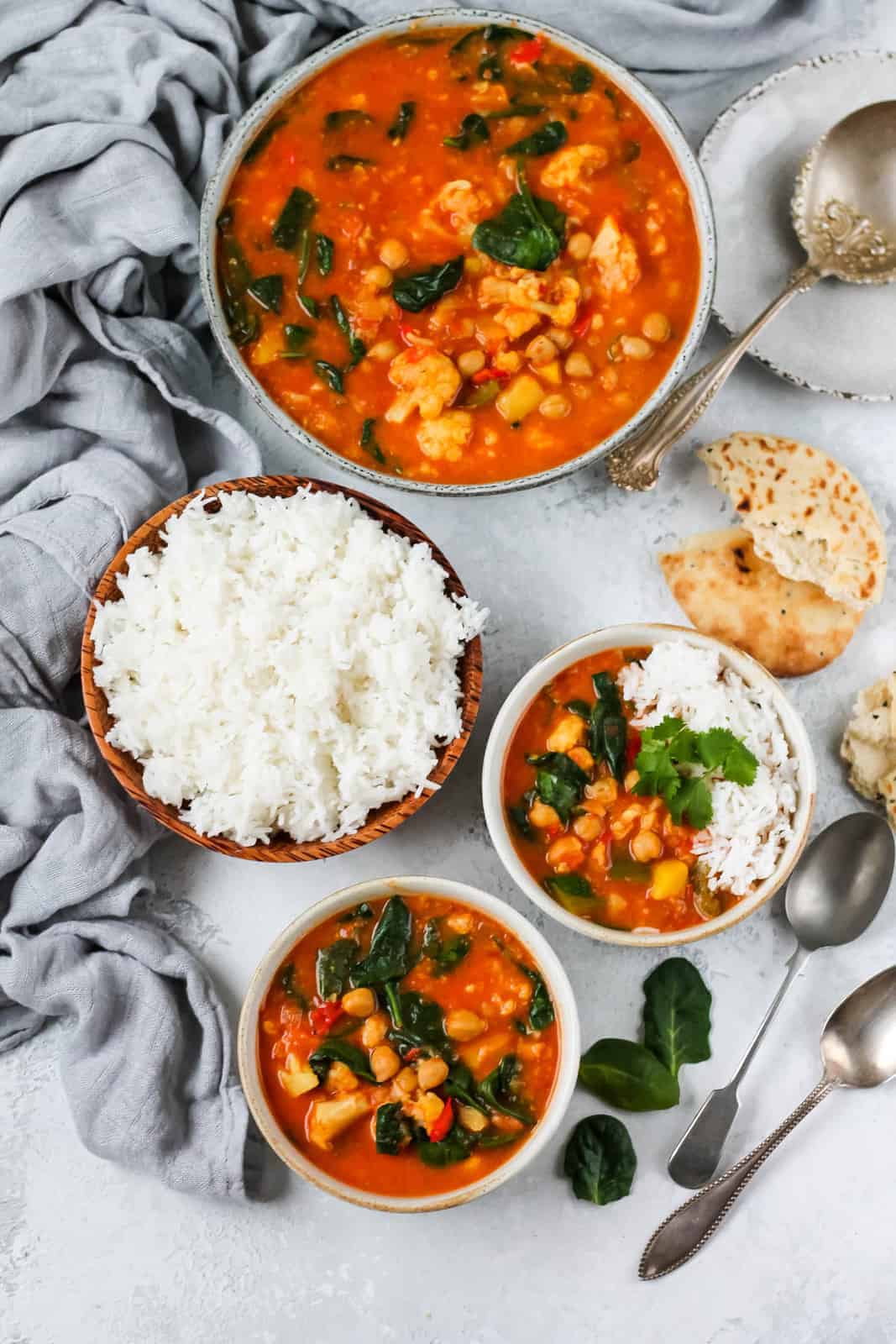 FAQs' for Healthy Slow Cooker Meals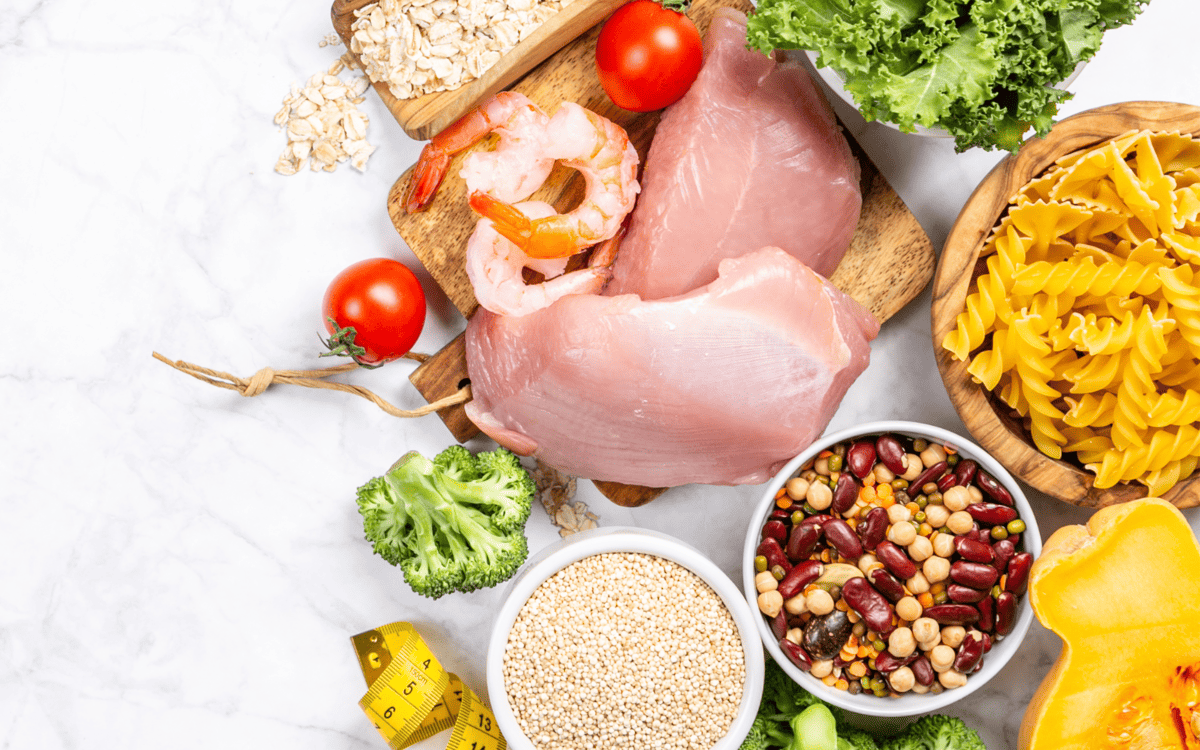 What is the difference between a slow cooker and a crockpot?
There is no difference between a slow cooker and a crockpot. They are the same electric appliance that cooks food at a low temperature over hours. The term "slow cooker" is a generic term for the same utensil that you can buy under the name brand "Crock-Pot".
What is the difference between the LOW and HIGH settings on my crock-pot?
The LOW setting is used to cook meals for a longer time (4-8 hours) while the HIGH setting cookies for shorter cooking times (2-4 hours). The time will depend on the cut and weight of the meat as well as the target texture of the food.
What are the typical cook times for slow cookers?
It depends on the brand of your slow cooker. Some start at 2 hours while others at 4 hours ranging up to 8-10 hours. The Crockpot brand has some models that come with a manual function that allows you to easily set the cooking times on your own.
Can you put raw meat in a crock pot?
Yes! You can put raw meat with a liquid and have it simmered in your crock pot until cooked through, becoming tender and delish.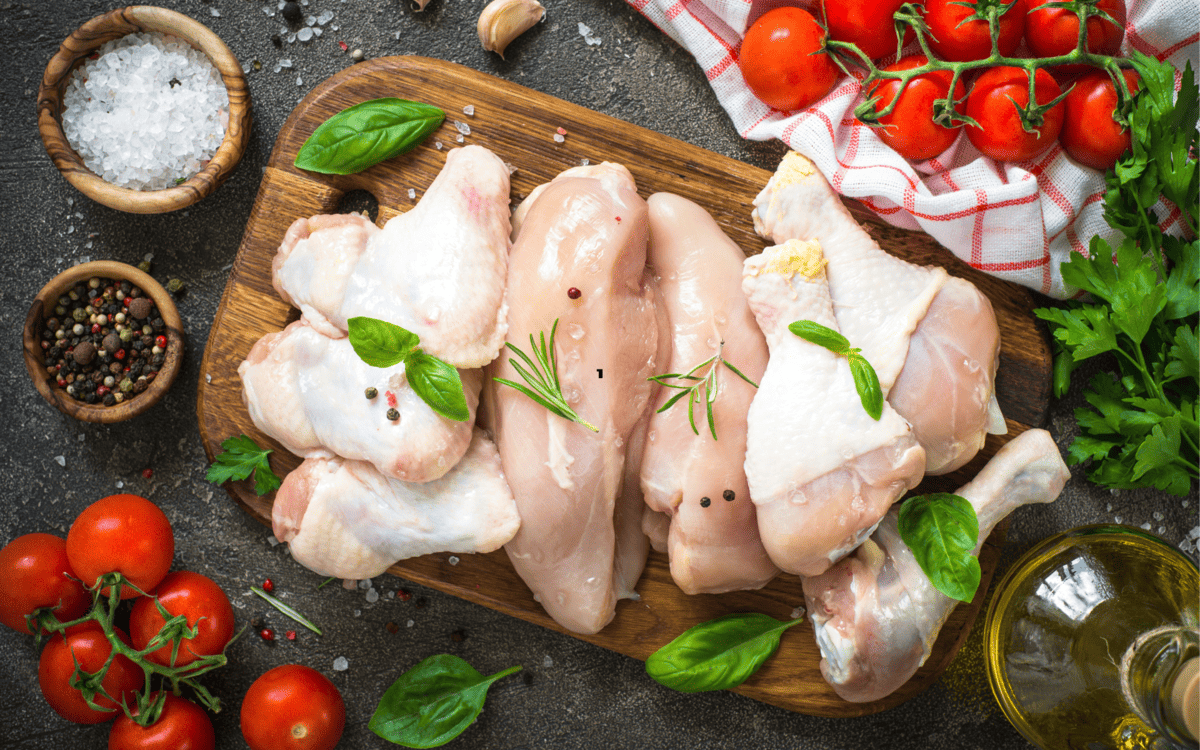 Is the food cooked in a slow cooker healthier?
It can be because you can use less fat to cook in the slow cooker than is usually required on the stovetop. Most stovetop recipes call for browning meats first before simmering them. If it is lean meat or the pan is not nonstick, it will require a type of fat such as vegetable oil. On the other hand, browning meat before cooking it in a slow cooker is not necessary although it will boost its flavor. Anyways, by simmering food low and slow, the slow cooker often preserves more nutrients than baking or frying for example.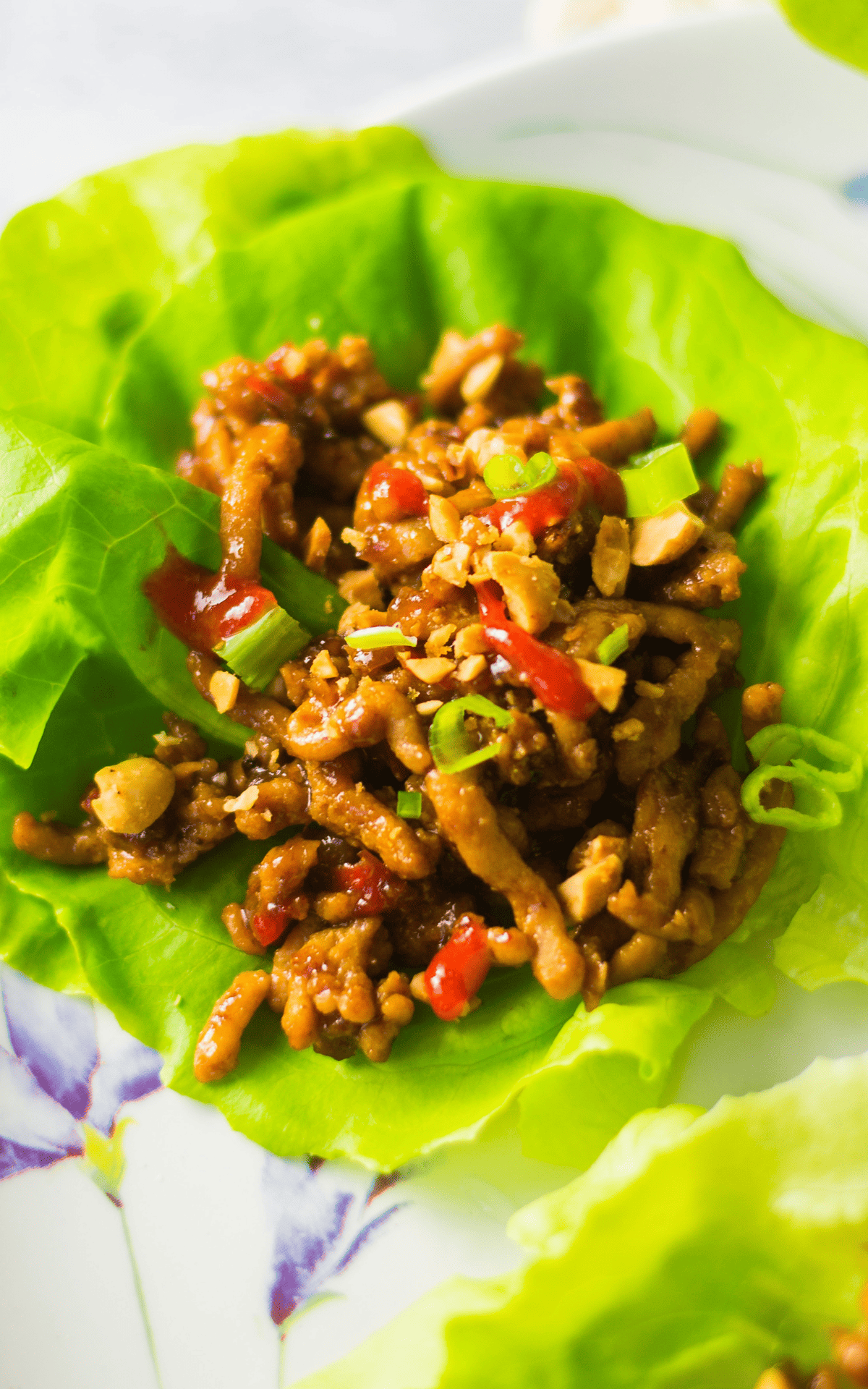 How to Store and Freeze Healthy Crockpot Meals
FRIDGE: These slow cooker recipes will keep well in the fridge for up to 3-4 days. Remove it from the crockpot, let the meal cool completely, and then place it in an airtight container before refrigerating.

FREEZER: Many of these are also easy freezer meals. After letting them cool, place these healthy crockpot meals in freezer-safe containers for up to 2-3 months.

REHEATING: The reheating method and time will vary according to each recipe. But y

ou can reheat

most

of them

, covered, in the microwave until hot.
More Healthy Recipes for Dinner to Try:
PIN & ENJOY!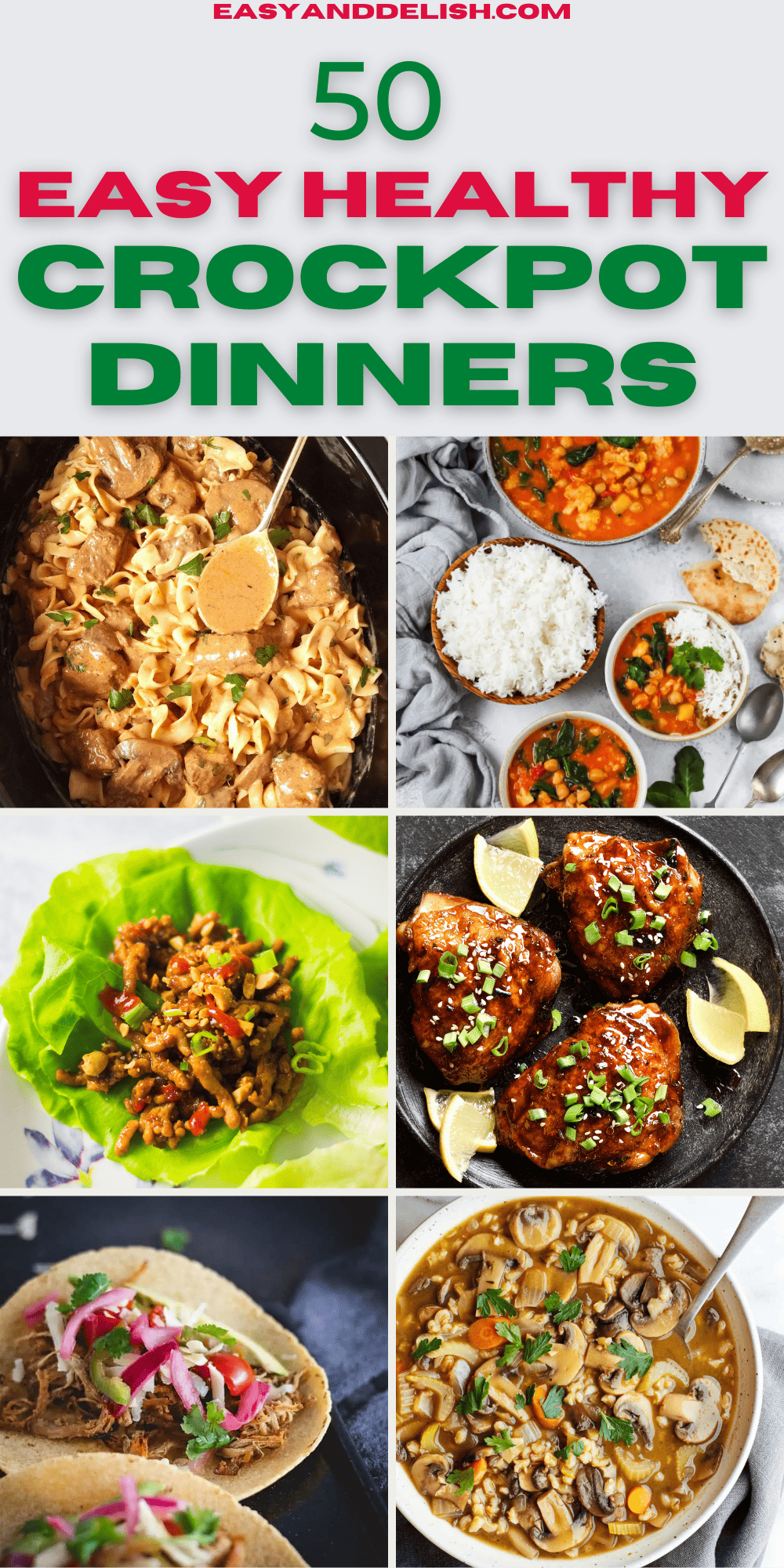 50 Easy Healthy Crockpot Meals for Dinner
Make this tender and juicy slow cooker lamb shanks in red wine sauce for a Sunday Supper/Holiday + get our 50 Easy Healthy Crockpot Meals for Dinner that will make your life in the kitchen a breeze. Most of these recipes only require you to do a quick prep, press a button, and let your crockpot do the job for you!
Equipment
1 large pan

1 whisk

1 tongs
Ingredients
4  

lamb shanks  

trimmed of excess fat (4 to 6 lamb shanks depending on their size)

2  

tablespoons 

olive oil  

divided

1 

large white onion

 diced

2 

large carrots  

peeled and sliced ½-inch thick. If on a keto diet, replace with celery

6 

cloves 

garlic  

minced

Coarse salt and freshly ground pepper

1 ½ 

cups 

red wine

like Carbenet Saunignon, Merlot, or Pinot Noir

3

tablespoons

cornstarch

or xanthan gum or 6 tablespoons of flour. Xanthan gum is the best thickener for a low-carb diet and cornstarch makes a great gluten-free thickener.

2 

cups 

beef stock or broth

14 

oz

tomato sauce

2 

tablespoons 

tomato paste

2 

beef bouillon cubes  

crushed

1 

teaspoon 

fresh rosemary

 finely chopped

2 

bay leaves

2 

tablespoons 

fresh parsley

finely chopped
Instructions
Prepare the lamb shanks: Remove them from the fridge about 1 hour before cooking. Wash and pat them dry with a paper towel.

(OPTIONAL) Sear: Heat 1 tablespoon of olive oil in a heavy-bottom pan over medium-high heat. Sear two shanks until browned on all sides. Repeat with remaining shanks and oil. Do not overcrowd the pan! NOTE: Although this step is optional, I recommend it because it will boost the color and flavor of the meat!

Cook: Transfer them to a 6-quart slow cooker bowl. Add in the onions, carrots, and garlic. Season with ½ teaspoon coarse salt and ¼ teaspoon ground pepper, tossing well to combine. Reserve!

Make the sauce: In the same pan that you seared the shanks, pour in the red wine and allow to simmer over medium-low heat for 4-5 minutes. Then add 1 tablespoon of cornstarch or xanthan gum (or 2 tablespoon flour) slowly, whisking constantly, until no lumps are found. Let it reduce and thicken slightly, then pour it into the slow cooker along with the beef stock,  tomato sauce, tomato paste, bullion,  rosemary, and bay leaves.

Mix well to combine the ingredients. Cook on HIGH for 6 hours or on LOW for 8-10 hours, or until the lamb is fall-apart tender.

Remove the lamb shanks and cover them well. Skim fat from braising liquid if needed, using a slotted spoon.

Thicken the sauce: Transfer the sauce to the pan that you seared the shanks and turn on the heat to medium-low. In a small bowl, whisk 2 tablespoons of cornstarch or xanthan gum (or 4 tablespoons of flour) with ¼ cup of the sauce from the pan until completely dissolved.

Pour the mixture into the pan, whisking quickly until completely smooth. The sauce must simmer for 4-5 minutes, or until thickened to desired consistency.

Serve: Garnish with chopped parsley and serve over mashed potatoes/cauliflower and a side of steamed peas.
Recipe Notes
STORAGE
Store leftovers in an airtight container in the fridge for up to 4 days.
Reheat braised lamb shanks gently, covered, in the microwave on 50% power, turning midway through reheating.STO
Nutrition
Calories:
462.6
kcal
|
Carbohydrates:
22.9
g
|
Protein:
43.7
g
|
Fat:
14.1
g
|
Saturated Fat:
3.4
g
|
Polyunsaturated Fat:
1.5
g
|
Monounsaturated Fat:
8
g
|
Cholesterol:
127.3
mg
|
Sodium:
1157.7
mg
|
Potassium:
1356.2
mg
|
Fiber:
9.3
g
|
Sugar:
8.3
g
|
Vitamin A:
6302.1
IU
|
Vitamin C:
23
mg
|
Calcium:
83.5
mg
|
Iron:
6
mg
** Nutrition labels on easyanddelish.com are for educational purposes only. This info is provided as a courtesy and is only an estimate, since the nutrition content of recipes can vary based on ingredient brand or source, portion sizes, recipe changes/variations, and other factors. We suggest making your own calculations using your preferred calculator, based on which ingredients you use, or consulting with a registered dietitian to determine nutritional values more precisely.
Please note that health-focused and diet information provided on easyanddelish.com is for educational purposes and does not constitute medical advice, nor is it intended to diagnose, treat, cure, or prevent disease. Consult with your doctor or other qualified health professional prior to initiating any significant change in your diet or exercise regimen, or for any other issue necessitating medical advice.
DID YOU MAKE THIS RECIPE?
Comment and rate the recipe. Also follow us on Pinterest at @easyanddelish for more delish recipes.