If Brigadeiro (The famous and infamous Brazilian Fudge Balls)  is GOOD, imagine a brigadeirão (a family-size Brigadeiro)… I know, it's not just you. My mouth is watering like crazy just thinking about it! 🙂
When I told my six-year-old daughter that I intended to make brigadeirão, her eyes popped wide open and her whole face could not hide her excitement. What can I say, the girl is crazy for chocolate, especially brigadeiro-type fudge.
But she really jumped up in excitement when I told that I'd serve it at her tea party. Yes! Tomorrow afternoon I'll have a house full of girls dressed up in costumes who will enjoy tea, sandwiches, and my brigadeirão, followed by a nail spa, a make-your-own jewelry session, a movie with popcorn, and of course a sleepover.
I am excited for them but since I'll be the one serving everyone and providing everything else that they need (Lord have mercy!), I think I am the one who will end up the happiest  to have such a treat to nosh on.  I'll really need it… 🙂
Well, whenever you're having a tea party, a potluck, a family meal, or simply must satisfy a chocolate craving, then brigadeirão is the right dessert. Why? Because it's inexpensive, simple to make, and  VERY indulgent.  Just prepare yourself to provide the recipe to everyone else or send them to take a look here.
Good luck, either way!
xx
P.S: frombraziltoyou.org issues this warning – Brigadeirão is extremely addictive!
 Brazilian Chocolate Fudge Flan
(Brigadeirão)
Serves 12
Segment: Brazilian Cuisine
Ingredients:
For the Brigadeirão/flan:
14 oz (about 400 ml) sweetened condensed milk
14 oz (about 400 ml) whole milk
1 (250 ml) unsweetened cocoa powder
1/3 cup (83 ml) sugar
1 tablespoon (15 ml) plus 1 teaspoon (5 ml) all-purpose flour** or 1/2 tablespoon plus 1/2 teaspoon cornstarch
1 tablespoon (15 ml) plus 1 teaspoon (5 ml) unsalted butter, melted
4 large eggs, at room temperature
1 tablespoon (15 ml) pure vanilla extract
A dash of salt
Unsalted butter to grease the pan
Chocolate sprinkles to decorate (Choose a good-quality one. Preferebly, Guittard or Cocoa Barry. Since I did not find any of those, I used chocolate vermicelli)
** You can use a gluten-free flour, if desired.
For the Vanilla Sauce:
1/2 cup heavy whipping cream
1 vanilla pod
1 tablepoon sugar
Directions:
Pre-heat the oven to 350º F (180º C). Grease a 8 in (20 cm) ring pan
Blend together well the condensed milk, the whole milk, cocoa, sugar, flour, butter, eggs, vanilla, and salt.  Pour mixture into the prepared pan.
Bake in Bain-Marie for about 40 minutes. Let cool on a rack and refrigerate for about 2-4 hours. Unmold carefully, drizzle with the vanilla sauce (recipe follows), and sprinkle the chocolate sprinkles on top.
Cut the vanilla pod in half lengthwise. Scrape with a teaspoon. Mix with the heavy cream and sugar, and bring to a simmer. Pour into a cup, let cool down, cover, and refrigerate for at least 4 – 24 hours.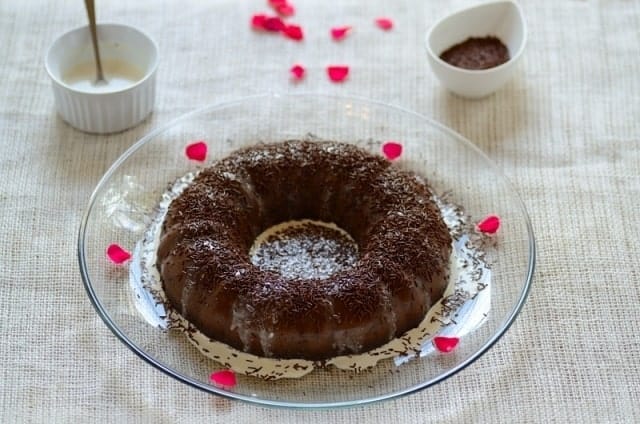 Note: A special thanks to our friends, The Sepulvedas, for permitting their girls'pictures be featured here. We love y'all!