The June Festivals (Festas Juninas) are already underway in Brazil… and Father's Day will also be commemorated this Sunday. Brazilian Peanut Brittle, known as Pé de Moleque, was our pick to make these two dates memorable. It is simple to make yet is sweet, nutty, buttery, and hearty… a true party for the mouth!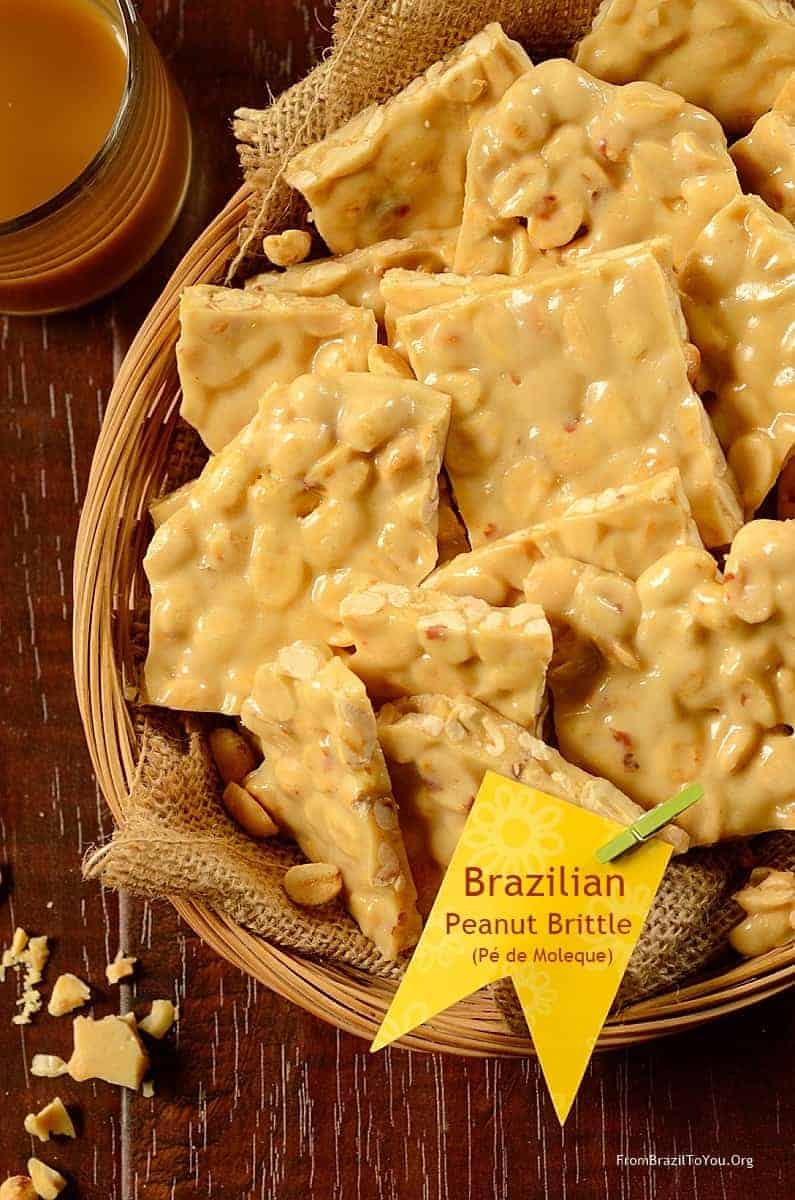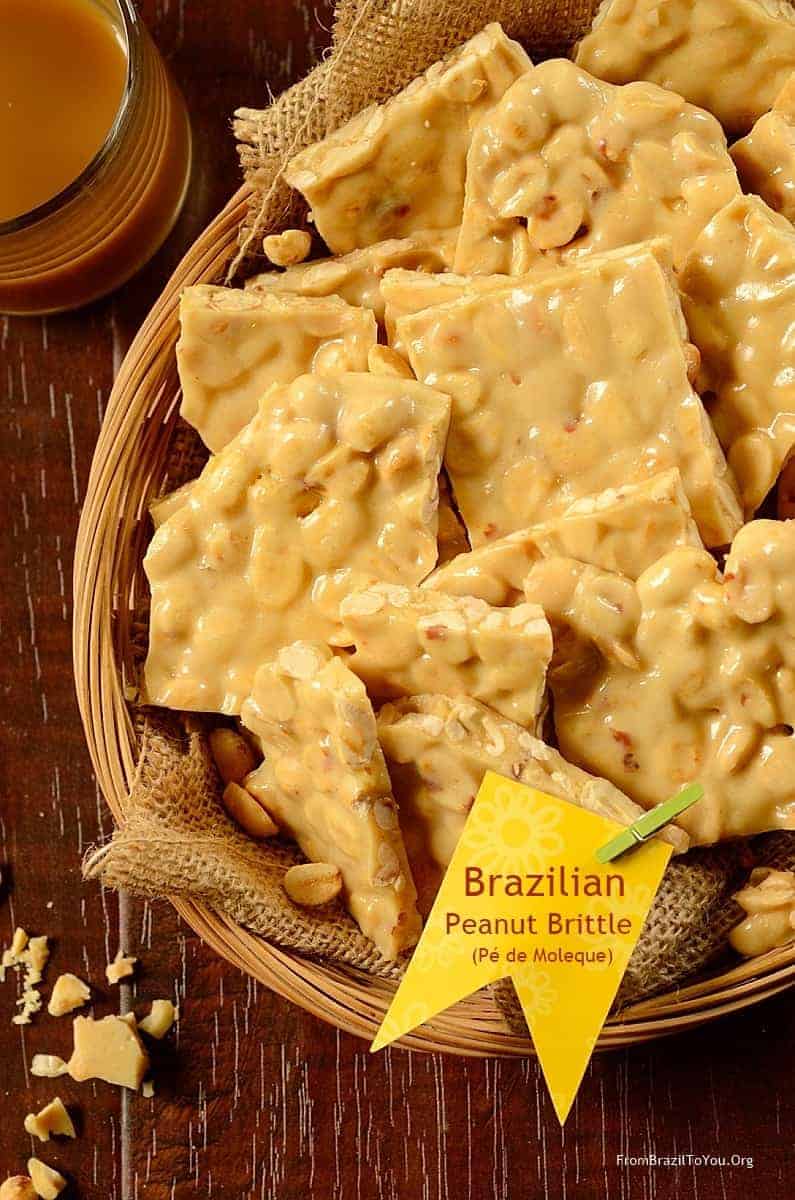 This brittle is a typical treat during these Brazilian festivities… as well as something that would make Dad happy to receive or to be served.
The Brazilian version is similar to the American, although nuttier… and this specific recipe is quite a bit more buttery. It incorporates more peanuts and, of course, lots of butter, which gives the blond color to our brittle.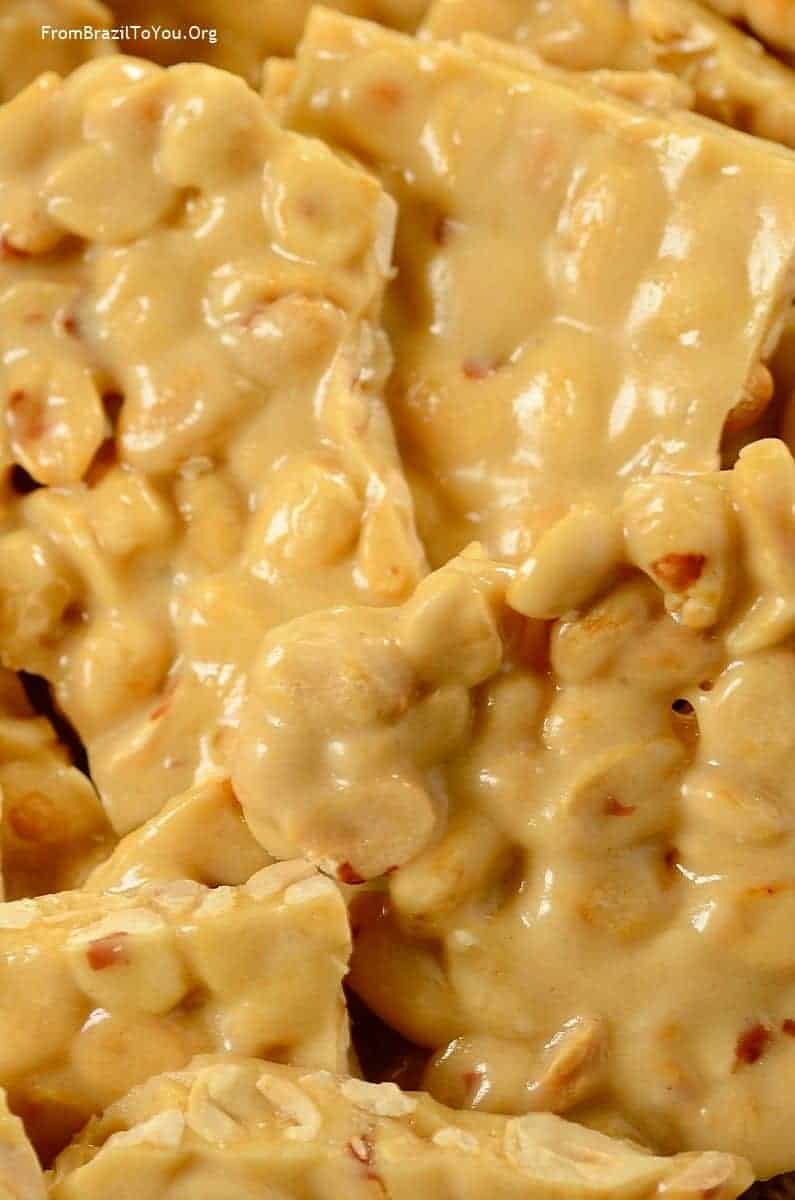 There are many different versions of Pé de Moleque (Brazilian peanut brittle) — with differences in ingredients, color (ranging from blond to a deep dark caramel), and cut/shape. In addition, baking soda was also added to our recipe to make the brittle crack nicely even in hot and humid weather like we have been having lately in Texas.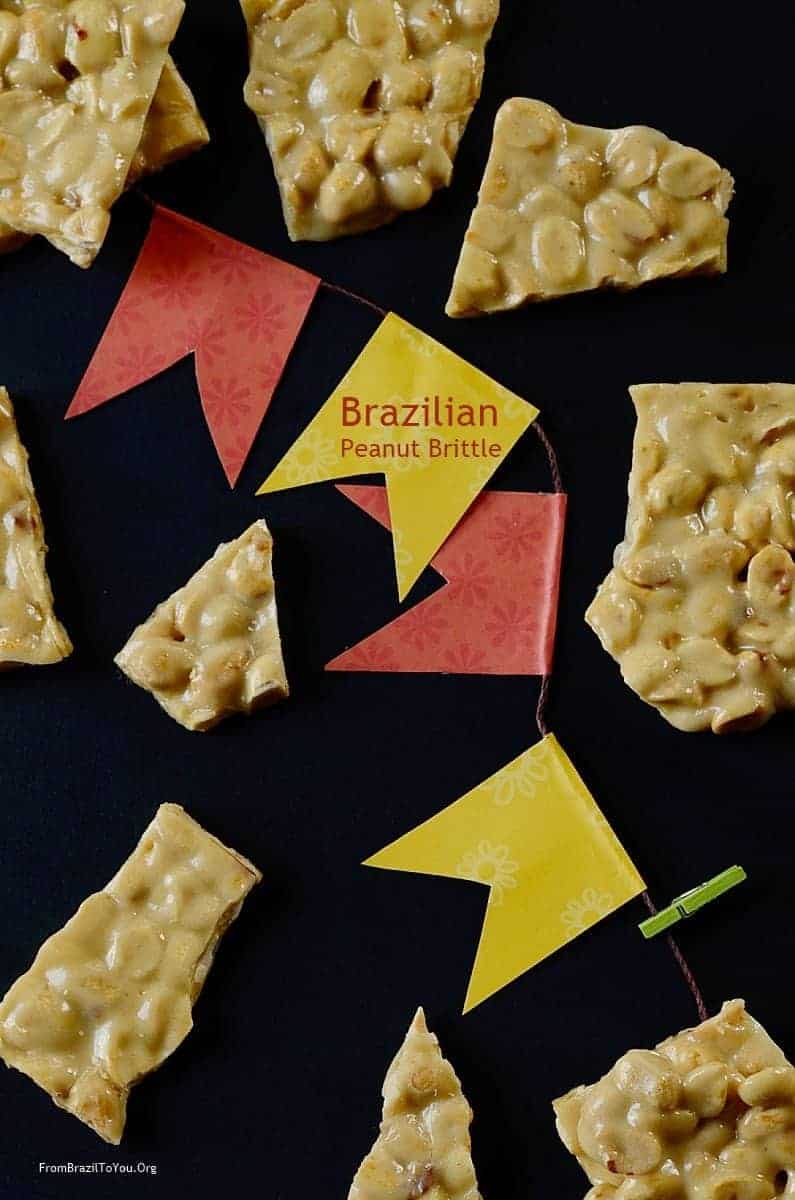 If you are planning an authentic festa junina, make our Brazilian peanut brittle, as well as some corn dishes such as bolo de milho (corn bundt cake), curau (sweet corn pudding), pamonha de forno (gluten-free creamy corn cake)… and cocada (Brazilian coconut bars). Wash them all down with quentão (Brazilian mulled wine)… dance quadrilha to the lively sound of forró music beneath a tent brightly decorated with colored flags and sky lanterns. And don't forget the fireworks!
Now then, if you would love to treat Dad like a king, present him with this super delish brittle and serve him some of these 20 guy-pleasing dishes. Tell me, whose Dad wouldn't go crazy for a humongous burger, finger-licking pork ribs, hearty steak and eggs, breakfast pizza, or barbecue? 😉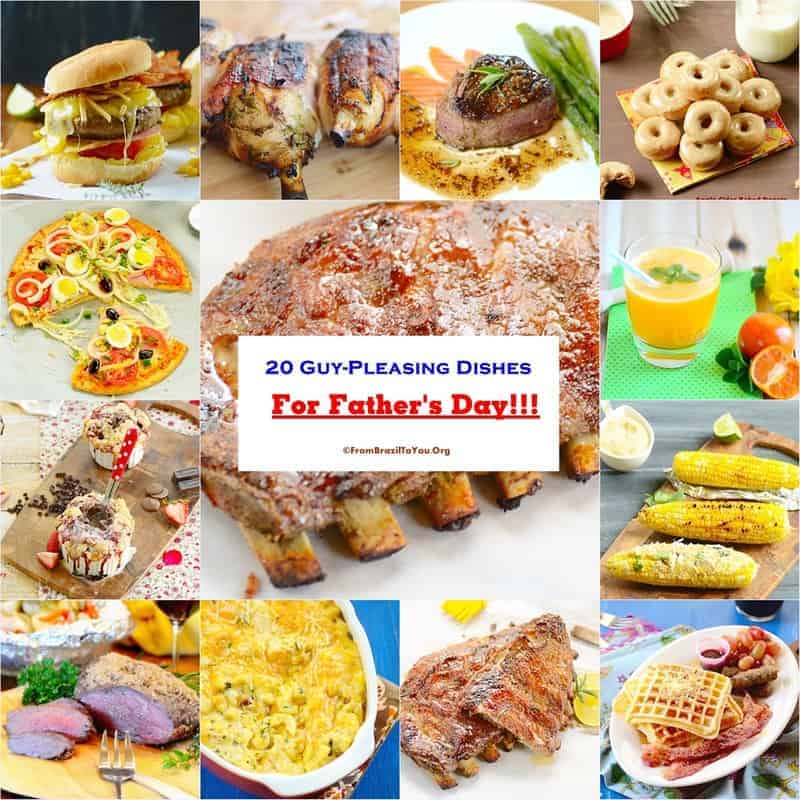 Wishing all of you a fun festa junina… and to all our fabulous Dads a very HAPPY FATHER'S DAY! You guys rock!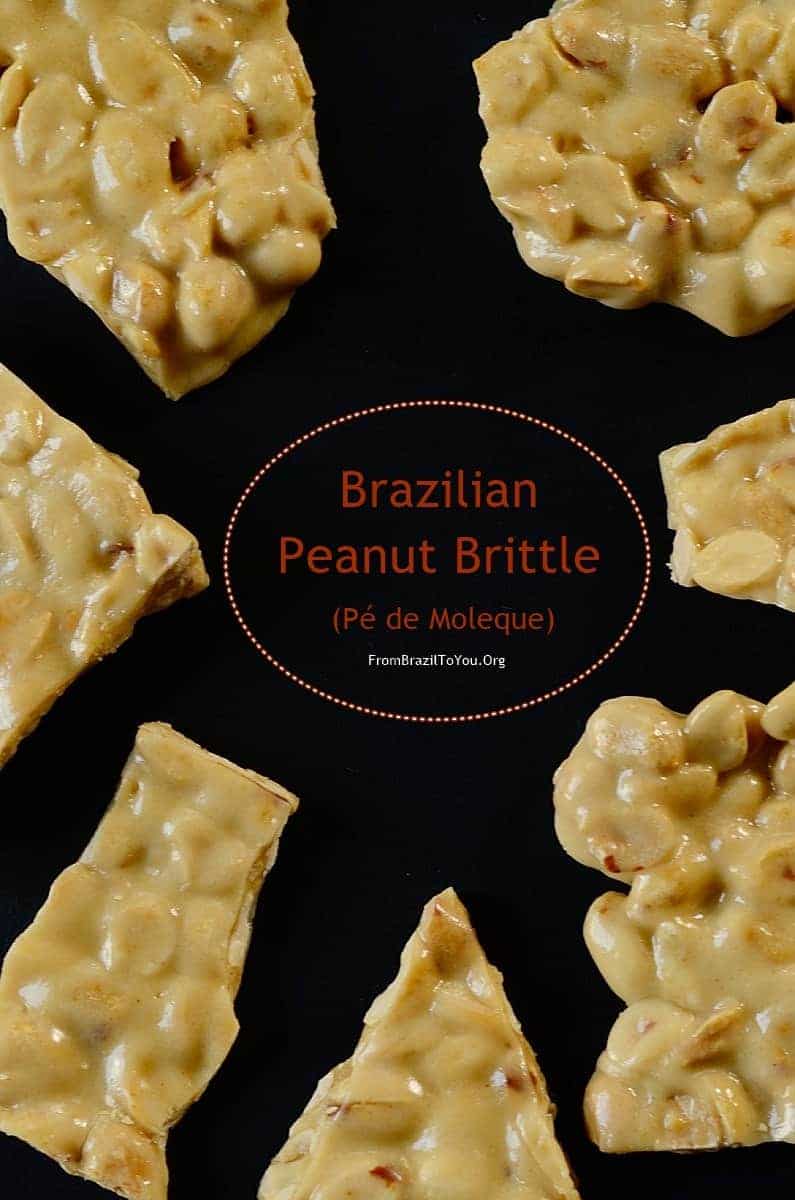 Brazilian Peanut Brittle (Pé de Moleque)
Brazilian peanut brittle is similar to American brittle, except nuttier and more buttery The baking soda helps it to crack nicely even when made during hot and humid weather.
Ingredients
11

tablespoons

unsalted butter

3/4

cup

sugar

1

teaspoon

salt

1/2

cup

light corn syrup

2-1/2

cups

unsalted

dry roasted peanuts (whole and/or halved)

1

teaspoon

pure vanilla extract

1

teaspoon

baking soda
Instructions
Grease the bottom of a large baking sheet with non-stick cooking spray or butter. Set aside.

Place the butter, sugar, salt, and light corn syrup in a large non-stick saucepan. Cook over medium heat (large burner), stirring slowly and constantly with a wooden spoon for about 3 minutes. As soon as the butter is completely melted and the mixture reaches a pale yellow color, add the peanuts and reduce the heat to medium-low.

Cook for 13-15 minutes, stirring constantly or until caramel has thickened and peanuts stick onto each other -- as opposed to falling immediately off the lifted wooden spoon.

Remove mixture from heat and stir in both the vanilla and baking soda until obtaining a homogeneous mixture. Pour mixture immediately onto the greased baking sheet. Place a sheet of parchment paper on top and spread the brittle thin using a rolling pan. Be careful to not get burned. Let the peanut brittle cool completely at room temperature before breaking into 2-inch pieces with your hands. Enjoy!

STORAGE: Store in a large Ziploc bag or an airtight container in a cool place for up to 2-3 weeks.
Recipe Notes
There are many different versions of Pé de Moleque (Brazilian peanut brittle) -- with differences in ingredients, color (ranging from a blond to a deep dark caramel), and cut/shape. Our is blond because it incorporates more butter. Baking soda was also added to the recipe to make the brittle crack nicely even in hot and humid whether.
** Nutrition labels on easyanddelish.com are for educational purposes only. This info is provided as a courtesy and is only an estimate, since the nutrition content of recipes can vary based on ingredient brand or source, portion sizes, recipe changes/variations, and other factors. We suggest making your own calculations using your preferred calculator, based on which ingredients you use, or consulting with a registered dietitian to determine nutritional values more precisely.
Please note that health-focused and diet information provided on easyanddelish.com is for educational purposes and does not constitute medical advice, nor is it intended to diagnose, treat, cure, or prevent disease. Consult with your doctor or other qualified health professional prior to initiating any significant change in your diet or exercise regimen, or for any other issue necessitating medical advice.
DID YOU MAKE THIS RECIPE?
Comment and rate the recipe. Also follow us on Pinterest at @easyanddelish for more delish recipes.