Today is Friday!  Yay!!!!!!!  In my opinion, it is like a day of celebration that announces the best is yet to come: the weekend, of course…and my Garlic Pork Loin with Wine Sauce!
Food has a starring role in all of this.  So I decided to share with you not just one but two Brazilian recipes for the weekend.
Do you remember that in my last post about Collard Greens à la Mineira I mentioned that at my table the greens may also be served as a side dish to accompany Garlic Roasted Pork Loin and Cheesy Mashed Cassava with Coconut Milk and Cilantro?
Well, those two yum-yum dishes are exactly what I am about to show you. garlic pork loin
Let's go to the kitchen then.
Garlic Roasted Pork Loin with Wine Sauce
 (My take on the Portuguese dish "Carne de Porco em Vinha D'Alhos", a well-known dish in Brazil)
Serves 4 – 6
Segment: Brazilian cuisine/From My Table To Yours
 Ingredients:
1/4 cup vegetable oil
6 garlic cloves
1 teaspoon Knorr chicken bouillon powder
1 teaspoon salt
1/2 teaspoon ground black pepper
2 tsp fresh rosemary or 1 tsp dried
1 (2 1/2 pounds) boneless pork loin, trimmed
Fresh rosemary sprigs to decorate (optional)
Fresh lemon to decorate (optional)
Wine sauce (recipe follows)
Directions:
Preheat oven to 400° F (about 200º C).
Follow the instructions on how to string a pork loin below:
http://www.saveur.com/article/Techniques/Tying-a-Pork-Loin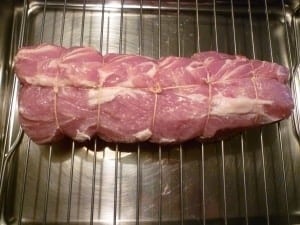 In a blender or food processor, process the first 6 ingredients. Place pork loin, fat side up, on a rack set over a roasting pan. Spread garlic paste all over pork loin.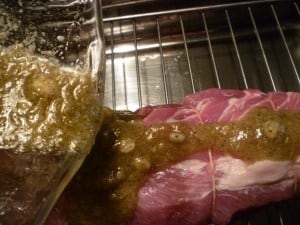 Roast in oven until a meat thermometer inserted into center of pork loin registers 155°F., about 55 minutes. Remove from oven, transfer loin to a platter, and discard string.  Keep it warm while making the wine sauce.  Slice loin just before serving.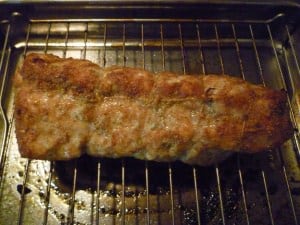 For the wine sauce:
Yield: 1/2 cup
Ingredients:
1/2 cup dry white wine
1/2 cup chicken stock
1/4 teaspoon salt
1/4 teaspoon white ground pepper
Directions:
Pour white wine into the roasting pan in which the loin was cooked. Place pan over medium heat, and scrape up browned bits from its bottom.
Add stock, salt, and pepper; then, bring to a simmer.  Cook, stirring, until liquid has reduced to half. Skim fat from surface of the liquid.  Strain sauce and serve hot with sliced pork loin.  Garnish with rosemary sprigs and sliced lemon, if desired.
To get the recipe of Cheesy Mashed Cassava with Coconut Milk and Cilantro, please follow  my second post which will be coming out tomorrow.
See you tomorrow!