These 35 Easy Corn Recipes are prepared with frozen, fresh, or canned corn, making the perfect main or side dish for summer's busy weekdays, or the holidays.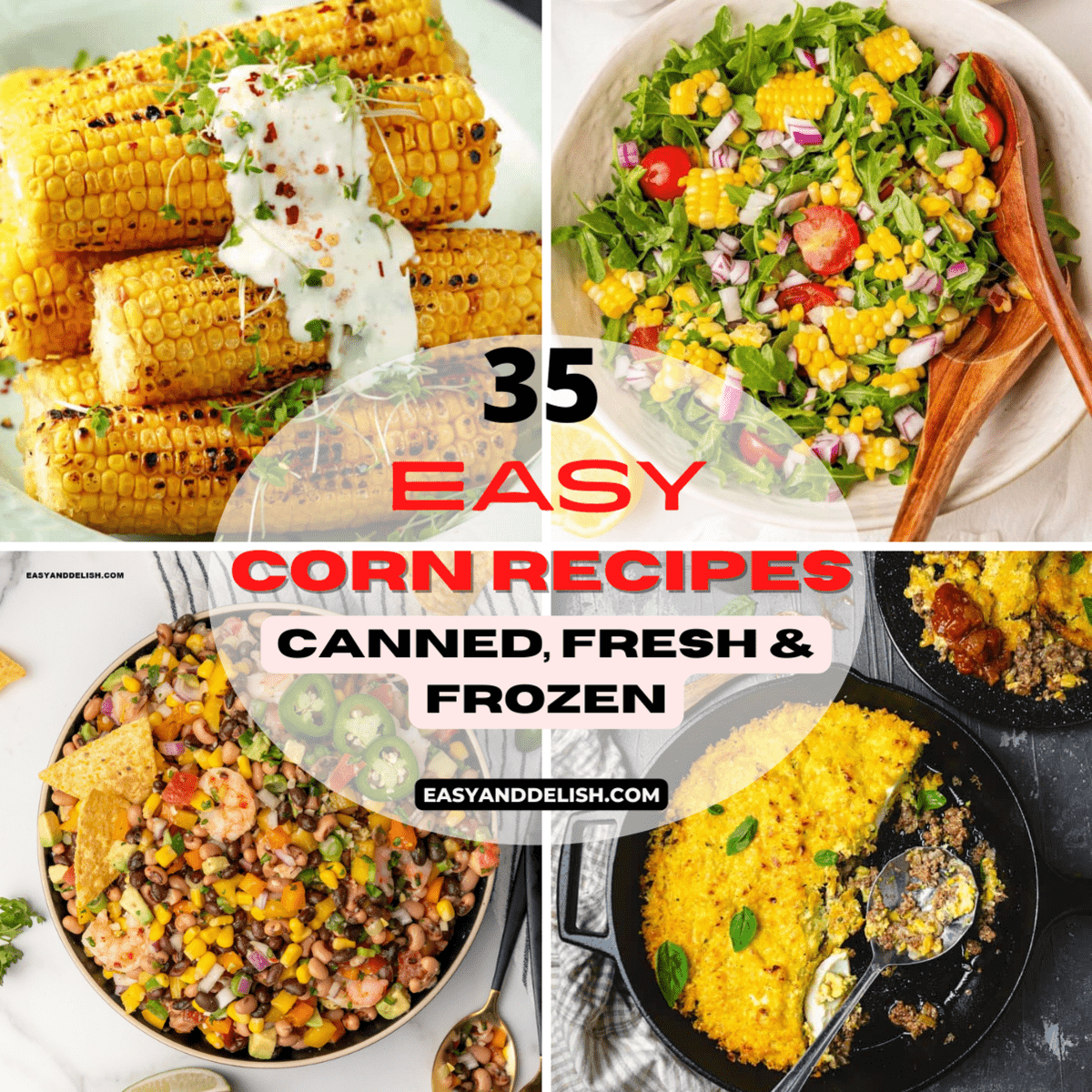 If you love corn, you'll be quite excited about these simple corn recipes. Why?
To begin with, they are easy to make with ingredients you have in your pantry, fridge, and freezer. Among them, is corn in different forms: fresh, frozen, or canned!
Second, most are budget-friendly and loaded with the king of vegetables: Corn!
Third, CORN is naturally gluten-free! Most of our simple corn recipes are as well with a few exceptions.
Lastly, these easy corn recipes are versatile: You can serve some as a main or side dish, for the holidays or every day in more than one season.
Canned Corn Recipes
Canned corn can be a lifesaver. It is low cost and you can use it all year round to prepare your favorite dishes, especially when fresh corn is no longer in season.
Do you have extra cans of corn in your pantry? So let's put them to use, preparing these exciting meals:
1. Peruvian Chicken Corn Chowder -- This 30-minute gluten-free soup with chicken and both canned and fresh corn is packed with robust South American flavors and will nourish your body and soul. It makes the ideal meal for busy weekdays!
2. Creamy Corn Gratin -- Looking for a great side dish for Thanksgiving? This creamy corn gratin hits the pot! It's loaded with corn and you can make it with either fresh or canned corn by blending most of the ingredients in a blender and then baking for 35 minutes in the oven. But that is not all! You can make it ahead and serve roast turkey.
3. Mexican Cornbread Casserole -- An easy, gluten-free, make-ahead Mexican cornbread casserole recipe that makes the perfect side dish with a kick for your holidays. Moreover, it's mildly spicy and delish!
4. Easy Corn Chowder -- It is a gluten-free Brazilian soup that you can make in less than 30 minutes. The recipe calls for canned yellow corn, potatoes, yogurt, and other simple ingredients. You can serve it with hot Italian sausage on top, or make it vegan.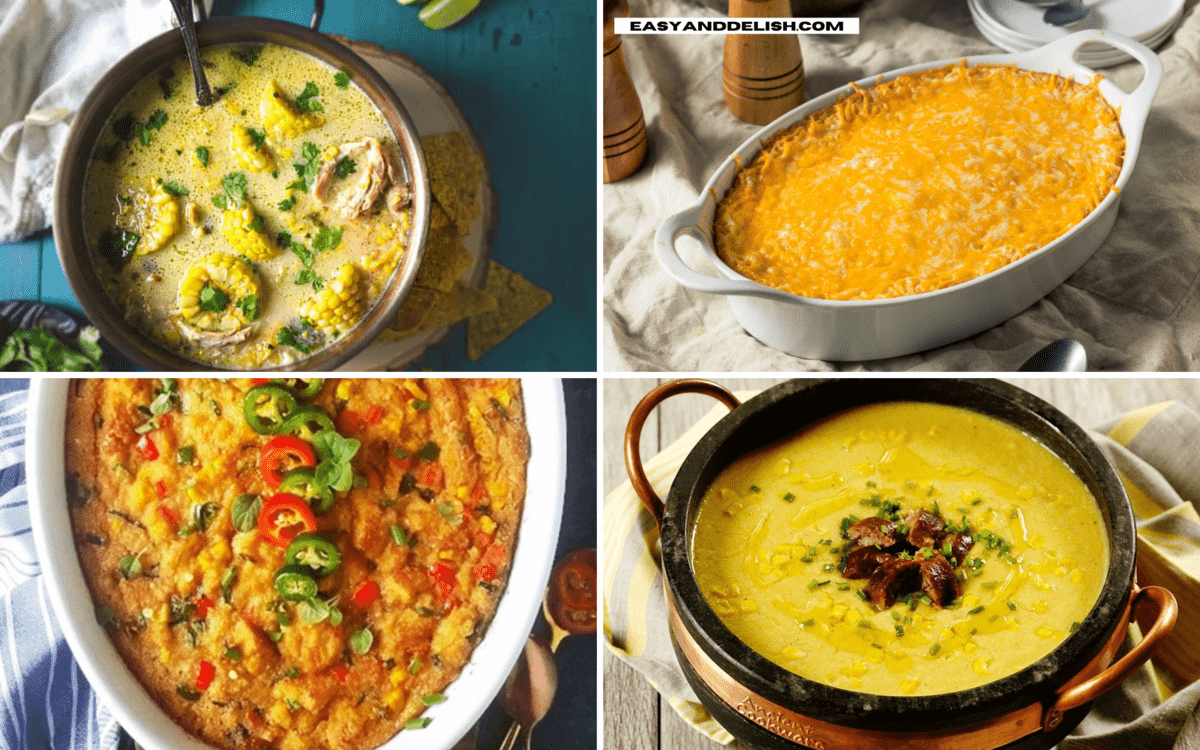 5. Corn Soufflé --This healthy corn souffle is a satisfying and comforting side dish. It's a perfect side dish for Thanksgiving or Christmas dinner -- everyone will love it! This recipe features canned creamed corn, and fresh or frozen corn. Also, it doesn't require a Jiffy mix!
6. Pennsylvania Dutch Corn Fritters - This 30-minute easy corn recipe for Pennsylvania Dutch corn fritters can be served for breakfast (aka corn fritter pancakes) or as a side dish. Well, all you have to do is stuff the batter with canned or fresh sweet corn and fry the patties to golden perfection. As a result, it is crispy and tastes amazing!
7. Dairy-Free Corn Casserole --This holiday favorite makes the perfect side dish for your festive table, especially for those who need to be on gluten-free and dairy-free diets.
8. Chinese Chicken Corn Soup -- This is a budget-friendly meal that's easy to make in just 30 minutes. Canned cream corn and rotisserie chicken are timesavers, creating one of those heartwarming midweek easy dinners.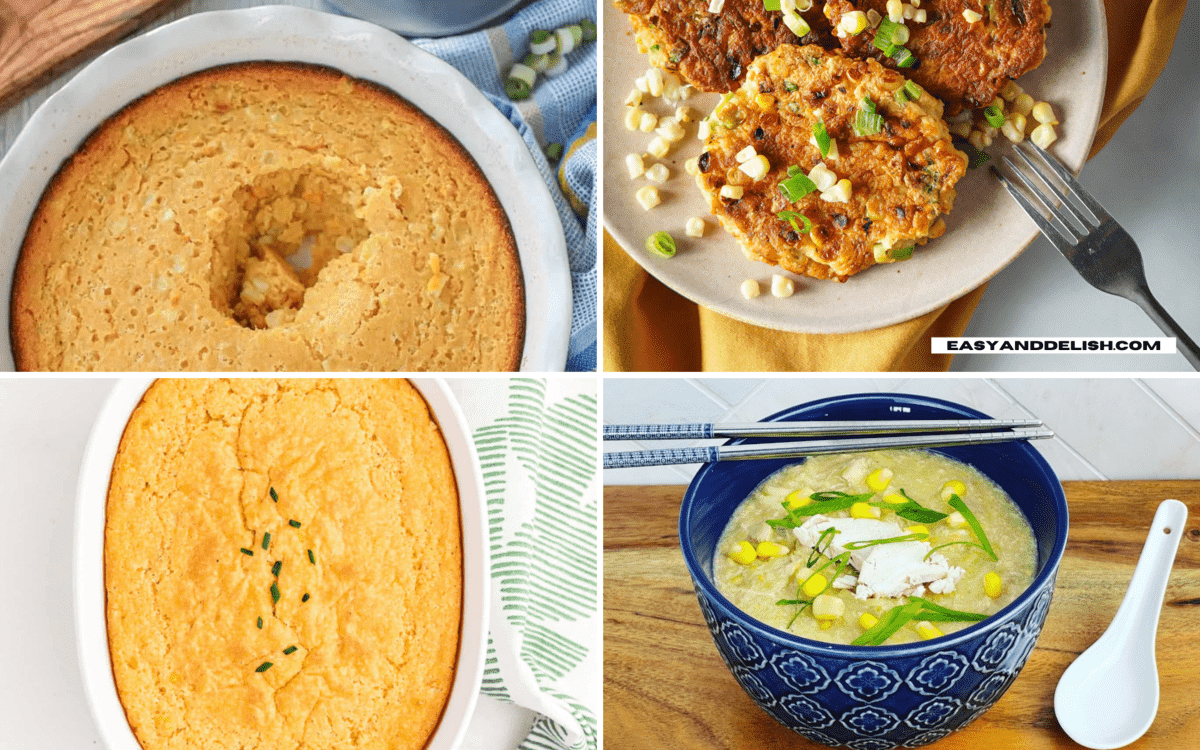 9. Corn Mac and Cheese -- This One Dish Corn Mac and Cheese are loaded with cheese and sweet corn, making an easy pasta dish perfect for potlucks as well as game days.
10. Corn Nuggets --These homemade corn nuggets are made with 3 different types of corn: cornmeal, canned creamed corn, and canned whole kernel corn. Thus, they make a delish, vegetarian snack or appetizer!
11. Texas Caviar -- It comes loaded with black-eyed peas, black beans, canned corn, tomatoes, jalapeno, avocado, and more. We put a twist on it by adding cooked shrimp! Also, you can make it in advance in just 30 minutes and serve it as an easy dip, salad, or side dish!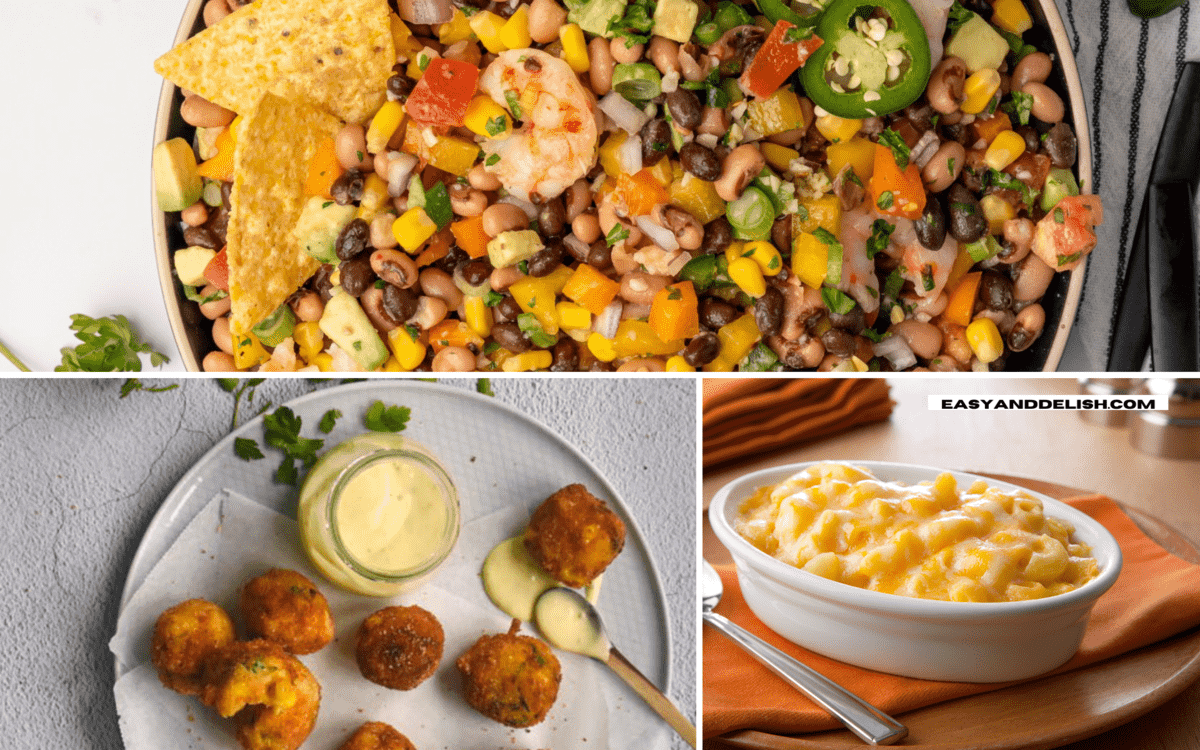 Fresh Corn Recipes
Rich in vitamin C, this bright summer produce is one of the most popular starchy vegetables in the country.
It is so versatile that you can prepare a wide range of sweet and savory dishes with it, also pairing well with a variety of meats.
Among them, these below:
12. Grilled Corn on the Cob -- It is fresh corn on the cob that can be grilled either indoors or outdoors in foil without husk in just 20 minutes. Serve it topped with jalapeno-lime aioli as a side to barbecued meats as well as in cookouts.
13. Southern Fried Corn Recipe --This 17-minute skillet fresh corn recipe can be made with or without bacon. It is such an easy recipe for fresh corn and you can serve it as a side with most meats!
14. Sweet Corn Zucchini Pie -- Bake layers of summer zucchini with sweet corn, cheese, and just enough egg to hold this vegetable torte together and slice it into yummy pieces. Thus, it is a vegetarian main dish that makes a great brunch addition!
15. Crockpot Cheesy Corn -- It is a tasty side dish made in the crockpot with fresh corn, cheddar cheese, butter, cream cheese, heavy cream, and seasonings. It's such as hands-off dish that you can throw everything in the pot and go out to do your errands!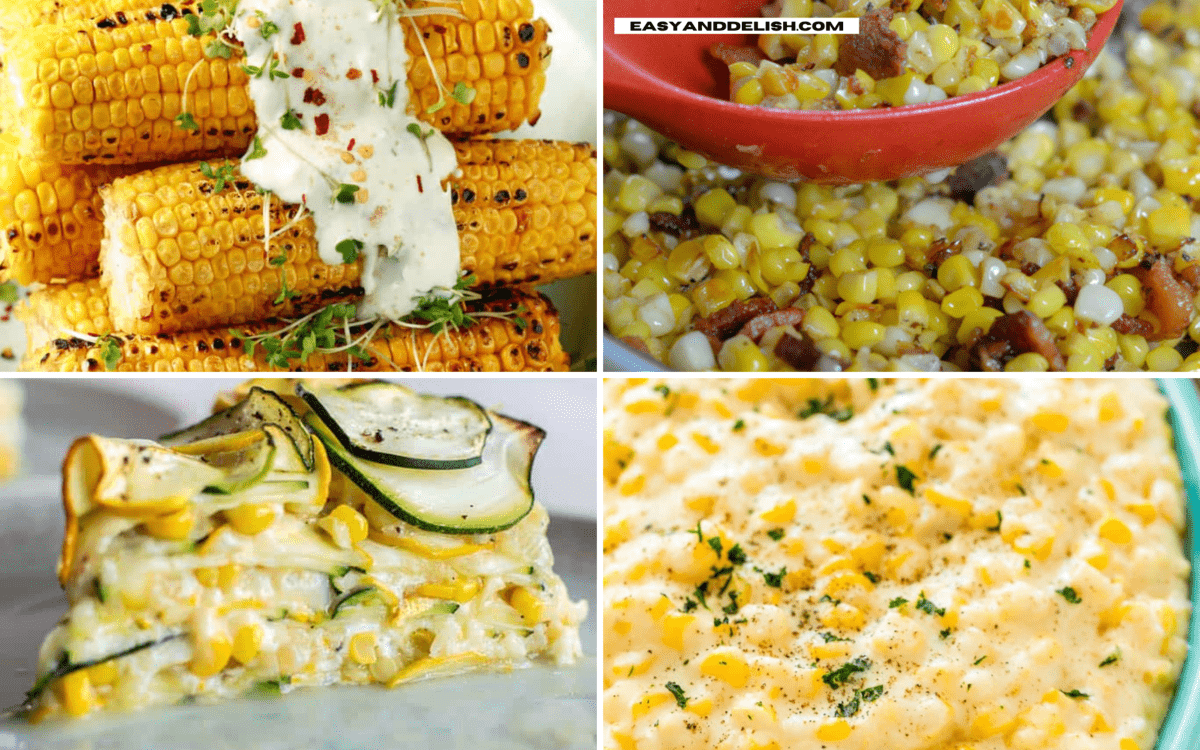 16. Sweet Corn Soup -- This is a popular Indo-Chinese vegan soup made with fresh corn kernels and vegetables in just 25 minutes. Moreover, it has a burst of contrasting flavors: sweet, spicy, and tangy, and will please everyone for sure.
17. Fiesta Corn Salad with Avocado -- It is a light summer side dish: bright, tangy, and filled with fresh summer vegetables. So, bring it to your next picnic or potluck!
18. Mexican Corn Salsa -- Made with fresh corn, avocado, onions, and tomatoes, it makes the perfect side perfect for shrimp tacos, to serve with tortilla chips, or as a topping for grilled meats. So good!
19. Gluten-Free Dairy-Free Cornbread -- Move out dry, crumbly cornbread! This gluten-free and dairy-free cornbread is moist, fluffy, and perfect with some honey butter or to serve as a side with a bowl of warm chili!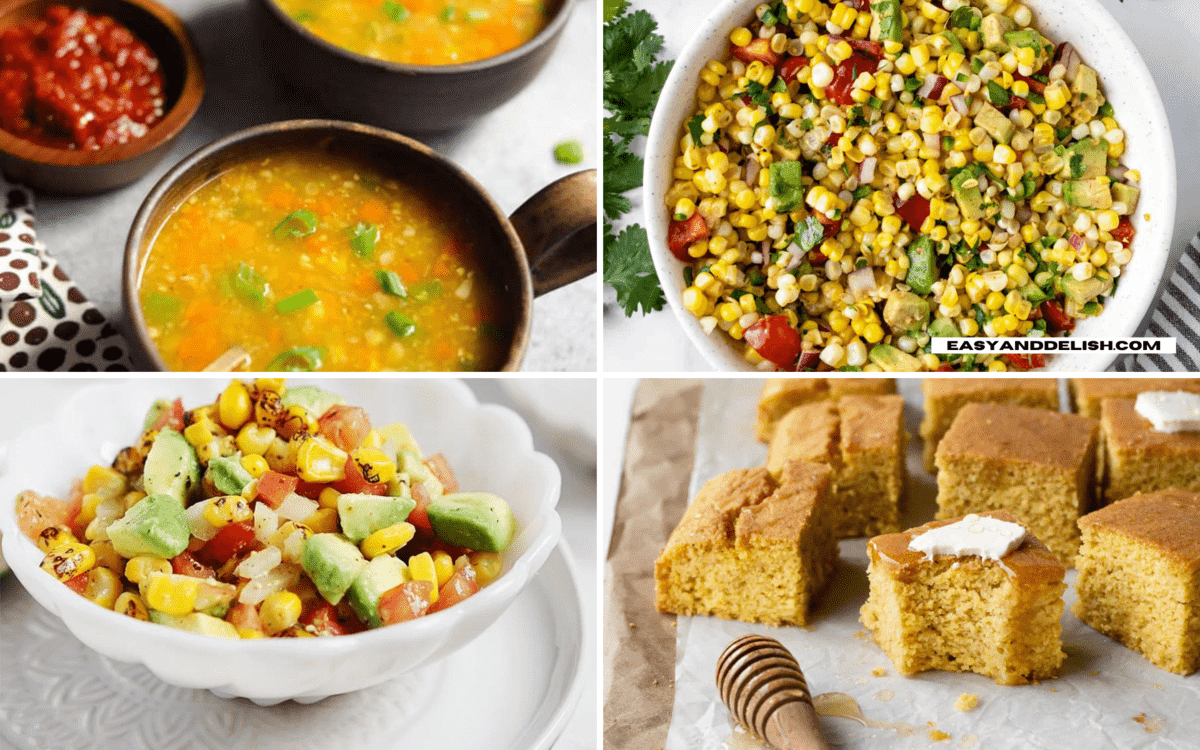 20. Bacon Wrapped Sweet Corn -- This bbq side dish combines sweet summer corn, garlic butter, and smoky, crispy bacon. The result? Pure yumminess!
21. Summer Corn and Arugula Salad -- A refreshing, sweet, and easy-to-make fresh corn recipe that is the perfect healthy summer dish. Made with simple, good-for-you ingredients, like sweet tomatoes, fresh-cut corn kernels, crisp red onion, and dressed in a light homemade vinaigrette.
22. Creamy Corn Pasta -- If you need a 5 ingredient easy vegetarian recipe, look no further than this creamy sweet corn pasta. It mixes fresh corn with a creamy goat cheese sauce for the perfect 30-minute meal!
23. Corn Pancakes -- Who doesn't want breakfast for dinner, right? Well, serve these fluffy fresh corn pancakes with syrup on top for a satisfying meal for both adults and children!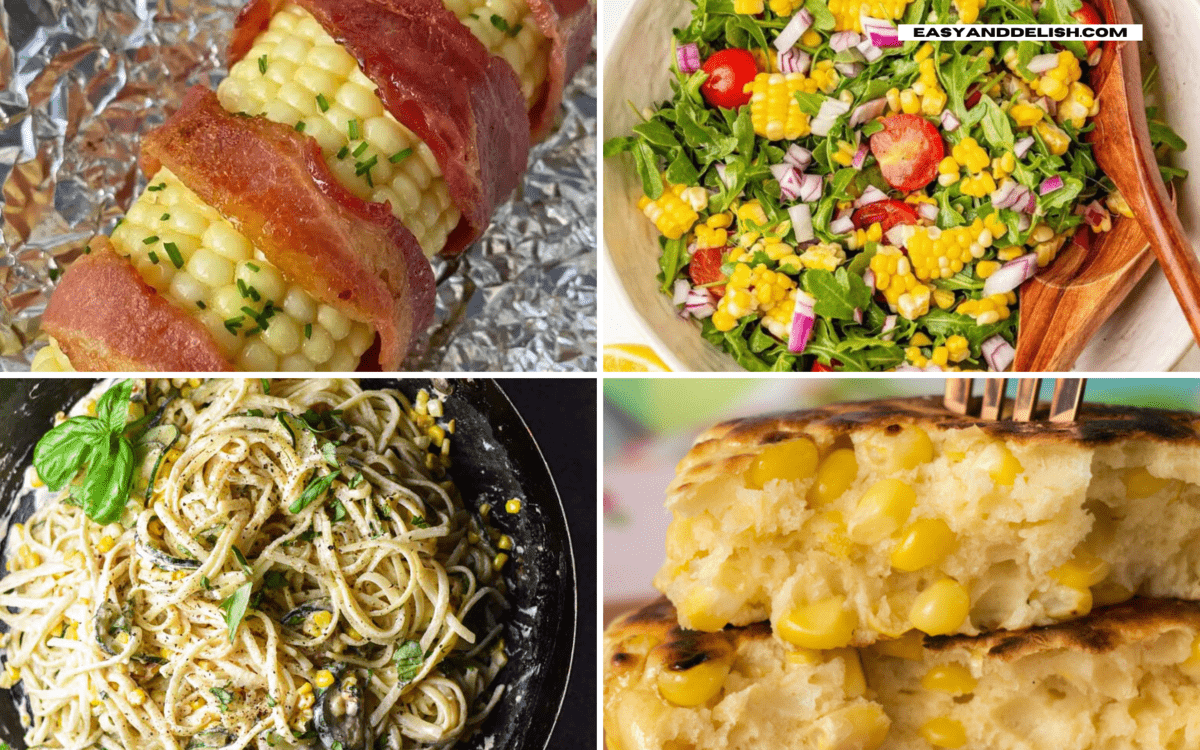 24. Corn Coconut Curry -- It's a 15-minute, easy-to-prepare, tasty, and creamy Kenyan-style curry in which fresh corn is cooked using coconut milk. Surely you can enjoy it over rice!
25. Mexican Tamales de Elotes (Corn Tamales) -- Sweet corn tamales are one of the most traditional breakfasts or snacks in Mexico. They are soft, fluffy, and delish! You can serve them on the holidays or just because.
26. Corn Gazpacho - This chilled easy corn recipe dish is a refreshing and easy way to enjoy fresh corn! Moreover, it's full of produce and flavor, making the perfect light summer meal.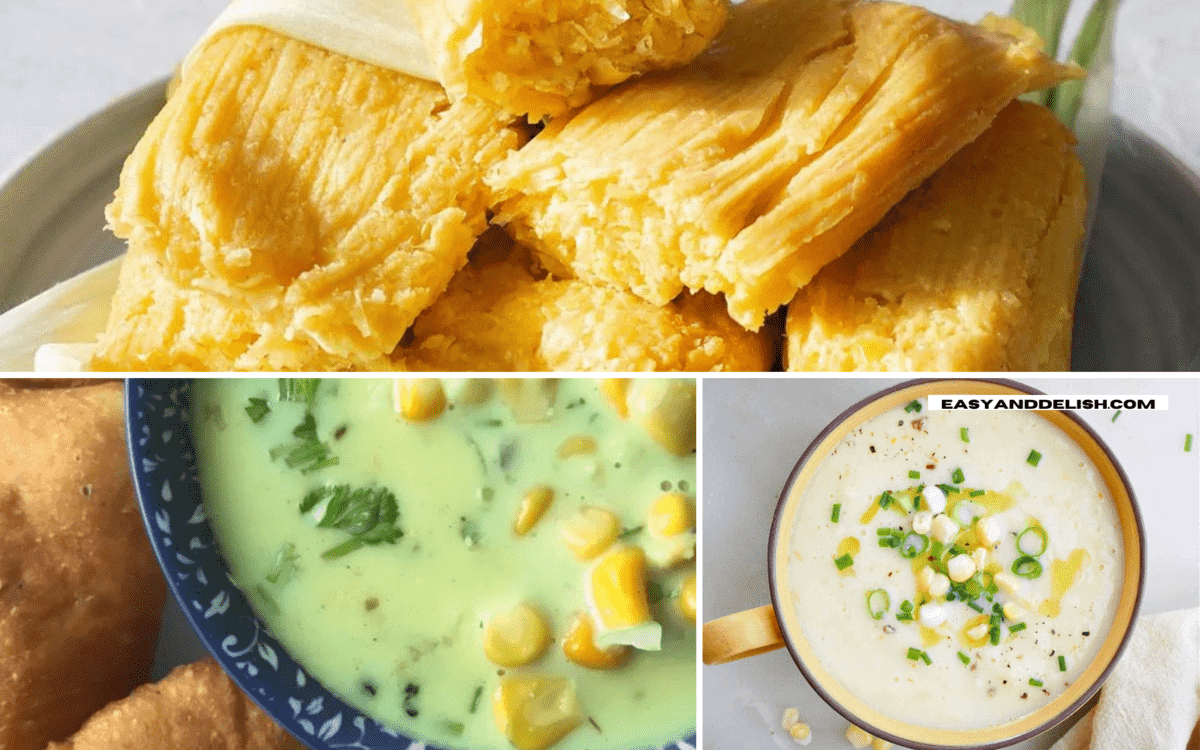 Frozen Corn Recipes
One of the best ways to preserve fresh corn is by freezing it. This allows its consumption for longer in a large range of recipes such as the ones below:
27. Chilean Corn Pie -- Busting with flavors, this beef pie is topped with a frozen corn mixture in the style of shepherd's pie and then baked until golden brown and bubbly. It makes the perfect comfort meal for a Sunday supper!
28. Scalloped Corn Recipe -- Perfect for holiday gatherings, Sunday suppers as well as potlucks, this creamy casserole is loaded with frozen corn and sharp cheddar cheese. Serve it as a side dish with this honey baked ham.
29. Cajun Corn -- A little sweet, a little spicy, and also a whole lot delicious, this Honey Butter Cajun Corn is an easy vegetable side dish made in 25 minutes with just 4 ingredients, including frozen corn.
30. Creamed Corn with Pork and Rice -- Savory pork bites in a sweet creamy corn sauce made with fresh or frozen corn, served over steamed rice. A classic Hong Kong dish that is great for weeknights!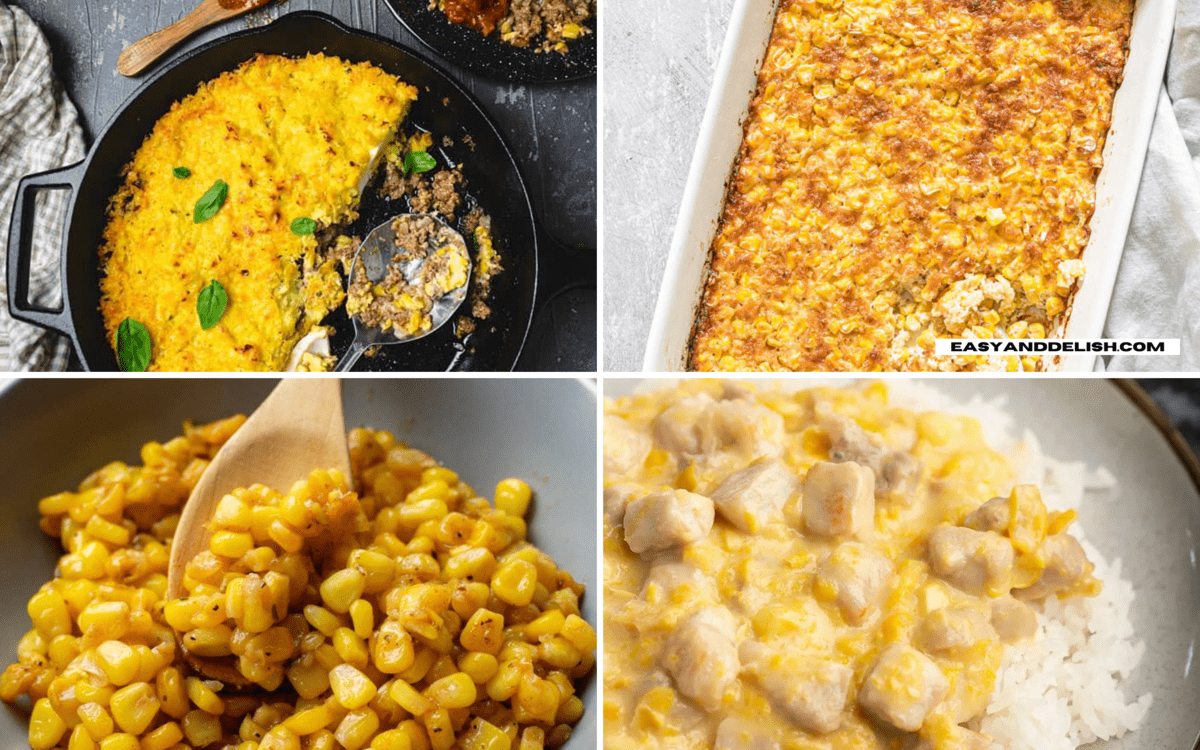 31. Maque Choux -- With corn, onions, red and green bell peppers, garlic, and Cajun seasonings, this flavorful Louisianna corn side dish will make you think you are in New Orleans.
32. Sopa de Elote - Super tasty Mexican corn soup packed with your favorite Mexican Street Corn flavors. Thus, an easy 30-minute dinner recipe that uses simple ingredients.
33. Rice with Corn (Arroz con Maiz) - Make this Dominican side dish for either lunch or dinner with long grain white rice and frozen corn in just 35 minutes. It is super budget-friendly and pairs well with a wide range of meats.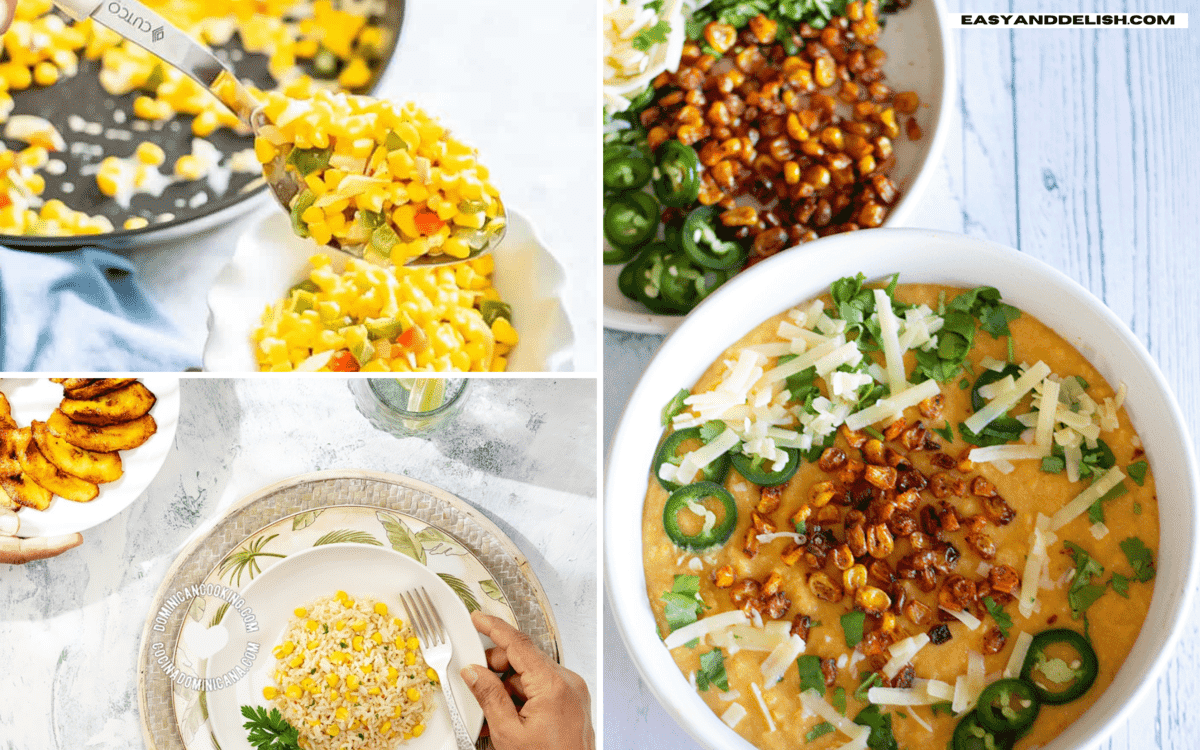 34. Corn Spoon Bread -- Super soft and cheesy, this springy Corn Spoon Bread is a comforting side dish filled with buttery corn and a crunchy cracker topping. As a matter of fact, this isn't your standard spoon bread, it is much better!
35. Steamed Corn -- Find out how to steam corn in the microwave, either fresh or frozen. It is a simple process and you can cook it faster than boiling it and also preserve most of the nutrients. The recipe method is in the recipe card!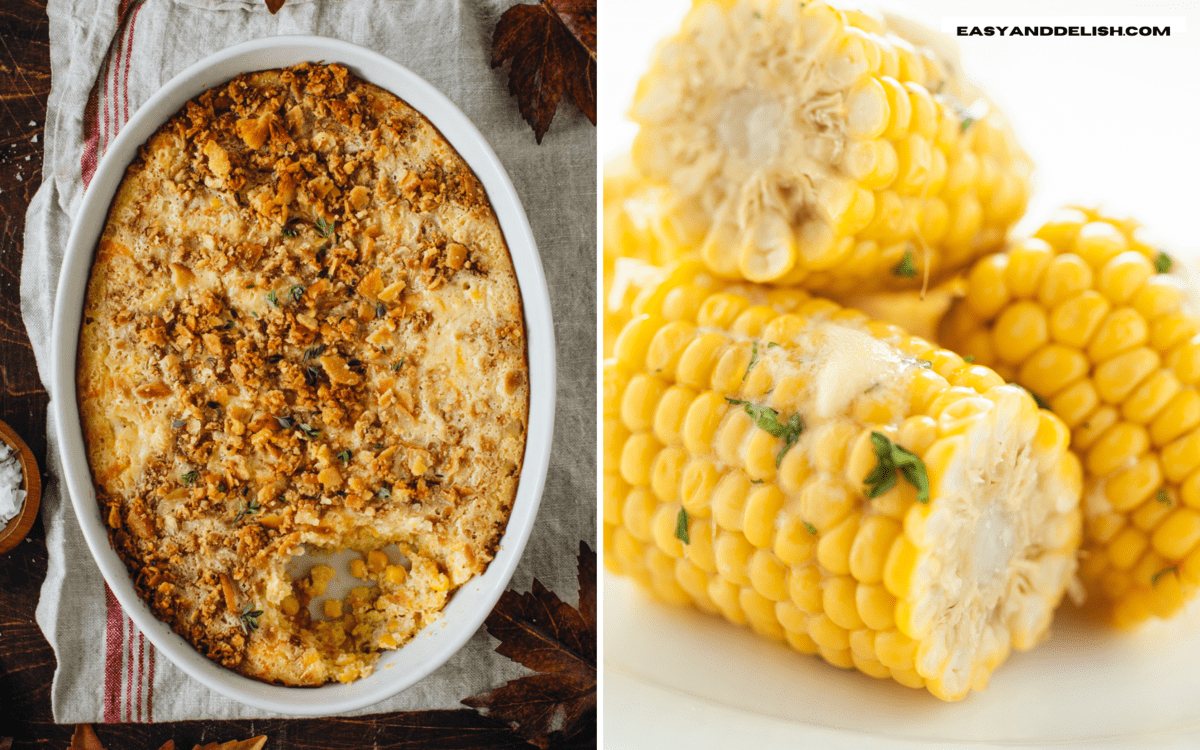 STORAGE
Follow the storage guidelines for each of these easy corn recipes. Each has its own!
But cooked corn (fresh or frozen) usually keeps well in an airtight container for up to 3 days in the fridge. The same applies to opened canned corn.
However, frozen corn keeps well for up to 6-9 months in the freezer.
Other Easy Recipes:
PIN & ENJOY!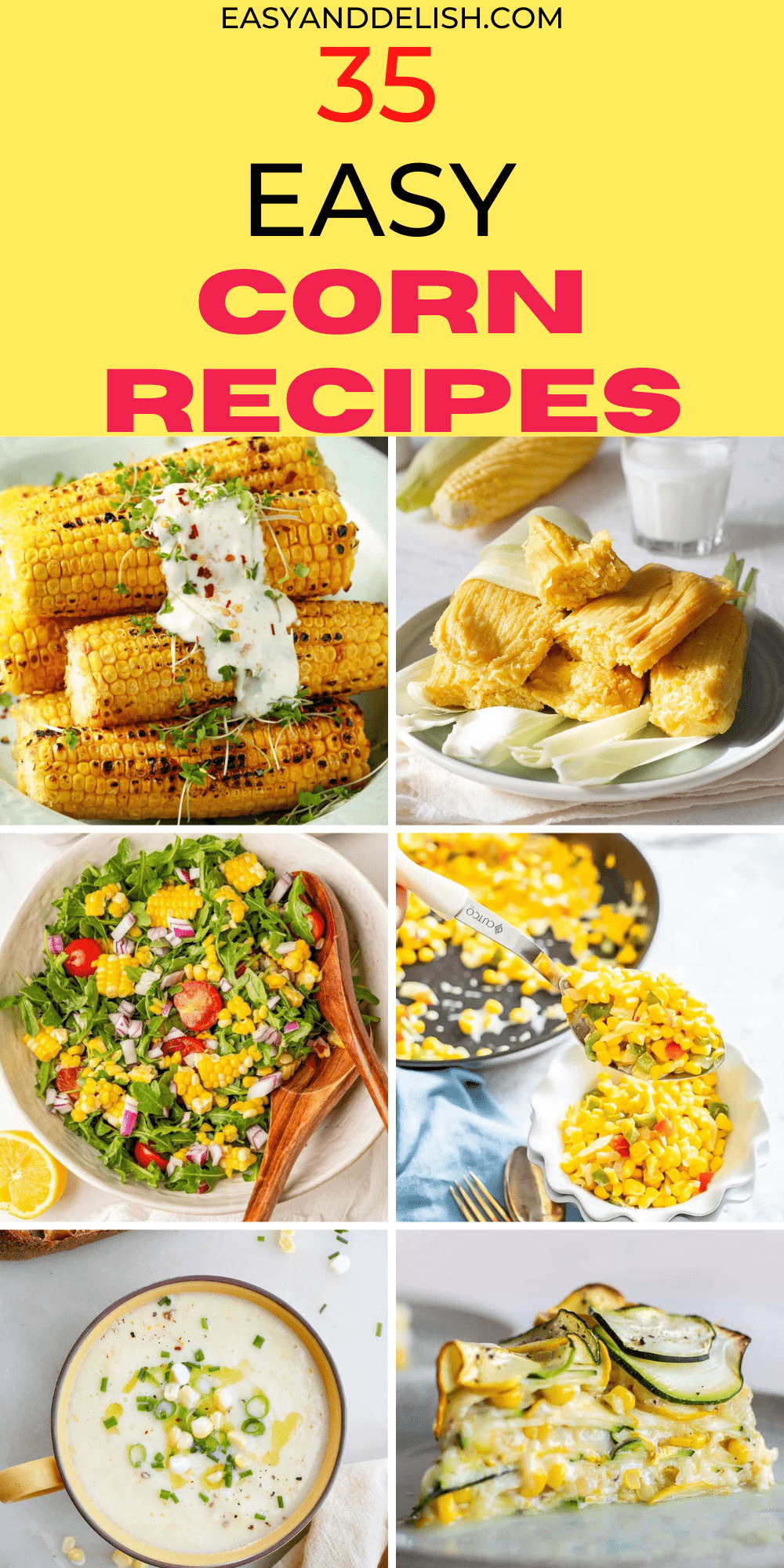 35 Easy Corn Recipes (Canned, Fresh, and Frozen): How to Cook Corn in the Microwave
These 35 Easy Corn Recipes are prepared with frozen, fresh, or canned corn, making the perfect main or side dish for summer's busy weekdays, or the holidays.
Equipment
1 microwave-safe dish

1 microwave
Ingredients
1

corn on the cob

husks off, string removed, and cut in half

16

oz

frozen corn kernels

OR
Instructions
FRESH CORN ON THE COB:
Pour 2 tablespoons of water into a deep microwave-safe dish, big enough to fit your corn.

Add the corn, making sure it lays firmly against the bottom of the dish.

Cover the dish tightly with some plastic wrap, and poke a vent hole using a fork, allowing the steam to escape.

Cook the corn on high for about 5-6 minutes (add extra 3-5 minutes if the cob was frozen), or until is cooked through and turned bright yellow. If needed, poke a fork onto the kernels. The time will vary depending on the potency of your microwave.

Remove the plastic wrap and use tongs to remove the cobs from the dish and serve.
FROZEN CORN KERNELS:
Read the package to verify whether you can microwave the frozen corn kernels in the bag. Or transfer the frozen corn kernels to a microwave-safe dish, deep and big enough to spread evenly the kernels against the bottom of the dish.

Add about 2 tablespoons of water to the dish.

Cover the dish tightly with plastic wrap, and poke a vent hole using a fork.

Cook the frozen corn kernels on high for about 3-4 minutes, or until is cooked through and turned bright yellow. The cook time will vary depending on the potency of your microwave.

Remove the plastic wrap, drain the water using a strainer, and serve.
Recipe Notes
Canned corn comes already cooked. However, you will have to drain the liquids using a strainer and rinse the kernels under running water. Heat them before eating or use them to make salads.
STORAGE
Store steamed corn in an airtight container in the fridge for up to 3 days. Reheat well before eating! 
Follow each recipe storage guidelines!
THE NUTRITIONAL INFORMATION ONLY INCLUDES ONE CORN ON THE COB. You can cook either! 
Nutrition
Calories:
38.7
kcal
|
Carbohydrates:
8.4
g
|
Protein:
1.5
g
|
Fat:
0.6
g
|
Saturated Fat:
0.1
g
|
Polyunsaturated Fat:
0.2
g
|
Monounsaturated Fat:
0.2
g
|
Trans Fat:
0.01
g
|
Sodium:
6.8
mg
|
Potassium:
121.5
mg
|
Fiber:
0.9
g
|
Sugar:
2.8
g
|
Vitamin A:
84.2
IU
|
Vitamin C:
3.1
mg
|
Calcium:
0.9
mg
|
Iron:
0.2
mg
** Nutrition labels on easyanddelish.com are for educational purposes only. This info is provided as a courtesy and is only an estimate, since the nutrition content of recipes can vary based on ingredient brand or source, portion sizes, recipe changes/variations, and other factors. We suggest making your own calculations using your preferred calculator, based on which ingredients you use, or consulting with a registered dietitian to determine nutritional values more precisely.
Please note that health-focused and diet information provided on easyanddelish.com is for educational purposes and does not constitute medical advice, nor is it intended to diagnose, treat, cure, or prevent disease. Consult with your doctor or other qualified health professional prior to initiating any significant change in your diet or exercise regimen, or for any other issue necessitating medical advice.
DID YOU MAKE THIS RECIPE?
Comment and rate the recipe. Also follow us on Pinterest at @easyanddelish for more delish recipes.