I feel both happy and honored to be guest posting for Raymund from Ang Sarap today — one of the best Filipino food blogs that I know of, and a longtime friend of our blog. Although our posting schedules didn't perfectly align, I couldn't say no to such a lovely invitation. For this occasion, I am sharing with y'all and with Raymund's audience a quick and tasty Carrot Spaghetti with Prosciutto and Goat Cheese. 
This isn't an authentic Brazilian dish, but it's still one close to my heart since it was inspired by my Mom's carrot rice.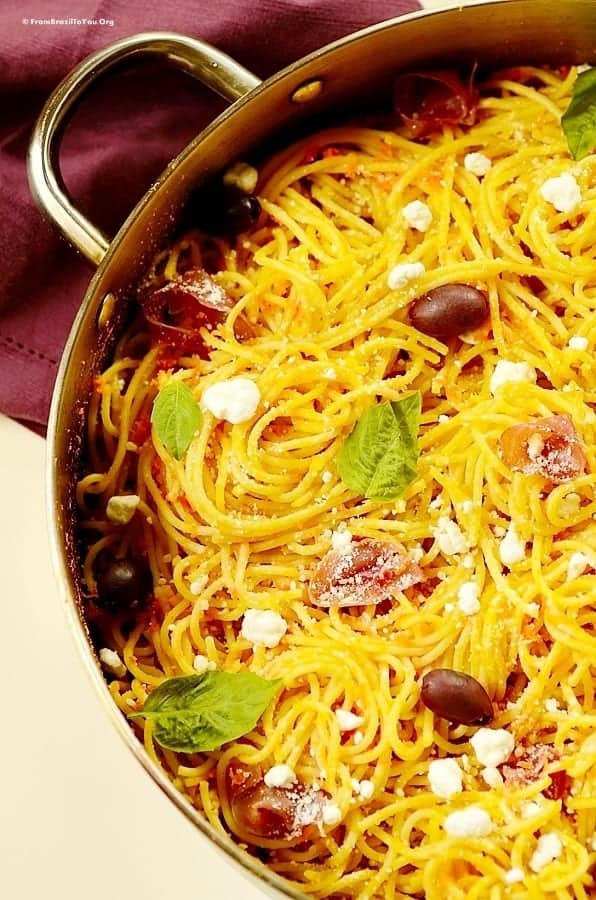 I also have a confession to make. Disaster struck in my kitchen. As I explained in my post How to Color Pasta in Juice, carrot juice is not the best choice for coloring pasta. It colors rice well but not pasta. 🙂 And of course, I learned this particular lesson while preparing this pasta. But you know what? I am not a quitter! I am proud to say that I was able to transform a culinary disaster into a dish worth craving after!
As I cooked my spaghetti in carrot juice, I noticed that a bright orange was not achievable no matter how concentrated my carrot juice was. Argh! Frustration built rapidly… to the point where I had to bite my tongue to not curse. If you think chefs don't make mistakes, think again… But failure can be taken in two ways. I prefer to view it as an opportunity to learn and grow. And you see, that made all the difference!
Since carrot juice didn't color the pasta a vivid orange, I instead used the shredded carrots and other delicious ingredients to finish our carrot spaghetti. You won't have to go through what I did in order to prepare our dish. You will use boiling water instead to cook the pasta. 🙂
Carrot spaghetti is simpler than you might think… It consists of cooked spaghetti tossed with sautéed shredded carrots, onion, and garlic, Parmesan cheese, olives, and prosciutto — which can be substituted with black forest ham or cooked bacon if desired. As a final touch, it is garnished with goat cheese and basil. Its simple ingredients unite sweet, salty, and tangy flavors.
It is a complete meal too… Carb, proteins, and veggies are combined in this one-dish making it a complete meal, ideal for weeknights or even for special occasions in any season.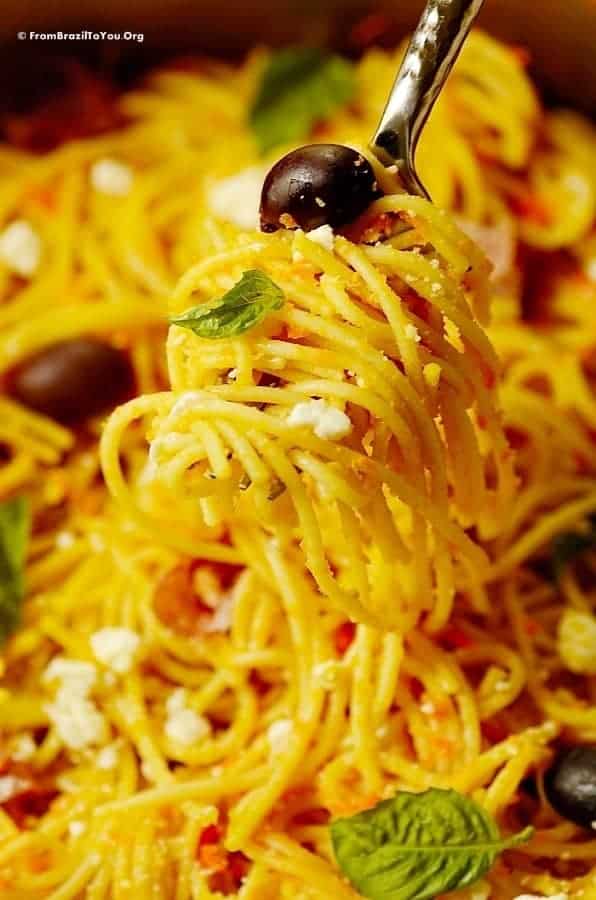 Although inspired by my Mom's carrot rice, our carrot spaghetti incorporates several elements of Italian cuisine, which has greatly influenced Southern Brazilian cuisine due to its large number of Italian immigrants. As you can see, our carrot spaghetti does not stray far from my roots. I can honestly say it's a dish of mine! And having several of the ingredients readily at hand in my pantry and fridge made preparing it a breeze…
… And yes, this "disaster" winded up being a hit at my house… and I'm sure it will be at yours, too!
FOR THE RECIPE, CLICK HERE .