This February Monthly Meal Plan is full of easy dinner ideas (many made with chicken), sides, and tasty desserts, helping you to plan ahead and save time.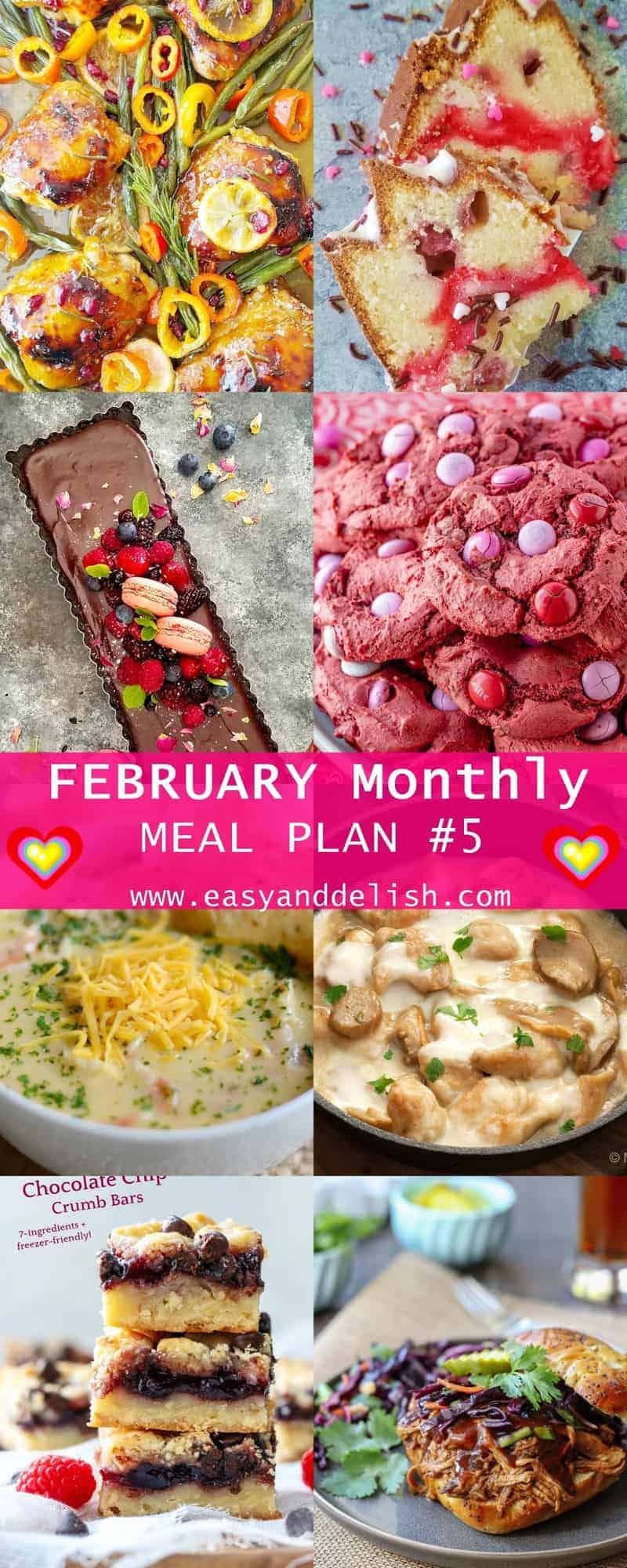 Hello, friends! I am thrilled to bring you once again a meal plan for the month.
Our February Monthly Meal Plan is the fifth consecutive menu plan, in partnership with a group of great Food Bloggers.
As always, our monthly menu plan is quite inclusive — that means that no one was left out. Easy recipes, Slow cooker, Gluten-free, Low-carb, One pot, One sheet pan dishes, etc… they are all here to simplify your life in the kitchen! Yay!
Of course, you can mix and match them, make larger batches, or freeze them, all according to your own convenience and needs.
I hope you make use of the plan and enjoy each one of these entrees, sides, and desserts!
FEBRUARY MONTHLY MEAL PLAN — #5
Main Dishes
One Sheet Pan Honey Mustard Chicken
One Pot Chicken Quesadilla Pasta
One Pot Chicken in Lime Coconut Sauce
Mushroom and Mozzarella Skillet Chicken
Slow Cooker Chicken Enchilada Soup
Low Fodmap Satay Pork Meatballs
Slow Cooker Pulled Pork Tenderloin
Tuscan Tortellini Vegetable Soup
Lobster & Shrimp Mac n' Cheese
Sides
French Onion Smashed Potato Bites
Desserts
Super Moist Strawberry Pound Cake
Chocolate Espresso and Chilli Mousse
Red Velvet M&M Cake Mix Cookies
Raspberry Chocolate Chip Crumb Bars