Disclosure: This shop has been compensated by Ricos Products. All opinions are 100% mine alone, as always. #RicosCheesePlease
Fiesta Queso Burger Tostadas that are easy to make with yellow corn tostadas, nacho sauce, ground beef, avocados, and pico de gallo.  This gluten-free dish makes the perfect pick-me-up to celebrate Fiesta San Antonio and casual entertaining.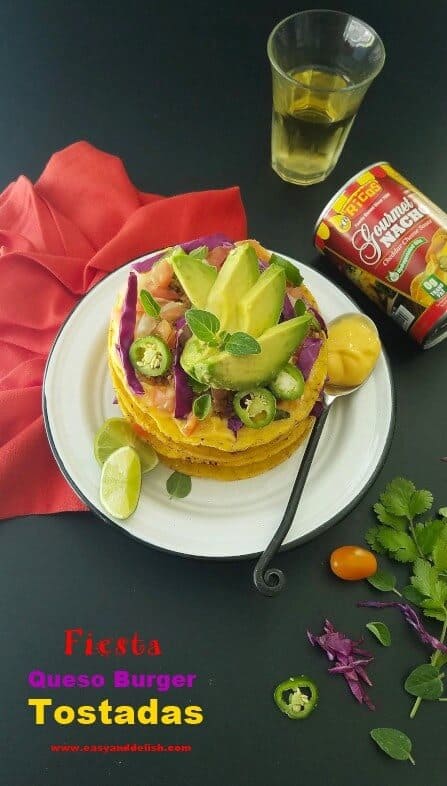 Have you ever attended Fiesta in San Antonio, Texas?  Well, whether you have or not, these Fiesta Queso Burger Tostadas are a real fiesta for your mouth!
They are full of flavor, eye-popping, and quick to prepare yet gluten-free, making them the perfect bite to celebrate this event or for casual entertaining.
As you may already know, I live in San Antonio, Texas.
Every April the city holds a huge, very important festival called Fiesta,  which has been celebrated ever since the late 19th century.
The festival honors the memory of the battles of the Alamo and San Jacinto.
Fiesta is known for its parades with extravagantly decorated floats, music, yummy street food, marching bands, colorful decorations, and cascarones (colorful eggshells filled with confetti), among other things.
I'm not kidding!  It's an 11-day citywide party to thrill the eyes, spirit, and palate!
Whether you can visit my city to enjoy Fiesta or not, have a little taste of it by trying our Queso Burger Tostadas.
How to Prepare our Queso Burger Tostadas
To prepare them, all we need to do is cook onion and garlic in oil for about 4 minutes over medium heat.
Next, cook seasoned lean ground beef over medium heat for 3 minutes, stir in tomato paste and let cook for an additional 3 minutes.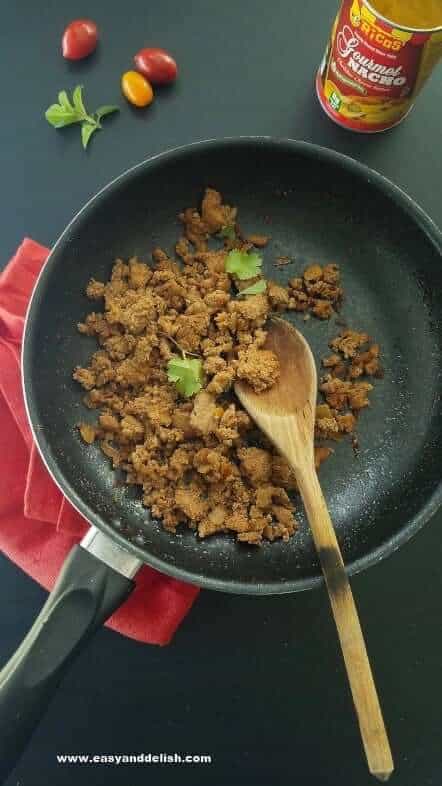 When meat is cooked, squeeze on the juice of a lime.
To arrange the tostadas, place yellow corn tostadas on a plate, spread warm Rico's Gourmet Nacho Cheese Sauce on top, spoon on cooked ground beef, pico de gallo, chopped red cabbage, and sliced avocados.
Serve with your favorite drink and enjoy!
This is the type of recipe that doesn't require any special skills and can be prepared in less than 30 minutes.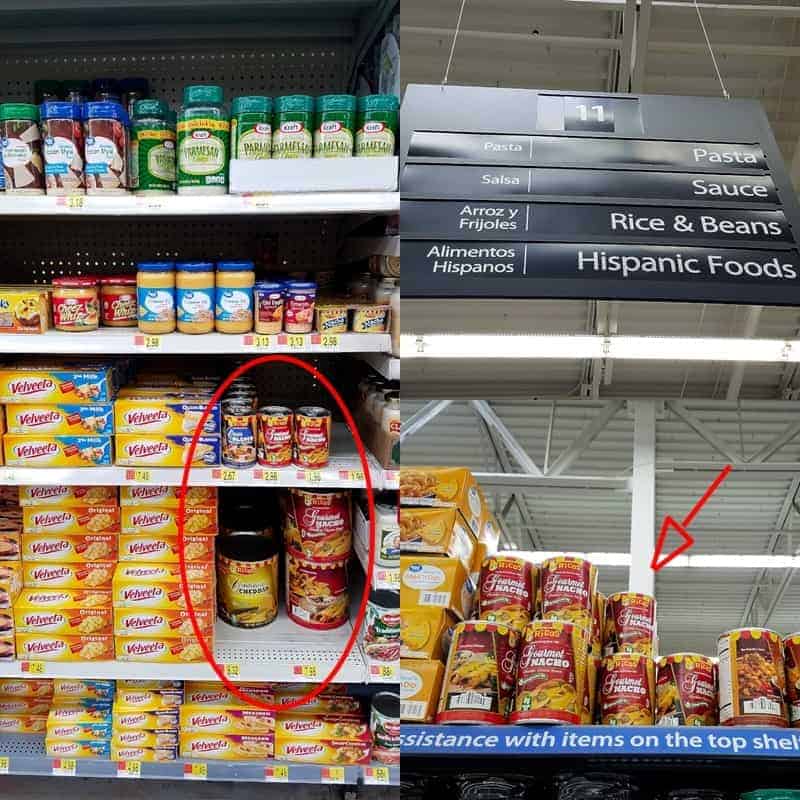 Moreover, all the ingredients for our Queso Burger Tostadas are conveniently available at Walmart — including Ricos Gourmet Nacho Cheese Sauce, which is trans fat FREE and made with no hydrogenated oils.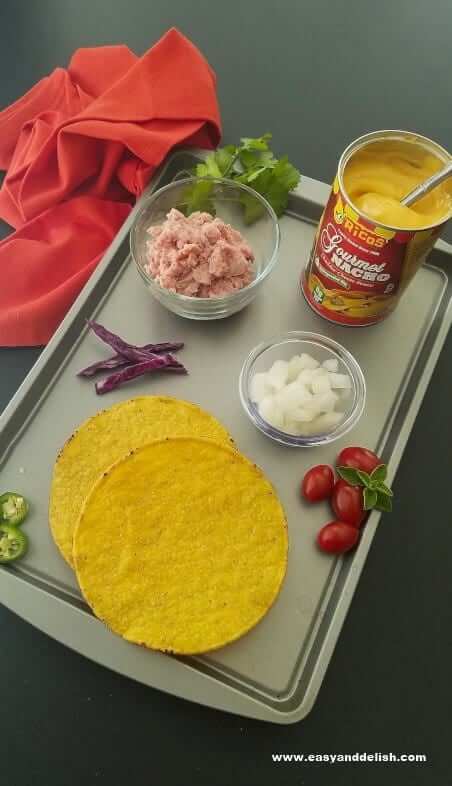 It can be used as an ingredient for a dish, a topping, or a dip. Just heat and eat!  Basically, fun food for a fun world. 😉
Ricos has a entire line of cheese sauces that are great for parties, birthdays, holidays, bbqs & other occasions.
For more info about Rico's cheese sauces, and for delicious recipes like these Queso Burger Tostadas and also our Shrimp Skillet Nachos, take a look at their website!
Now tell me, would you like the chance to win a 2018 Ford F-150? 😉
If so, learn how to participate and also ENTER THE SWEEPSTAKES HERE  — which goes live from 1/15/18 to 5/31/18!  Good luck!
Yee haw! Now grab our tostadas and let's celebrate Fiesta.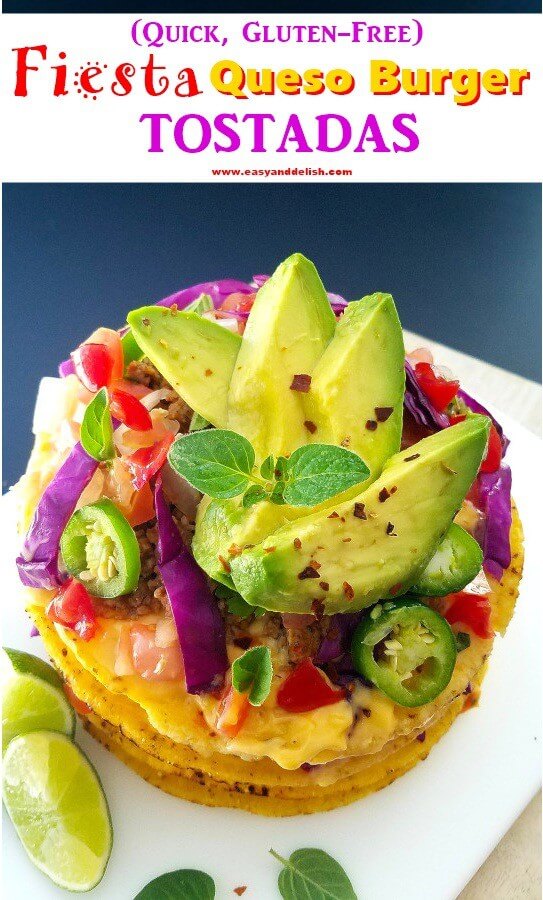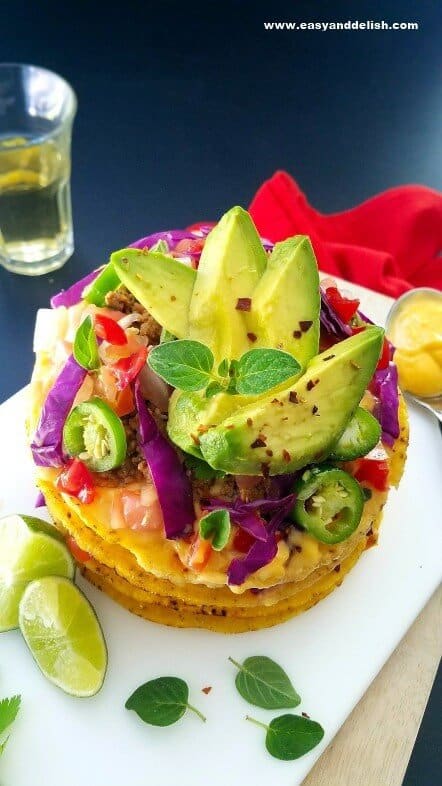 | | |
| --- | --- |
| | |
Heat a large skillet over medium heat, add oil and cook onion for about 3 minutes, stirring occasionally.

Then, add garlic and let cook for about 1 minute, stirring every now and then. Do not let brown!

Season ground beef with salt and pepper and cook for for 3 minutes.

Add tomato paste and let cook additional 3-4 minutes, stirring occasionally. Stir in lime juice!

To arrange the dish, place corn tostadas on a plate, and spread 2 Tablespoon of warm Rico's Gourmet Nacho Cheese Sauce on top of each of the 4 tostadas.

Next, spoon about 1/4-1/3 cup cooked ground beef on top of each tostada.

Add about 2 tablespoons of pico de gallo and 1/4 cup chopped red cabbage on top, as well as a few slices of avocado and chopped cilantro. Serve immediately!
If desired, additionally serve with sour cream or lime wedges, and your favorite drink.