Disclaimer: Thanks to Davidson's Safest Choice Eggs for sponsoring this post! All the opinions expressed here are honest and my own.
Making a meringue pie (or more specifically no-bake, crustless, gluten-free passion fruit meringue pies) couldn't be quicker or more care-free than by using these pasteurized eggs from Safest Choice Eggs.
If you have ever made a meringue topping, a mousse, eggnog, a dessert that calls for raw cookie dough, hollandaise sauce, or poached, over-easy,  or sunny side up eggs– basically any recipe that calls for raw or lightly cooked eggs– there is generally a risk involving  salmonella. Salmonella is a bacterium that can be found on both the outer and inner parts of eggs, and can cause illness. But with pasteurized eggs from Safest Choice Eggs, this risk is eliminated. This is because the eggs that they produce undergo an all-natural pasteurization process using a gentle warm water bath, all without changing the nutritional content or flavor of the eggs. This means that pasteurized eggs from Safest Choice Eggs are safe for consumption before the eggs even enter your kitchen!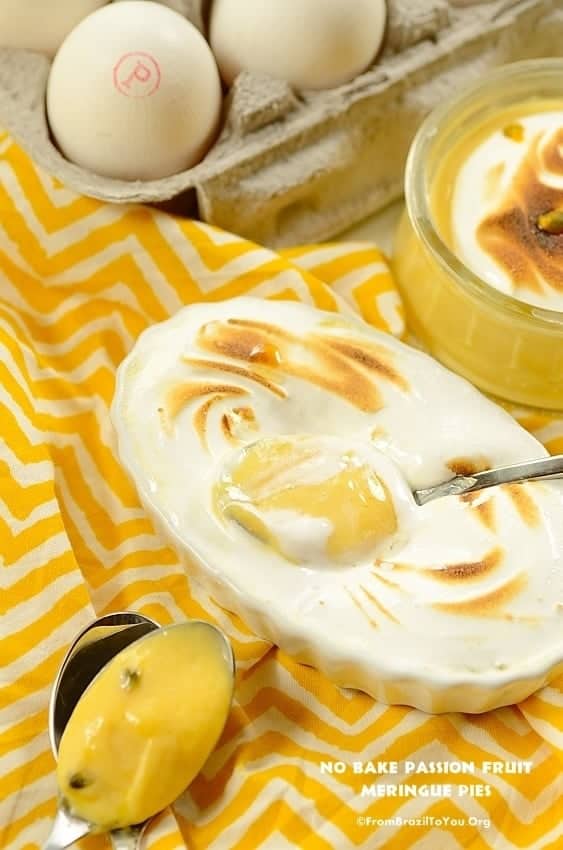 If you didn't know, most eggs sold in cartons are NOT pasteurized, but Safest Choice Eggs are!!! These pasteurized eggs are available in two varieties:  All-Natural and Cage Free. Both varieties of eggs are from vegetarian-fed hens which are hormone- and antibiotic-free. And not only that! Safest Choice eggs come from USDA certified and inspected farms which are Kosher certified. What else could one ask for?!
So the next time that you buy eggs, make sure to get pasteurized eggs from Safest Choice Eggs… and gain peace of mind!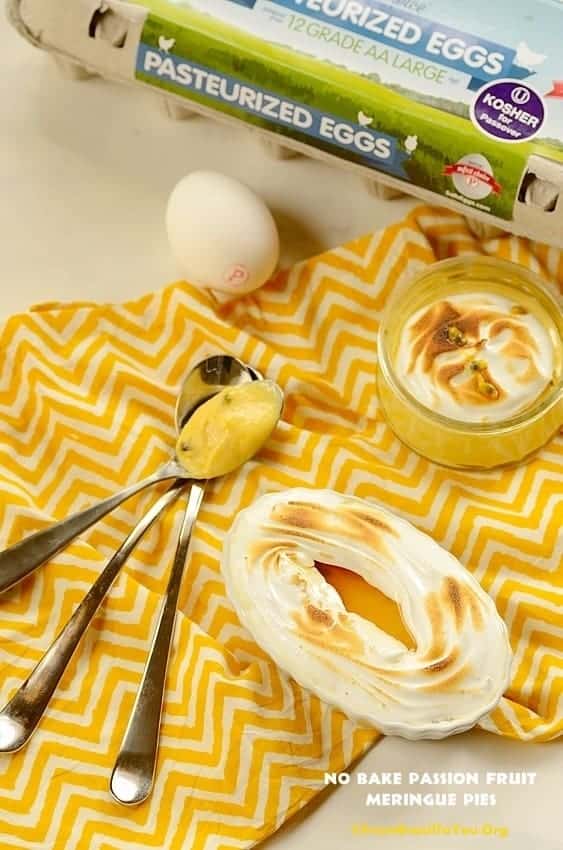 Without pasteurized eggs from Safest Choice Eggs, the meringue for our passion fruit meringue pies would have to be whisked in a double-boiler containing simmering water in order to pasteurize the eggs. But thanks to Safest Choice Eggs, this process can be safely skipped. Yay!!!!!!!!!!!
Our passion fruit meringue pies are no-bake, gluten-free, and super quick and easy to make. They are great for intelligent entertaining and, of course, are guilt-free (small-sized portions and salmonella-free)!
Like the French, Brazilians are just crazy for passion fruit. So why not feature a treat here inspired by one of Brazil's most delightful desserts: Torta de Maracujá com Chantilly or Passion Fruit Meringue Pie. The difference is, our passion fruit meringue pies are crustless and are served in individual portions, which conveniently eliminates the slicing process. 😉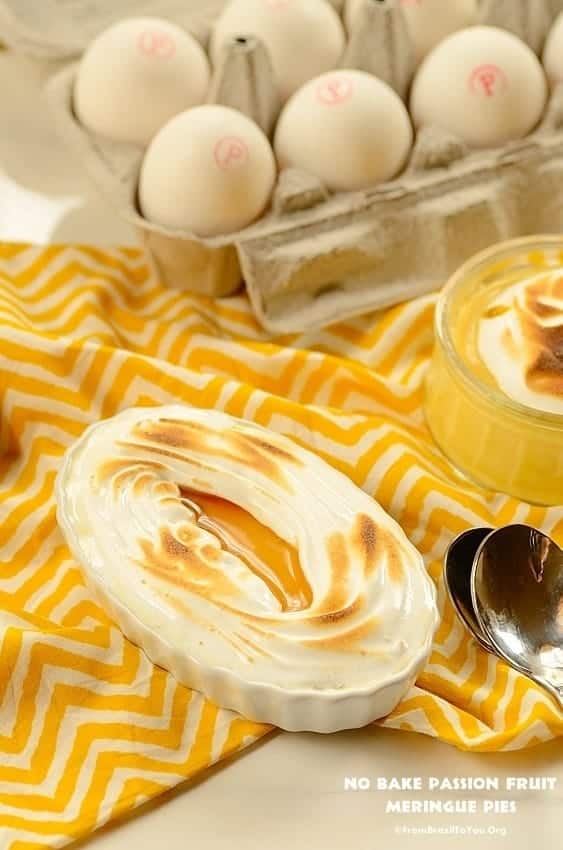 And don't worry at all about having to find the fruit. Our passion fruit meringue pies are made from frozen passion fruit pulp — available at most local supermarkets in America. Safest Choice Eggs are also available at many supermarkets, and their handy store locator can even search your zip code to find Safest Choice Eggs near you!
These passion fruit meringue pies are a real hit among my family and friends, and I think that they will be among yours as well.
Try Safest Choice Eggs and enjoy our scrumptious and quick passion fruit meringue pies!!!
JOIN THE CONVERSATION
What's your favorite food made from raw or gently cooked eggs?
Love Eggs? Like receiving seasonal recipe ideas and coupons? Join Safest Choice Eggs mailing list and you could win a Chef approved cookware set and a $200 gift card! To participate, just click and fill out the form and you will be automatically be entered into the giveaway. 
No Bake Passion Fruit Meringue Pies
No-bake, quick, gluten-and-guilt-free Passion Fruit Meringue Pies that are great for intelligent entertaining!
Ingredients
For the Passion Fruit Cream:

1

can

sweetened condensed milk

14-ounce or 396 g

1

cup

thawed passion fruit frozen pulp**

¼

cup

heavy whipping cream

**NOTE: Frozen pulp must be completely thawed (i.e. liquid) before measuring. For highly concentrated passion fruit pulp (French brands), decrease amount of pulp to ½ cup.

For the Meringue:

4

large Safest Choice Pasteurized Egg whites

at room temperature

3

teaspoons

cream of tartar

to give stability to the meringue

1½

cups

powdered sugar

½

teaspoon

pure vanilla extract

For Garnishing:

optional

4

passion fruits

cut in half and pulp removed
Instructions
Make the passion fruit cream

by blending all 3 ingredients in a blender for about 1 to 2 minutes or until mixture is smooth, creamy, and thick. Pour in ramekins (2/3 to 3/4 full), cover, and refrigerate for at least 3 hours.

Make the meringue

: In a bowl of an electric mixer, beat egg whites with the cream of tartar starting at low speed and gradually increasing to high until egg whites get foamy and thicker. Add the sugar gradually while beating egg whites on high speed. Beat egg whites just until stiff and glossy -- Do not go further or texture will change! Add the vanilla, mixing just until combined.

Garnish the top

of the passion fruit cream with the passion fruit pulp (seeds) – ONLY if desired! Then, using a large star tip or other tip of your preference, pipe meringue onto the crustless passion fruit pies. Toast meringue with a blow torch and enjoy! Passion fruit meringue pies can also be refrigerated and served later.
DID YOU MAKE THIS RECIPE?
Comment and rate the recipe. Also follow us on Pinterest at @easyanddelish for more delish recipes.