There will be a potluck tomorrow at the Ladies Bible Class that I attend. It was said that each of us should bring a dish that you crave during this season. "One dish???" I thought. Well, that's the most difficult part!!! I absolutely love food. And my mind is always full of ideas. Recipes, ah, I have tons and tons of them, as well as cravings. 🙂 "I have to narrow down all the options a bit," I told myself… otherwise, I'll wind up showing up there empty-handed. Since apple, pumpkin, pecans, and sweet potato dishes are my fall favs —  with chocolate and bread being my all time-favorites regardless of the season– I decided to make a Chocolate-Pumpkin-Pecan Bread Pudding this time.
All I can say is that I wish you were there to taste at least a spoonful. I must admit that I made not one but two baking dishes of the bread pudding–  one for the ladies and one for my family, of course. It just wouldn't be fair to them (read "me") to not be able to enjoy some too, don't you agree? 😉
Enjoy the season — and this plate-licking bread pudding too!!!!!!!!
Chocolate-Pumpkin-Pecan Bread Pudding
Yield: About 10 portions
(Segment: From My Table To Yours)
Ingredients:
For the Bread Pudding:
5 large eggs
2 (15-oz. or 425g) cans pumpkin
1-1/4 cups whole milk
1-1/4 cups heavy whipping cream
1-1/2 cups granulated sugar
1-1/2 teaspoons ground cinnamon
1/2 teaspoon ground nutmeg
1/8 teaspoon ground cloves
1/2 teaspoon salt
1 tablespoon pure vanilla extract
1/2 cup mini semi-sweet chocolate chips
1 (12-oz. or 340g) French bread loaf, cut into 1-inch or 2.5 cm pieces**
** For a gluten-free version, use a gluten-free bread.
For the Chocolate-Pecan Sauce:
1 cup pecans, chopped
1 cup firmly packed light brown sugar
1/2 cup unsalted butter
1 tablespoon light corn syrup
1/2 cup unsweetened cocoa powder
2 teaspoons pure vanilla extract
Directions:
In a large bowl, whisk together the eggs. Then, mix the next 10 ingredients until well blended. Add the bread pieces, stirring gently to thoroughly coat. Cover with plastic wrap, and chill for 8 to 24 hours.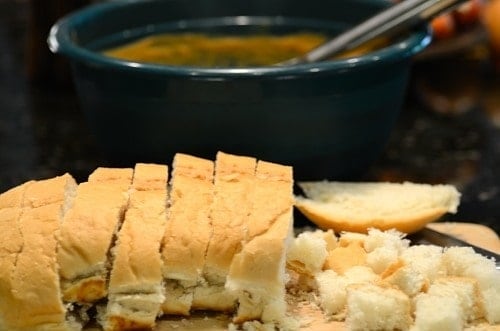 Preheat oven to 350° F (about 180° C).
Spoon bread mixture into a lightly greased 13- x 9-inch baking dish. Cover with aluminum foil. Bake, covered, for 35 minutes. Uncover and bake for additional 15 minutes. During these last 15 minutes of baking, prepare the Chocolate-Pecan Sauce as follows.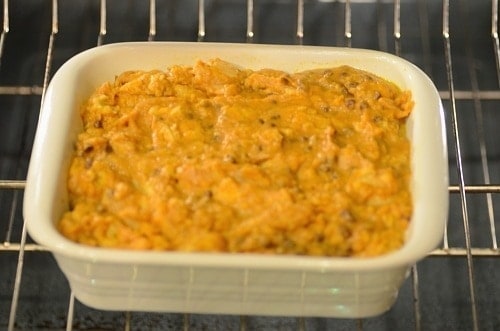 To make the sauce: Heat pecans in a medium skillet over medium-low heat, stirring often, 3 to 5 minutes or until lightly toasted and fragrant.
Cook brown sugar, butter, corn syrup, and cocoa powder in a small saucepan over medium heat, stirring occasionally, for 3 to 4 minutes or until sugar is dissolved. Remove from heat; stir in vanilla and pecans.
Remove bread pudding from the oven; drizzle/spoon with the Chocolate-Pecan Sauce. Bake for 5 minutes or until sauce is begins to bubble. Serve by itself or with vanilla ice cream. Enjoy!
Note: Recipe based on Caramel-Pecan-Pumpkin Bread Puddings from Southern Living magazine.