This is Secret Recipe Club Day!!! Our recipe for today is the outrageous Flourless Ooey Gooey Mounds Cookies or Biscoito Prestígio. These addictive, flourless Mounds Cookies were inspired by the Flourless Chocolate Brownie Cookies from Creative Kitchen Adventures.
Just like my namesake Denise from Creative Kitchen Adventures, I always "tweak" a recipe and make it my own! 😉 Yes, I have "Brazilianized" this recipe as well — although this time the combination of flavors is apparently familiar to Americans as well. If you don't know, in Brazil the combination of chocolate and coconut is called Prestígio after a famous chocolate bar by the same name — while it is known in America as Mounds. I am so crazy for chocolate and coconut together that I created the delicious Prestígio Cheesecake more than one year ago. Speaking about great creations, I still get all excited when I think about our last treat — the infamous Castello Moments Paignets. Don't you?
Well, returning to our current treat… Of course, you are welcome to try not only my Ooey Gooey Mounds Cookies/ Biscoito Prestígio but also Denise's Flourless Chocolate Brownie Cookies, or customize your own flavor. In either case, I think it will be a win-win!!!

You just have to be prepared for what will be in store for you. Compliments will flow faster than a flash — as well as the pounds or kilos on your/everyone else's scale… 🙂 🙁 To tell the truth, I do have mixed feelings because I don't know whether I feel blessed or doomed after making these Mounds cookies. My six-year-old couldn't stop following me repeating that these are her new FAVORITE cookies — to the point that I felt stalked… Oh, and my youngest one — who is neither a big fan of sugar nor of coconut– ate them like there would be no tomorrow.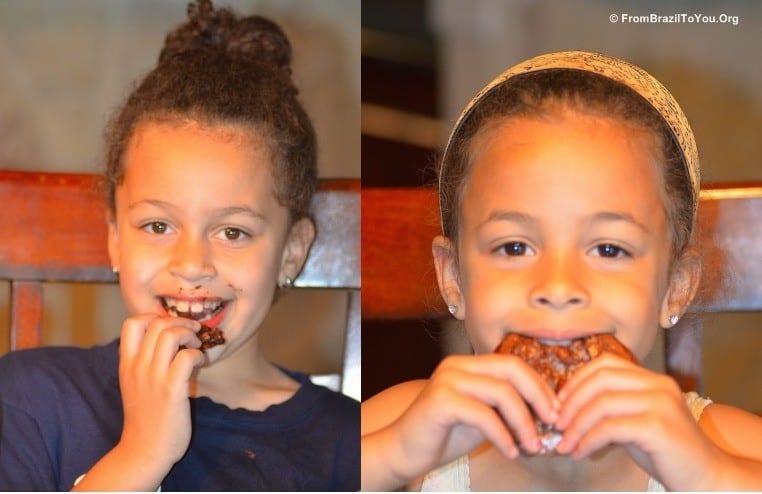 But you know what? I wish you could have seen my husband's facial expression… He said to me with that voice of great excitement: Thanks, babe!!!! OK, so thanks (???), Denise from Creative Kitchen Adventures, for the addictive recipe. It seems that I will be making many more batches of Mounds cookies in the near future.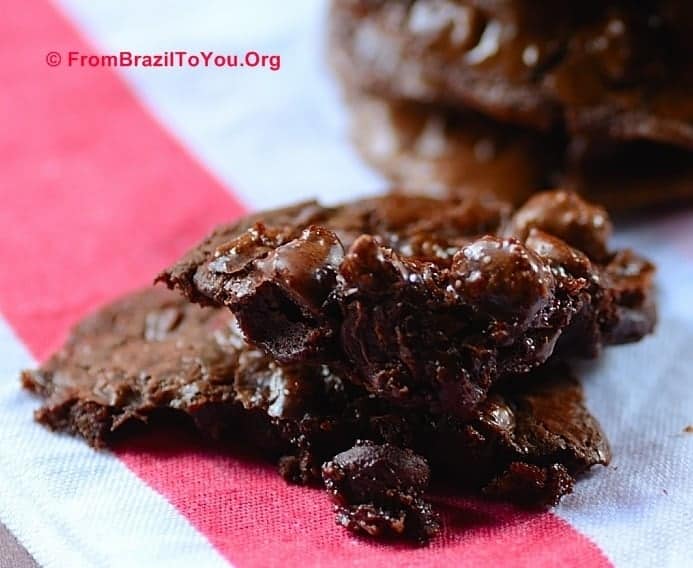 What to do? Well, let's get a glass of milk and have a stupendous day enjoying the wicked Ooey Gooey Mounds Cookies!!!!!!!! And may the Lord help us all.
Flourless Ooey Gooey Mounds Cookies
(Biscoito Prestígio)
Yield: 24 – 26 cookies
Segment: Brazilian Cuisine (Inspired)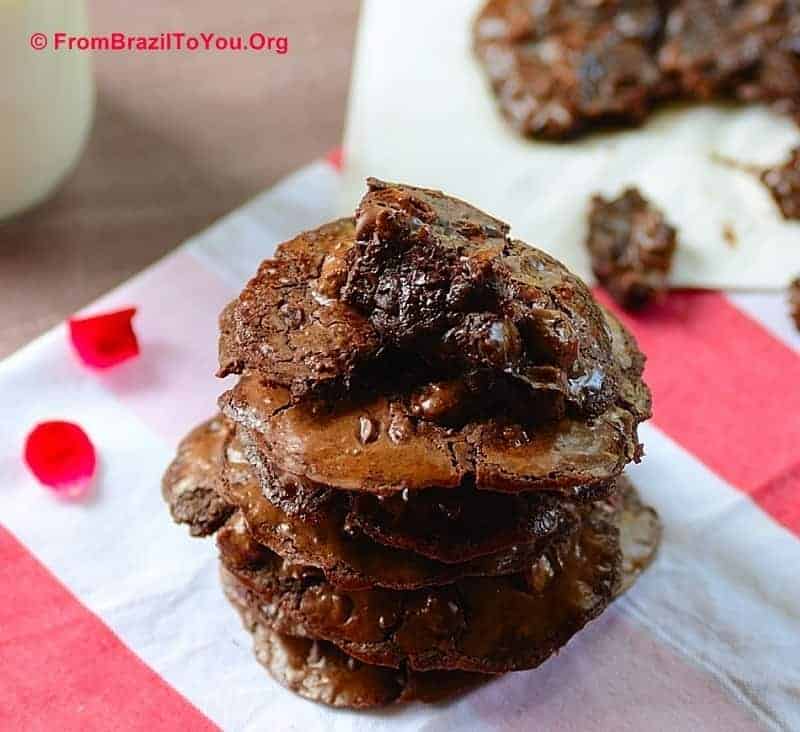 Ingredients:
3 cups powdered sugar
2/3 cup unsweetened cocoa powder
1/4 teaspoon salt
3 extra large egg whites
1 tablespoon pure vanilla extract
2 cups dark or semisweet chocolate chips (I used semisweet in mine)
2 oz (57 gr.) unsweetened coconut flakes (about 2/3 cup plus 2 tablespoons) **
** These Mounds Cookies have a mild coconut flavor. If you are not a fan of coconut, you can omit it from the recipe.
Directions:
1. Preheat the oven to 350°F (about 180° C). Spray two baking sheets with PAM (nonstick cooking spray) and line with parchment paper. Spray top of parchment paper with PAM (this will help cookies to not stick once baked, since they have a high sugar content) and set baking sheets aside.
2. Sift together the powdered sugar and cocoa powder in a large bowl. Whisk in the salt. Add the egg whites and vanilla and whisk until combined. Stir in the chocolate chips and coconut flakes.
3. Use a spring-release cookie scoop to portion out small mounds onto a greased parchment paper sheet, keeping a distance of 2 inches from each cookie. Place into the freezer for 10 minutes to chill slightly, and thus prevent them from spreading too much in the oven.
4. Bake Mounds cookies for 9-11 minutes, until the tops are glossy and lightly cracked. Let the Mounds cookies sit on the paper for a few minutes to set. Then, slide the parchment paper with the Mounds cookies onto a wire rack to cool completely. These Mounds cookies can be stored in an airtight container for up to 3 days. Serve these Mounds Cookies with a good glass of milk. Enjoy!!!
Note: Recipe adapted from Flourless Chocolate Brownie Cookies by Creative Kitchen Adventures.