Have I ever told you that I am cuckoo crazy for s'mores? Well, this love affair started many years ago when I first tried a s'mores bar… and has only gotten stronger and stronger after sampling so many treats made from the wonderful combination of chocolate and marshmallows. The frozen cups that you see here are no exception. To tell the truth, my Frozen S'mores Cups make me wish even more that life was like s'mores — easy, fun, and beyond delicious. 😉
This is the week before my family and I travel to Colorado on vacation. There are still so many things that need to be done before our trip…. I have to confess that when life gets complicated, wild, and even bitter, I find a escape…in s'mores!!! 🙂   I sit down on the steps and devour s'mores in any form, just like a child. It makes me smile…. It makes me forget the stress of having to divide myself  between motherhood, a career, and many other duties…. It is interesting how much simple pleasures can help — like these frozen s'mores cups!
Well, I do have to confess that photographing these frozen s'mores cups was a lot of work. If you are a food blogger, I am sure you can appreciate exactly what I mean. If you are not, you can only imagine how difficult is it to rush to get the shots done because your treat is melting away. But you know what? Even in chaos I found joy… gobbling up not only one but several of the frozen s'mores that I prepared yesterday… To the point that I almost left my children s'moresless. 🙂
No worries!!! For you it will be much easier — no stress, only pleasure. Oh, make them and enjoy the moment, like a child. These s'mores cups will bring you joy like no other treat — 110% satisfaction guaranteed. If I forgot my worries, the same could happen for you.
Have a great week! See you when I return from my vacation in Colorado (finally!!!).
xx
Frozen S'mores Cups
Yield: 8 (5 oz) cups
Segment: From My Table To Yours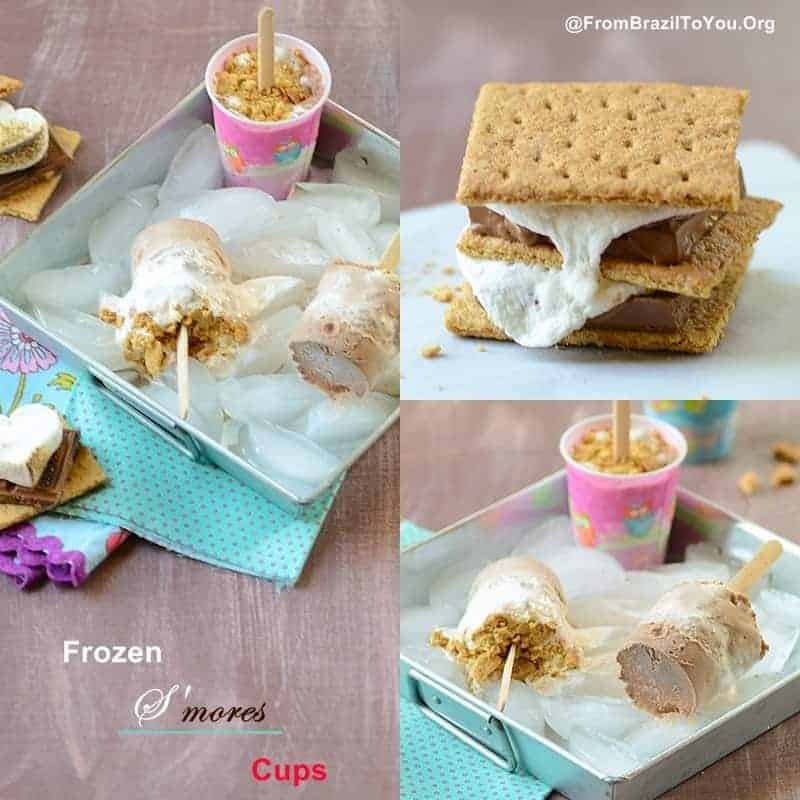 Ingredients:
4 full Graham cracker sheets
About 2 cups marshmallow creme
2 tablespoons heavy cream
About 2 cups chocolate ice cream, softened
Directions:
1. Using your hands, roughly crumb the crackers and set aside in a small bowl.
2. In a medium bowl, stir in the marshmallow creme and the heavy cream just until obtaining a homogeneous mixture. Set aside.
3. Layer 8 (5-oz) paper cups with about 1/2 tablespoon of cracker crumbs. Spoon over about 2 tablespoons of the softened chocolate ice cream. Then, spoon approximately 2 tablespoons of the marshmallow mixture. Repeat layers once more. Finish with a few cracker crumbs on top. Insert one popsicle stick in the center of each cup. Freeze cups for at least 8 hours. Tear cups right before enjoying them.
Other frozen treats that you might also enjoy:
Pineapple-Mint Popsicle (Picolé de Abacaxi com Hortelã)
NEVER MISS A DELICIOUS RECIPE!!! SUBSCRIBE BY EMAIL: