Do you love to entertain big, but without too much effort? Oh yes, so do I… That is why I am sharing with you this new favorite of mine: Mallomars Trifle or Pavê Nhá Benta… A five-ingredient, ASAP, small-portioned treat containing layers of (citrusy) cookie crumbs, sweet marshmallow cream, and melted dark or bittersweet chocolate… A treat with  contrasting flavors and textures that pretty much only requires assembly.
Happy? OK, but you don't need to give me all the credit. 🙂 That's right! Our Mallomars trifle was inspired by the famous chocolate-coated marshmallow treats, created in Denmark, yet produced around the world with different variations.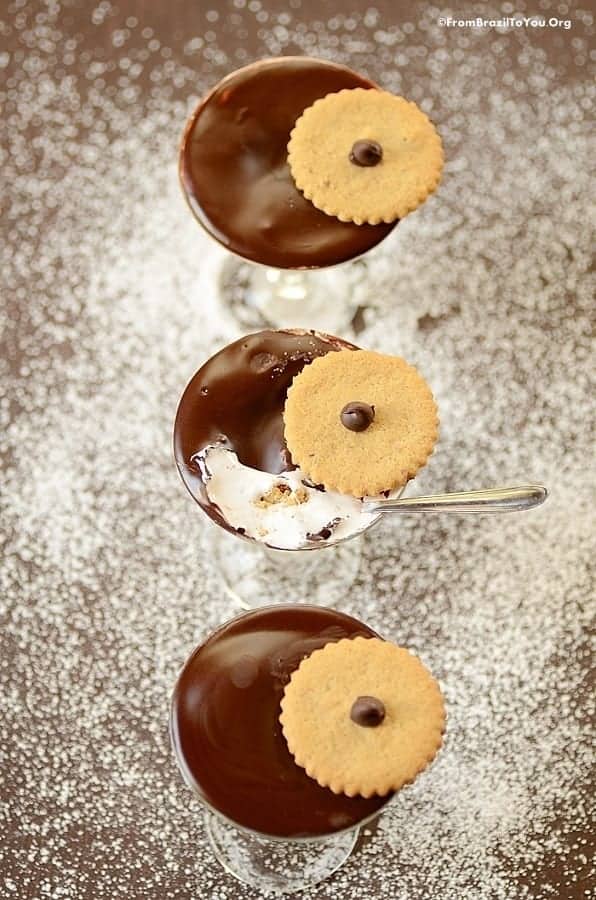 In America, the treat produced by Nabisco (from October to April) is known as Mallomars (a graham cracker circle covered with a puff of extruded marshmallow, then covered in dark chocolate, forming a hard shell)… while in Brazil it is known as Nhá Benta, made famous under the Kopenhagen brand. Canada, Scotland, the Philippines, Switzerland, Portugal, and Colombia are also among many other countries that produce chocolate-covered marshmallow treats with various names.
Who said that in order to serve something scrumptious and pretty, one needs to slave all day in the kitchen, right? I hope that you find our Mallomars trifle to be the kind of treat that set you free… Guilt-free, hassle-free, care-free, wrinkle-free, gluten-free, and the list goes on and on. 🙂
Enjoy!!!
Mallomars Trifle (Pavê Nhá Benta)
Five-ingredient, quick, and small-portioned Mallomars Trifle -- with layers of (citrusy) cookie crumbs, sweet marshmallow cream, and melted dark or bittersweet chocolate. The perfect treat to entertain guests or just to indulge yourself!!!
Ingredients
8

graham crackers or other of your choice

crumbed**, I used cranberry-orange cookies

1

jar

marshmallow creme

7- ounce

2 - 3

tablespoons

heavy whipping cream

8

ounces

semi-sweet or dark chocolate chips

227 g

1

tablespoon

vegetable oil

** For a gluten-free version, use gluten-free cookies of your choice!
Instructions
Place about 1 Tablespoon of cookie crumbs into each one of the 8 (80 ml or 3-ounce) shot glasses, and set aside.

In a small bowl, stir in the marshmallow creme and heavy cream together until obtaining a homogeneous, creamy mixture. Spoon or scoop the marshmallow mixture into the shot glasses to 2/3 full and let set in the refrigerator (about 20 minutes).

Meanwhile, place both the chocolate chips and oil in a medium heatproof bowl or pan. Place this receptacle containing the chocolate within a pot of simmering water so that its bottom rests just above (but not touching) the hot water. Melt chocolate, mixing very well until combined. Remove from heat and let cool for about 10 minutes.

Remove shot glasses from the refrigerator and spoon/scoop melted chocolate on top of the marshmallow mixture until glasses are almost filled and leveled. Refrigerate just until chocolate has set, or up to 15 minutes prior to serving. Decorate with a cracker/cookie or as desired! Let glasses sit at room temperature 5-10 minutes and then serve.
DID YOU MAKE THIS RECIPE?
Comment and rate the recipe. Also follow us on Pinterest at @easyanddelish for more delish recipes.