Marbled coconut pumpkin pie is an easy and comforting mildly sweet spiced pumpkin pie with marbled coconut flavored sour cream topping. A must for Fall!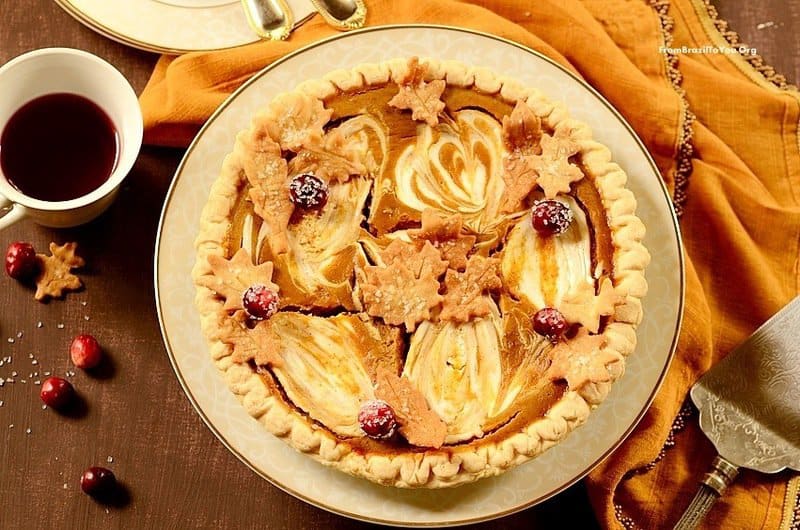 Pies?  Yes, I also love them a lot — apple, sweet potato, coconut cream, key lime, pumpkin with pecan chocolate topping, pecan, buttermilk, bannoffee… you name it!  My latest one was this tasty Marbled Coconut Pumpkin Pie — an easy spiced pumpkin pie with marbled coconut flavored sour cream topping. Oh, if you could have had just one bite, you would have wanted to gobble up the whole thing (all by yourself!).
My sincere advice is make it for your Thanksgiving feast, along with our Spiced Sweet Potato Pound Cake with Caramel Frosting.  It will be party at your table and a party in your mouth!
Buying a store-bought pie crust like I did, instead of making your own crust, cuts down on your preparation time.   All you have to do is mix the ingredients of the pumpkin filling in a bowl and pour the filling into the pie shell; then dollop the quick coconut flavored sour cream mixture on top, and make swirls. Bake, decorate with crust leaves if desired, and this fabulous pie is ready to go.  You see… easy peasy!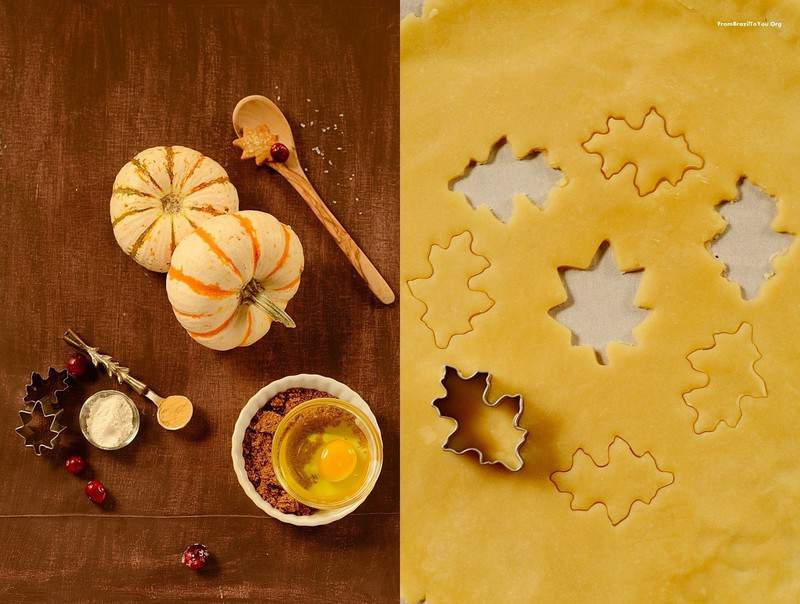 If you prefer to have this marbled coconut pumpkin pie for no special reason at all, I won't blame you. Pair it with a cup of coffee or tea while gazing at one of your favorite cooking magazines — like I did– and have some marvelous 'me time'!  😉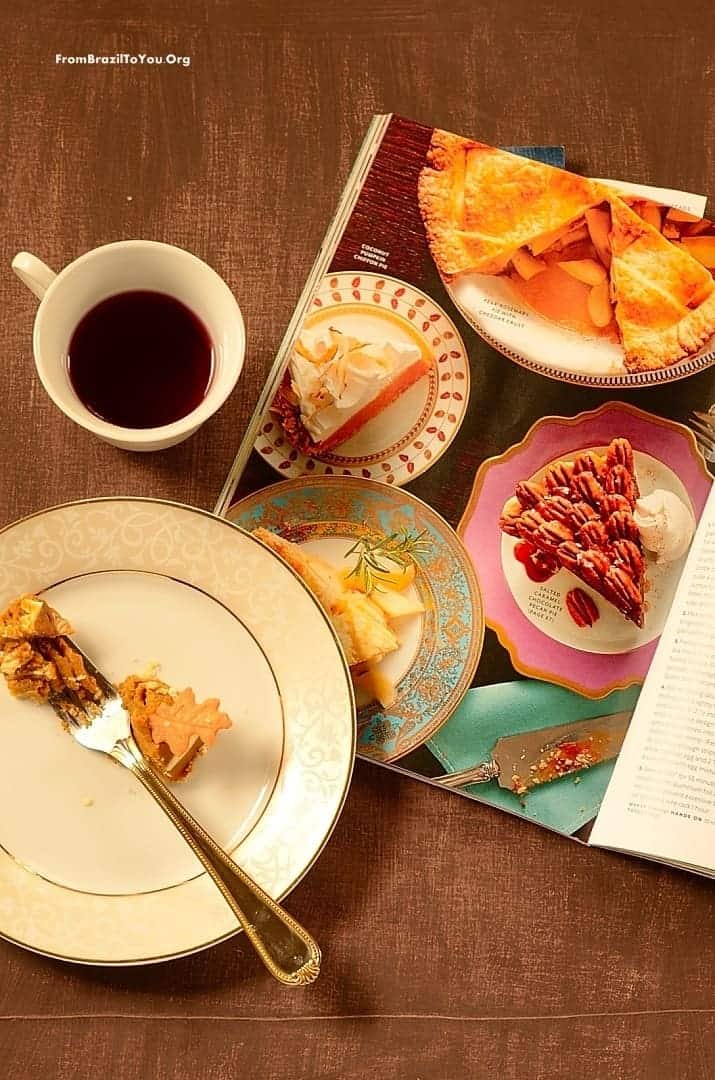 But I know that desserts are not the only thing we have on Thanksgiving.  Breakfast, turkey, side dishes, drinks, and more desserts– yeah we got you covered. Click on these 35 Thanksgiving recipes and we'll have lots of amazing dishes to celebrate such an important date in style!
There is no such thing as a Thanksgiving celebration in Brazil. It's an American holiday! But the combination of flavors of our pie, coconut and pumpkin, is quite popular in my home country. There you have a bit of Brazil in a very American dessert. 😉
I am genuinely thankful for you, your readership and support.  From my family to yours,
HAPPY THANKSGIVING!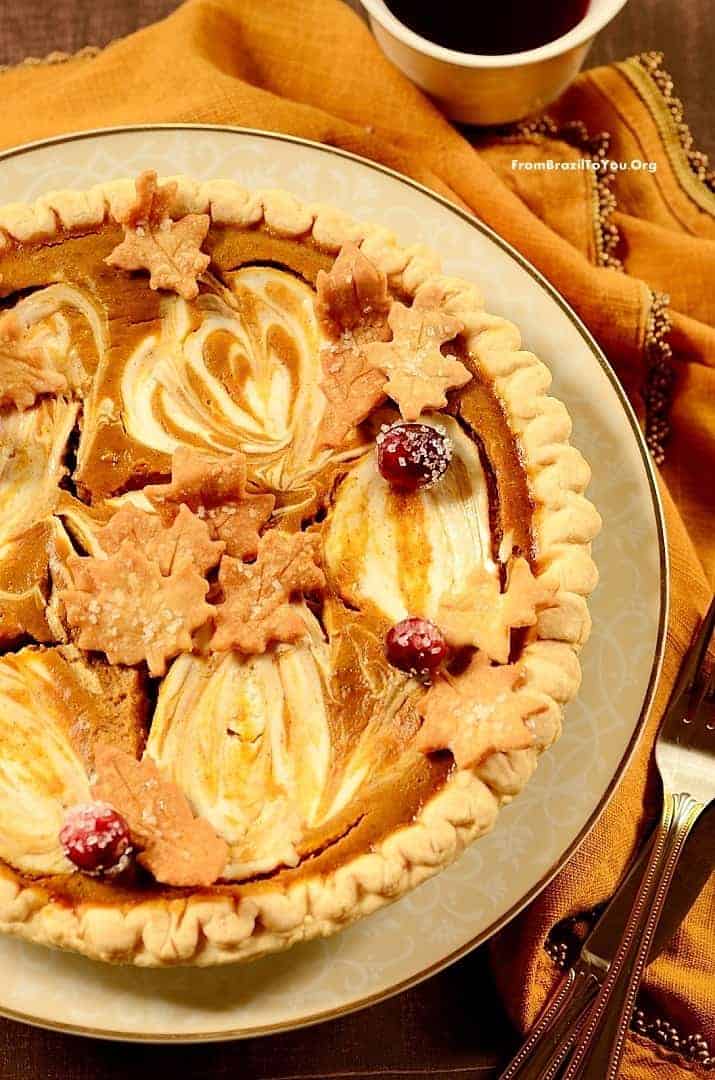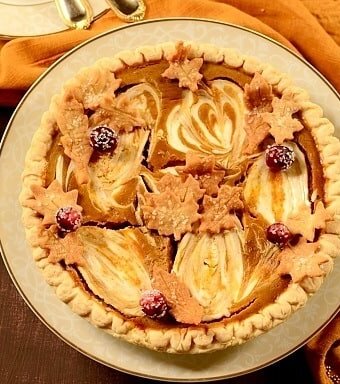 Marbled Coconut Pumpkin Pie
Marbled coconut pumpkin pie is an easy, comforting, and delicious spiced pumpkin pie with marbled coconut flavored sour cream topping.
Total Time
1
hour
10
minutes
Ingredients
1

deep-dish piecrust shell

thawed, 9-inch

1

cup

sour cream

1/4

cup

granulated sugar

1

teaspoon

coconut extract

1

can pumpkin puree

15- ounce

3

tablespoons

all-purpose flour

or 1 tablespoon cornstarch

1

pinch

salt

½

cup

coconut milk

2

teaspoons

pumpkin pie spice**

or a mixture of spices -- see NOTE

1½

cups

dark brown sugar

3

large eggs

at room temperature
Instructions
Arrange oven rack in the lower third of the oven and preheat oven to 375 degrees F. Place thawed pie crust in the refrigerator while you prepare filling.

To make filling:

In a small bowl, whisk sour cream, sugar, and coconut extract until obtaining an homogeneous mixture; set aside. In a large bowl, whisk pumpkin puree, flour or cornstarch, salt, coconut milk, pumpkin pie spice, dark brown sugar, and eggs. Pour pumpkin mixture into the refrigerated pie crust. Then, dollop the sour cream mixture on top. Gently swirl with a knife or stick making leaf patterns.

Bake pie on the bottom rack until the crust just starts to brown, 22 to 25 minutes. Reduce oven temperature to 325 degrees F and then continue to bake pie until the crust is lightly brown and the filling no longer wiggles, 25 to 30 minutes longer. If necessary, use pieces of foil over the crust edges to prevent them from browning. Let cool completely and refrigerate for at least 3-4 hours before slicing. Garnish with baked crust leaves and fresh cranberries only if desired. Enjoy! Any marbled coconut pumpkin pie leftovers should be covered and stored in the refrigerator. Yield: 1 (9-inch) pie.
Recipe Notes
1) To make your own pumpkin pie spice for this pie, mix together 1 teaspoon ground cinnamon with 1/4 teaspoon ground ginger, 1/4 teaspoon ground nutmeg, 1/4 teaspoon allspice, and 1/4 teaspoon ground cloves); 2) To garnish with crust leaves, cut refrigerated piecrusts with leaf-shaped cutters. Arrange them in a single layer on a parchment paper-lined baking sheet. Score each leaf with the tip of a paring knife to create details. If desired, prop up the back of some of the leaves with a little wad of aluminum foil rolled into a stick so that they won't bake flat. Brush top with an egg wash (or with water and then sprinkle with white sparkling sugar). Bake at 375 F in a preheated oven for about 5-8 minutes or until cooked golden. Let cool on a wire rack and use to decorate top of the pie as desired.