I love berries! They are so versatile. In the summer, I make all kind of treats with them for obvious reasons. I woke up craving a refreshing, quick, no bake berry tartlets this morning — maybe because of the hot weather (not solely on account of my sweet tooth 😉 ) Yes, let's blame the weather!!
In addition, my schedule is tight. Family guests will arrive soon, demanding attention. "Of course," I thought. Let me make something QED — quick, easy, and delicious. These berry tartlets were are on top of my list.
Well, I did. I made what I like to call Summer Berry Tartlets. There were already some prepackaged mini Graham Crackers pie crusts in my pantry. All that was left to do was prepare the filling ;). Easy, peasy!! Of course, I had to put something familiar in the filling (I mean something Brazilian). And so I used condensed milk (so popular in our desserts and a must-have in my pantry) and lime juice to blend the  berries that I had in the freezer. Oh, in just a few minutes several individual pieces of goodness were ready. No baking required!!! Whoo-hoo. All I had to do was to refrigerate them and go on my way.
When you have a full, busy schedule (or even when you don't),  remind yourself of these QED beauties. These berry tartlets are real time savers and such refreshing treats…
Enjoy and stay cool!
Summer Berry Tartlets
(Segment: From My Table To Yours)
By Denise Browning
Yield: 8 tartlets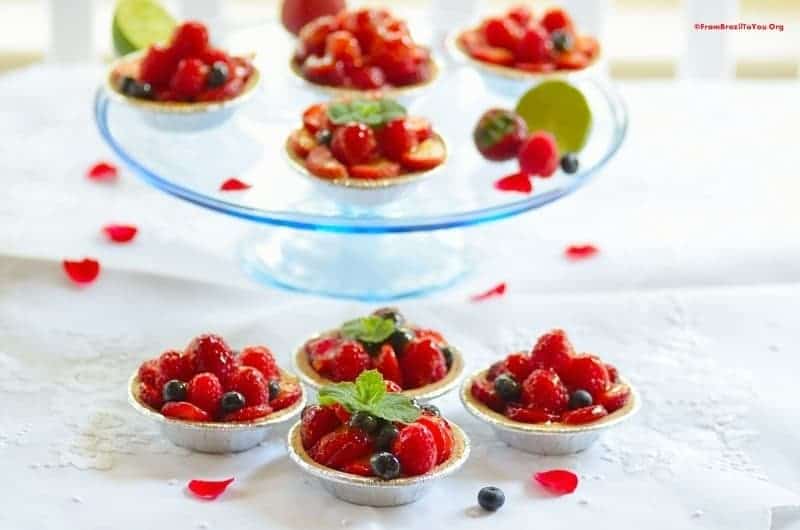 Ingredients:
8 mini Graham Cracker ready pie crusts
6 oz (170g) frozen or fresh berry blend (strawberry, blackberry, and raspberry)
1/4 cup fresh lime juice
1 (14 oz or 396 g) can sweetened condensed milk
2 tablespoons heavy whipping cream
Fresh strawberries, blackberries or blueberries, and raspberries to decorate (optional)
1/4 cup apricot preserves to glaze the berries
Directions:
Blend the berries, lime juice, condensed milk, and heavy cream well in the blender until obtaining a homogeneous,  thick, and creamy mixture. Then, with the aid of a spoon,  pass the mixture through a sieve and reserve.
Pour the chilled mixture into the individual pie crusts, place in a deep baking tray, cover  with  plastic film, and refrigerate for at least 4 hours.
Gently wash and pat dry the berries. Remove strawberry leaves. Slice each strawberry in half (lengthwise) and then, slice crosswise.
Decorate the tartlets on top with the berries. Gently heat 1/4 cup of the apricot preserves in the microwave (50% heat power) for 40 seconds. As it melts, thin slightly with 1-2 teaspoon(s) of water and strain to remove any fruit pieces. Brush the melted preserves on top of the fresh fruit.
Chill for at least 20 minutes to set the glaze. Serve chilled and enjoy!!!